Monday, March 17 will mark the end of the 180 day lockup period, following the September 17, 2013 IPO of cloud-based insurance benefits exchange software provider Benefitfocus Inc (NASDAQ:BNFT).
At this point shares held by investment and private equity firms will be available for sale. Company executives and directors will also be permitted to sell their shares at the conclusion of the lockup period.
The potential supply shock, resulting from the increased quantity of BNFT shares on the market, will likely cause at least a temporary decline in the price of the shares-and could create a short opportunity for aggressive investors. BNFT's incredible 101% gain in its first day after its IPO has been followed by a generally upward-trending market performance, peaking at $77 per share in mid-January. The stock closed at $65.30 per share on March 10th.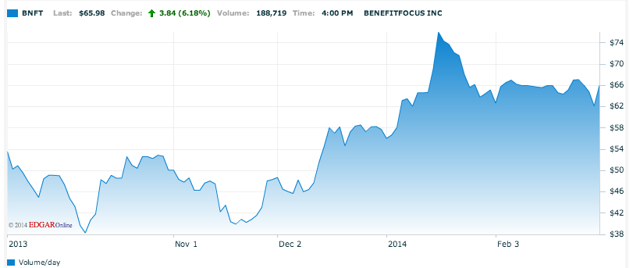 Click to enlarge
(Source: Nasdaq.com)
Share Unlocking
The March 17 lockup expiration will free up 19,325,530 shares of BNFT for sale on the market--far exceeding the approximately five million shares currently available. Goldman Sachs Group holds over half of the shares affected by the lockup expiration (11.4 million shares), while private equity firm Oak Investment Partners holds an additional 2.4 million shares. Both may sell at least some of their shares to book profits for their investors; these firms have been sitting on a goldmine since BNFT's exceptional first day on the market, and the 17th will be their first opportunity to convert that success into capital. Shares held by the directors and executives of BNFT will also be eligible for sale, and many may choose to unload some of their shares to diversify their portfolios or simply to cash in on their firm's market success.
Business Summary
Benefitfocus is an SaaS company that distributes a suite of software applications to assist firms in improving their corporate benefits administration. The company's software allows its customers to better shop, manage, sell and exchange benefits information. BNFT sells its applications both to large employers with more than 1000 employees and to insurance carriers. The image below is a depiction of the e-billing product.
Click to enlarge
(Source: http://benefitfocus.com/products/e-billing/)
BNFT's leadership team is highly experienced, and much of the team has been with the firm since its founding. The firm has seen success in growing its business even in poor economic conditions; it was founded and expanded quickly in the wake of the dot-com bubble burst, and was able to grow its customer base through the 2008 economic collapse. Benefitfocus customer base has grown rapidly in recent years, particularly in terms of large employers, and the firm continues to emphasize a growth strategy. Between 2009 and 2012, the firm's large employer customers grew from 118 to 286, while insurance carrier customers grew from 28 to 34.
Reasons for Shareholders To Take Profits As Shares Unlock
Benefitfocus pioneered cloud-based benefit management software, and therefore has technical expertise and experience, superior to its competitors, which have only recently begun to offer services similar to BNFT's. However, some of BNFT's emerging competitors are far better capitalized and have more stable sources of income outside insurance-related products than BNFT does, particularly Oracle (NASDAQ:ORCL) and SAP AG (NYSE:SAP).
Disclosure: I am short BNFT. I wrote this article myself, and it expresses my own opinions. I am not receiving compensation for it (other than from Seeking Alpha). I have no business relationship with any company whose stock is mentioned in this article.