A major J.C. Penney (NYSE:JCP) catalyst is unfolding in today's pre-market trading session: The research guys from Citigroup (NYSE:C), believe it or not, have upgraded the embattled department store chain to BUY arguing that they believe J.C. Penney has another 30% upside potential based on positive comparable store sales growth (I think J.C. Penney has an intrinsic value of around $18 per share). I have repeatedly argued that J.C. Penney's positive comps outlook will redefine investor perceptions and will cause more optimism for the stock in the future. With a major upgrade coming from a top tier bank, J.C. Penney shares are looking at substantial momentum in today's trading session.
Citigroup's upbeat note with respect to J.C. Penney is reproduced below (alternatively, see the original post at Valuewalk):
Going Back to the Basics: It's Going to Drive the Stock - We're upgrading J.C. Penney Company, Inc. to Buy based on our conviction that JCP can continue to deliver positive comp store sales in-line with FY14 guidance (+MSD). We believe this can happen as JCP fixes home, focuses on restocking basics & private branded product, and edits out inappropriate merchandise. Achieving 1Q & FY guidance will mitigate investor fear on liquidity concerns and drive profitability and the stock higher. We acknowledge that J.C. Penney Company, Inc. is early in this go-forward phase but we like the risk/reward given our conviction that just making basic changes will support guidance for growth in 2014. We believe 4Q's +2% comps on better conversion, transaction size, & units w/ high levels of customer service bodes well for con't momentum and share gains.

Street Doesn't Believe JCP Can Generate Positive Comp Store Sales But We Do… It's About Home & Kid Categories - In our view, JCP is not taking substantial fashion risk but just going back to what worked before & marketing to drive prudent traffic. What's going to drive comp & healthier margins: (1) home department which is ~12% of mix and had severe space/product disruptions in 1H13; a revamped Home Collections at J.C. Penney Company, Inc. has better price/value, renewed focus on bedding/bath/small electrics & decorative accessories; (2) fixing kids (~12% of mix), which was disrupted in 2H13 given space allocation to ideas which did not resonate; (3) fixing the mix of private, exclusive, & national brand merchandise that better resonates with the J.C. Penney Company, Inc. to Buy based on our conviction customer (private brands ~30% under Johnson vs. ~50% historically, & have 400-500bps benefit vs. national brands). If 20% of JCP's business mix (home and kids ~20-25% of total) can comp +20% this yields a 5% benefit.

So What's Holding Stock Back Now? - Investor fears remain on JCP's liquidity position which we believe are overdone as we model working capital to be a source of $150-$200mm in 2014. JCP's 4Q cash balance $1.515bn & total available liquidity stood at $2.024bn. We expect JCP to achieve +MSD comps 2014E, with significant gross margin improvement, yielding ~$2bn end of year liquidity w/ trough position over $1bn (likely 3Q). Each comp point drives +/- $30mm in contribution margin.

Valuation and Stock Upside - We're raising our PT to $11 on 0.58x (prev. 0.46x) EV/2015 Sales, which implies ~30% upside. We increase our multiple and EPS estimates given our conviction on achievability of guidance and our view that a new capital raise will not be necessary. J.C. Penney Company, Inc.'s pension plan is fully funded.
It is nice to see, that Citigroup particularly mentioned that investor fears with respect to liquidity issues are 'overdone' -- a point I raised quite a lot in past articles. I have always questioned the ludicrous assumption that the company is heading straight for bankruptcy: A $2 billion liquidity treasure trove should have convinced even the most pessimistic analyst.
Citigroup not only upgraded J.C. Penney from Neutral to Buy, but also raised its price target to $11 per share. This implies another 20% upside potential based on the current pre-market trading price of $9.15.
Technical picture bullish
J.C. Penney currently trades approximately 9% higher at $9.15 (pre-market quote) compared to yesterday's closing price of $8.42 and I expect further momentum in today's trading session.
From a technical perspective, it is noteworthy that J.C. Penney's shares held up on a high level (above the $8 mark) over the last week without any attempts at a short-term consolidation. Investor sentiment is clearly changing with respect to J.C. Penney.
(Source: Yahoo Finance)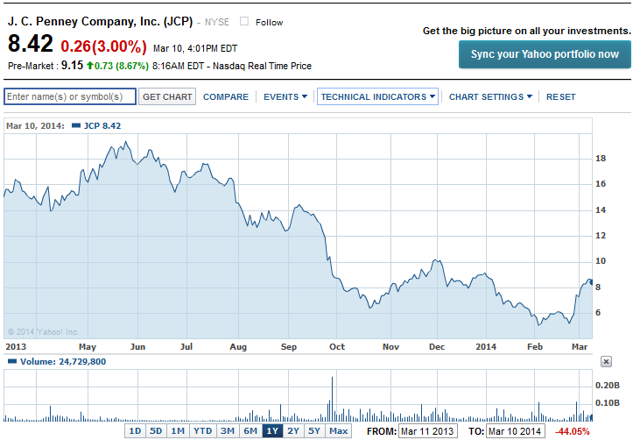 Conclusion
J.C. Penney's shares were driven way too low over the last year and are ripe for a turnaround. I have regularly argued that liquidity concerns are overdone -- a point now validated by Citigroup. Constructive skepticism was replaced by mindless bashing and negativity for too long -- no wonder J.C. Penney could fall to $5 per share.
J.C. Penney is clearly on the right track: Successful capital raise, positive comps, positive comps-, sales- and margin outlook and strong liquidity position all help in justifying a higher level of confidence about the future prospects of J.C. Penney.
Usually, when it comes to turnaround investments, the group of constructive investors is quite small. It is much easier to be part of the crowd and complain. Fortunately, for contrarian investors, constructive attitudes always prevail in the long-run. Strong, contrarian BUY on Citigroup's J.C. Penney update which will help redefine investor perceptions.
Disclosure: I am long JCP. I wrote this article myself, and it expresses my own opinions. I am not receiving compensation for it (other than from Seeking Alpha). I have no business relationship with any company whose stock is mentioned in this article.