This is our fourth article in a series of articles focused on early stage biotech companies in a race to treat incurable disease with the use of regenerative medicine. Our goal is to evaluate and compare the leaders in the field of cutting edge stem cell science as we search for investment opportunities in this high risk/high return investment space. The stakes are high and so is the potential for profit (or loss).
Our first article, Advanced Cell Technology: A Balanced Perspective Of Risk And Reward, focused on Advanced Cell Technology (ACTC), a company leading the race in the treatment of Age-Related Macular Degeneration (AMD for short) and Stargardts Macular Dystrophy (SMD for short) using RPE cells derived from hESCs.
Our next article, StemCells, Inc., And Neuralstem, Inc.: A Side-By-Side Analysis, compared the science and progress of StemCells, Inc. (STEM) to Neuralstem, Inc. (NYSEMKT:CUR), both of which use similar approaches to develop tissue derived neural stem cells to treat CNS disease and injury.
Our last article, StemCells, Inc. And Advanced Cell Technology: The Race To Treat AMD, considered STEM's neural stem cell approach to treating AMD to ACTC's RPE cell approach in the treatment of AMD.
Keeping with the theme of comparing stem cell companies that are working to cure difficult diseases where conventional medicine has proven impotent, we're going to evaluate CUR's neural stem cell approach to the technology utilized by Brainstorm Cell Therapeutics, an upstart Isreali company using stem cells derived from a patient's own bone marrow. As always, the purpose of the analysis is to evaluate the companies from an investment perspective. Since we're focusing on the treatment of ALS, we'll first look at the disease itself. We'll then look at the science behind the treatment, trial progress and results to date, the financial condition of the companies, and lastly, our conclusions.
ALS
Amyotrophic lateral sclerosis (ALS for short) is a neurodegenerative disease that affects the nerve cells in the brain and spinal cord. Most know the story: It was made famous by a great baseball player, Lou Gehrig, who was struck down by the progressively insidious disease at the prime of his career. Many have fallen victim to the disease since it entered the public eye. As the disease progresses, neurons continue to die until patients lose muscle control, often leading to compete paralysis. If you could create a disease perfectly designed for regenerative medicine, ALS would be it. ALS is highly variable in its progression. No two patients' experiences are exactly alike. But, one thing has been certain to date, no treatment has been successful in altering the decline. That is, until now.
The Science
CUR's neural stem cell approach was covered at a high level during my previous article comparing CUR's science to STEM's. For ease of comparison with Brainstorm Cell Therapeutics (NASDAQ:BCLI), I will briefly highlight it again here. CUR grows tissue derived neural stem cells that are already suited to replenish and restore neurons in specific areas of the Central Nervous System (CNS).
The grey matter along the spinal cord is a sensitive and difficult area to operate on. CUR's neural stem cells have proven to be highly purified and expandable, but developing the right cell line is only half the battle. Delivery to the right location in the CNS is key. CUR has designed a proprietary device called Spinal Cord Delivery Platform and Floating Cannula specifically for their ALS trial, which has allowed for the world's first intraspinal delivery of stem cells. The safety of the device has been repeatedly validated during the ALS trials.
In contrast to CUR's tissue derived neural cells, BCLI uses autologous, adult stem cells that differentiates bone marrow-derived mesenchymal stem cells (MSC) into specialized, neuron-supporting cells that BCLI calls NurOwn cell therapy. One of the advantages of this autologous approach is the cells are self transplanted, using the patient's own stem cells. Since the patient is using his own cells, there is no risk of rejection and no need for treatment with immunosuppressive agents, which can cause problematic side effects.
So, unlike CUR, BCLI isn't replacing the actual neural cells. However, they are transplanting MSC cells, which have shown to secrete neurotrophic factors that protect existing motor neurons, and re-establish nerve-muscle interaction.
The Trials
CUR's ALS trial began in January 2010, at the prestigious Emory University in Atlanta, Georgia. The phase I safety trial enrolled 18 patients. The phase II dose escalation trial started in September 2013 and was expanded to two centers: Emory University, site of the phase I trial; and ALS Clinic at the University of Michigan Health System, in Ann Arbor, Michigan.
Unlike the phase I trial, which began with 12 late- to mid-stage patients with injections in the lumbar region including six patients that were non-ambulatory with permanent paralysis, the phase II trial will treat 15 patients (all ambulatory), in five different dosing cohorts, advancing to 40 injections and 400,000 cells per injection (the phase I maximum was 15 injections of 100,000 cells each).
Based on phase I results and the substantial increase in number of cells injected at an earlier stage of the disease, expectations are high. As a reminder, this is an incurable disease with no known treatment to stop or reverse its progression. With that backdrop, CUR's results have been nothing short of phenomenal.
Speaking of phenomenal, several patients have been speaking and their stories are just that, phenomenal. For anyone who follows CUR, the two very known names that come to mind are Ted and his twitter account and April and her blog. I'm an investor looking for profit but it helps to be reminded there are real people and very real personal stories behind this disease. Win or lose in the market, first and foremost, I have hope for their recovery and wish them the best.
You may think at this point, your decision is made. CUR is clearly the winner. But, as the iconic coach, Lee Corso, says during Gameday; "Not so fast, my friend." BCLI has demonstrated similar safety and efficacy during their phase I trial. As an Isreali based company, with clinical trials performed in Israel, BCLI is much less known. Its phase I safety and tolerability trial began in June 2011 at Hadassah Medical Center in Jerusalem. The treatments were well tolerated by the patients and demonstrated to be safe. In January 2013, the company accelerated to a phase IIa dose-escalating trial. Towards the end of 2013, BCLI submitted an IND application to the FDA for a phase II trial in the US and signed a definitive agreement with Mayo Clinic to perform the trial. I expect FDA approval will be a positive catalyst for the stock price.
BCLI has its own patient advocate which showed phenomenal results for a treatment of an untreatable disease. The patient was suffering from both Myasthenia Gravis (known as MG) and ALS and due to the rare disease combination was approved for compassionate use in Israel. Compassionate use allowed for the maximum dosing amount compared to the lowest dose that was administered in these early phase trials. The lead investigator stated, "Within a few weeks following injection with NurOwn cells, the patient showed dramatic improvement in a variety of functions including breathing, speech, walking, muscular strength, and overall well-being."
Before I leave the trials, I would like to touch on a topic that's mentioned often these days with various biotech companies: Breakthrough Therapy Status. Since the Food and Drug Administration Safety and Innovation Act was signed in July, 2012 it has been speculated that various therapies would be approved for fast-tracking. Specifically, the therapy needs to treat a serious or life threatening disease and preliminary clinical evidence indicates that the drug may demonstrate substantial improvement over existing therapies on one or more clinically significant endpoints. If the therapy is designated as breakthrough therapy, the FDA will expedite the development and review of the therapy. Of all the therapies in the running, I think these two have the greatest chance. I wouldn't hang my investment hat on it, but if it happens the stock price appreciation should be considerable.
Financial Condition
As I've mentioned in prior articles, with developmental stage biotech's, cash is king. Low cash equals imminent dilution. I should also add, particularly with considering CUR and BLCI, cash burn counts.
CUR's 10-Q for the quarter ending September 30, 2013 revealed cash of approximately $16.5 million and a cash burn rate for the nine month period of approximately $8 million. Since the quarterly filing, CUR has raised an additional approximately $20 million. Their cash runway should easily take them into 2015 if not longer.
BCLI on the other hand had cash and equivalents of approximately $5 million at quarter ending September 30, 2013. However, their cash burn was only $3.6 million for the 9 month period. Brainstorm was awarded a $600,000 grant from Israel's Office of the Chief Scientist in early 2014. Based on Israel's history of support, additional non-dilutive grants should be expected. Based on the cash position, BCLI should have a cash runway to take them through 2014, however, I would not be surprised if they raise additional dilutive capital in the near future to support their US trials.
Conclusion
They say in real estate, it's location, location, location. I would say in developmental stage biotech investing it's market cap, market cap, market cap. CUR has been on a run as the graph below demonstrates.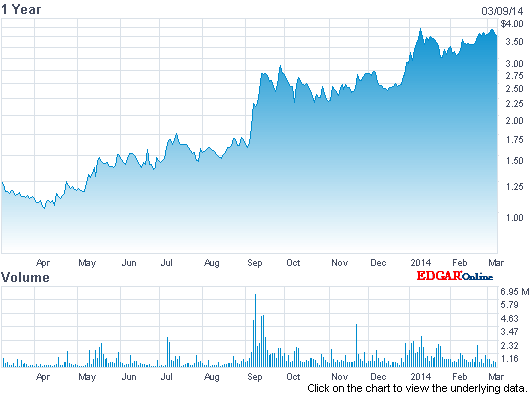 I've been long CUR for a while so needless to say it's been a great ride and I don't think the run is over particularly if they are awarded Breakthrough Therapy. However, at some point, the stock becomes a victim of it's own success and has to take a breather. The market cap has appreciated substantially and currently stands at $300 million.
BCLI, on the other hand, has a market cap of approximately $48 million. The company doesn't have near the broad scientific platform of CUR so I don't think a side by side evaluation makes sense. However, I would argue that given their success to date in their ALS trials, a treatment by treatment valuation does. They both have demonstrated safety and strong hints of efficacy. BCLI is slightly behind CUR in progression of the trial but nipping at its heels. And, the nod from the FDA for their US phase II trial will be a catalyst that CUR has already experienced. From a market cap perspective, I would argue that at least a third of CUR's valuation stems from their ALS platform and probably up to half. Lastly, it can't be discounted that BCLI uses the patients' own cells without the need for immunosupppressive agents.
I'll conclude with a comment I made in my STEM and ACTC article: In a two-horse race, a prudent approach may be to put money on each, thereby hedging your odds. It would not be surprising to one day see a combination therapy with BCLI's MSC neural-supporting cells transplanted along side CUR's neural replacing cells.
Disclosure: I am long CUR, BCLI, STEM, ACTC. I wrote this article myself, and it expresses my own opinions. I am not receiving compensation for it (other than from Seeking Alpha). I have no business relationship with any company whose stock is mentioned in this article.
Editor's Note: This article covers a stock trading at less than $1 per share and/or has less than a $100 million market cap. Please be aware of the risks associated with these stocks.
Editor's Note: This article covers one or more stocks trading at less than $1 per share and/or with less than a $100 million market cap. Please be aware of the risks associated with these stocks.