1- The Gold price slump and its effects on the miners.
This is not a secret; the gold miners suffered some severe and damaging financial blows during 2013. Gold price had the worst year and lost 28% of its value. It closed on 12/31/2013 at $1,204.50/oz.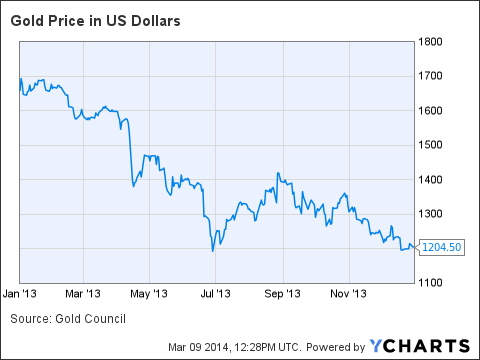 Gold Price in US Dollars data by YCharts
Most gold miners were forced to impair their gold assets, cut capital expenditure, close uneconomical projects, and these two are not making any exception to the rule. The gold price reversal was brutal ending a 12-year bull market for the precious metal.
However, since the beginning of 2014, gold price has shown some resilience and are trading at above the support $1,175/$1,200 per oz, which is very important, in my opinion. Since early January 2014, the gold spot price has risen slowly above $1,325/oz and has shown some strength specially with the market from the East (China and India, mainly). Gold price is up since January 2014 showing a bottom around $1,200/oz.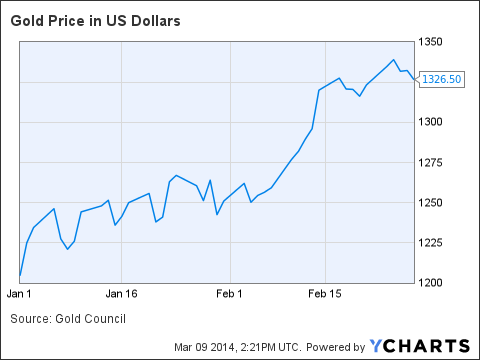 Gold Price in US Dollars data by YCharts.
The most important question that any investor must answer is if he or she believes this trend will continue and if gold can reach a price at or above $1,500/oz in 2014?
I think it is possible to forecast a value between $1,450/$1,500 per oz for the second half of 2014. If this hypothesis can be verified, then it is the right moment to shop for the gold miners and see which one(s) offer the best potential for growth in a new bullish gold trend?
I will study and compare two gold miners who are well-known and have roughly the same size and business model.
2 - Comparative study of Barrick gold Corp. (ABX) and Newmont Mining Corp. (NEM).
Quick presentation of the two gold miners:
Barrick Gold Corp.
ABS produces and sells gold and copper. It is also involved in exploration and mine development activities. The company holds interests in the producing gold mines, which are located in North America, South America, and Australia Pacific; producing copper mines situated in Chile and Zambia; and a mine under construction is in Saudi Arabia. In addition, it holds interests in oil and gas properties located in Canada. As of December 31, 2013, ABX has, proved and probable gold reserves of approximately 104.1 million ounces. ABX was founded in 1983 and is headquartered in Toronto, Canada.
Newmont Mining Corp.
NEM together with its subsidiaries, acquires, explores for, and produces gold, copper, and silver deposits. Its Assets and operations are located in the United States, Australia, Peru, Indonesia, Ghana, New Zealand, Mexico, and Suriname. As of December 31, 2013, NEM has, proved and probable gold reserves of approximately 88.36 million ounces and an aggregate land position of about 24,000 square miles. The company was founded in 1916 and is headquartered in Greenwood Village, Colorado.
2 - Comparison table for the two companies:
ABX 2012
ABX 2013
ABX 2014
NEM 2012
NEM 2013
NEM 2014
Stock price 03/07/2014
-
19.91
-
-
24.60
-

Shares Outstanding billion

-
1.16
-
0.492
0.498
-
Proven and probable reserves in gold M oz
140
104.1
-
99.17
88.36
-

Gold production

M oz

7.421
7.166
6.25
4.98
5.1
4.65
Copper production in M lbs
468
539
-
35
143
-
All-in sustaining cash cost gold AISC $
945
915
950
1,177
1,104
1,125
Realized gold price $ per oz
1,669
1,411
-
1,662
1,393
-
Realized copper price $ per lbs
3.57
3.24
-
3.43
2.96
-
Net earning per share in $(1)
-0.66
-2.51
-
3.78
-5.06
-
Adjusted net earning per share in $(1)
3.82
0.37
-
3.73
1.40
-
Operating cash flow $B
5.439
4.24
-
2.4
1.60
-
Total debt in $B
11.599
13.08
-
6.288
6.145
-
Yearly Dividend per share $
0.80
0.20
-
1.40
*0.20
-
EBITDA trailing year $B
7.457
5.78
-
-
3.22
-
Revenue in $B
14.547
12.51
-
9.868
8.322
-
Impairments
4.4
11.54
-
0.080
2.875
-

Capex $B

5.447
5
2.55
2.471
1.799
1.35
* The formula for determining the dividend payout is based on the average London P.M. The $0.15 per share quarterly dividend announced will be the last dividend paid using the old formula. Based on the 1Q2014 ($1,300 per oz), the company would pay a quarterly dividend of $0.05 per share ($0.20 per share annualized) versus $0.15 per share ($0.60 per share annualized) under the previous policy.
Barrick Gold Corporation released its fourth quarter and full-year results for 2013 on February 13, 2014.
Newmont Mining corporation released its fourth quarter and full-year results for 2013 on February 20, 2014.
These two recent and important events are what we needed to have to get an honest financial picture of the two companies. If you want more information, here is the last presentation for NEM February 21, 2014.
Comment:
This table is very indicative of the challenges that the mine industry is facing in 2014 again. Because of a steep decline in gold price ending a 12-year bull run abruptly in 2013, with a 28% drop in 12 months, investors who want to look at gold miners must be very circumspect. They will have to pick the companies that show some quality through a strong balance sheet. Without a rise of the metals' prices like gold, silver and copper, low-quality companies will not be able to sustain enough cash flow to survive this downtrend for a long period of time. Only the top-tier will overcome these challenges and thrive.
These two companies offer some quality and resilience. They have suffered a great deal in 2013, and a rapid look at the impairment charges will show you the extent of the damage. Barrick Gold Corp. impaired $11.54 billion in 2013 mainly with its troubled Pascua-Lama and Porgera mines, and for Newmont Mining Corp. , it was $2.875 billion related to stock-pile re-evaluation; in addition, NEM impaired its Australian mines, Boddington and Tanami, and also Long Canyon in Nevada in the USA.
Management strength is another element that should be part of your investment decision.
ABX had its problems the last few years. It had some questionable and over-priced acquisitions, which cost dearly, excessive compensation for the management and board among other items. However, last year, the tide has changed with the new CEO Jamie Sokalsky. He is focusing on cleaning-up the balance sheet by selling non-core assets, improving profitability and cash flow, and reducing future capital expenditure to maximize gain. The company managed to get an all-in low cash cost per oz for gold (AISC) at $915 in 2013. The chairman and founder Peter Munk has indicated that he will retire in April.
NEM had also its own acute problems. The company has been hit by lower gold and copper prices that triggered steep impairment charges. The main problem that the company is facing now is about what is going on with the Indonesian government. NEM is continuing negotiations regarding a new mutual resolution about the following proposed export ban on copper concentrates and the fresh regulations on export permit conditions, and a progressive export tax. The problem is so serious that NEM is contemplating possible legal action. This Indonesian situation will hamper the stock performance until a clear resolution is found. More, NEM reduced its gold-linked dividends as indicated in the Table, but it was required to do it because it gave a better balance sheet flexibility.
Chart comparison between ABX, NEM and Gold price. 1-Year chart.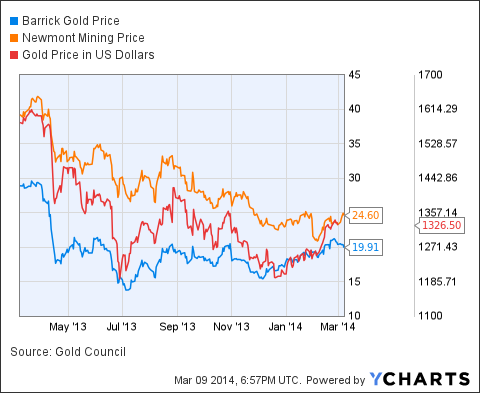 ABX data by YCharts
3 - Conclusion and rating.
I believe ABX and NEM are two solid gold miners of an equal strength from an investor's perspective. If you think like I do that gold has reached a bottom and will slowly trend up, then these two companies offer good opportunities specially at these stock prices. Both have their own weaknesses and problems on-going, and it will take time to overcome them. The stock price is at an attractive level.
I would rate ABX just a bit better than NEM for two reasons essentially. I would rate ABX a 4.5 and NEM 4. (On a scale of 5)
Two reasons why ABX is better in my view:
First, ABX new management and its CEO Jamie Sokalsky is actually working on cleaning-up the balance sheet and gives some real growth potential for the next three years assuming a gold/copper price on the rise again.
Second, ABX seems a safer bet until NEM can find a durable solution for its problems with the Indonesian government regarding ban on copper export and tax. This situation may have the potential to hinder the stock appreciation in the next coming months, but can also give NEM a boost if solved.
I could also talk about reduced dividends, debt load, but it is a direct consequence of the slowdown in gold price, and the two companies are quite similar there. Postulating that the gold price is in recovery mode is eliminating these arguments de facto.
Despite the lower dividends and the evident future growth risks, it is quite apparent, in my opinion, that the buying and accumulating process should begin soon.
Disclosure: I have no positions in any stocks mentioned, and no plans to initiate any positions within the next 72 hours. I wrote this article myself, and it expresses my own opinions. I am not receiving compensation for it (other than from Seeking Alpha). I have no business relationship with any company whose stock is mentioned in this article.