Overview:
TransForce Inc. (OTCQX:TFIFF) is a market leader in the transportation and logistics industry across North America. It is diversified across five business segments: package and courier, less-than-truckload, truckload, services to the energy sector, and other services (waste management and logistics). The table below provides a breakdown of each segment's financial performance as of December 31, 2013: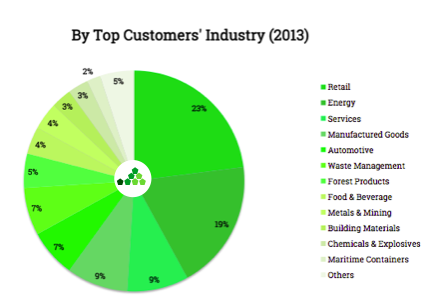 TransForce also has a broad exposure across industries and customers, specifically with no client accounting for more than 10% of total revenue. As well, 30% of revenue is derived from the US strengthened by recent acquisitions of Velocity, provider of customized same day deliver solutions, and E.L. Farmer, dedicated to pipe storage and hauling services for the energy industry.
Investment Thesis:
With a market cap of $2.15 billion TransForce is Canada's premier trucking company. It has a strong grasp in the markets in which it competes and will benefit from scale and improved profitability resulting from a focus on its core businesses. This translates into a total return potential of 19% in the next twelve months.
The acquisition of Vitran Corporation (VTNC), approved by shareholders on March 5th, makes TransForce the dominant player in the Canadian trucking universe, by a wide margin. As of year-end 2013 TransForce's fleet including independent contractors consisted of 11,930 power units and 11,200 trailers along with 422 service centers, 110 of which are located in the US. This scale allows the company to serve many of its customers' needs and grants it a competitive advantage due to increased density in many regional markets. Currently the EBITDA margin in the truckload, TL, and less - than - truck load, LTL, segments are suppressed partly due to a dismal fourth quarter resulting in increased accidents and claim expenses and partly from continued pressure on prices arising from industry overcapacity. Despite this we are confident in management's ability to drive efficiency moving forward with a continued focus on redundancy elimination arising from acquisitions, improved route planning and mapping tools that streamline services and consolidation of administrative and IT platforms. Improvements in this segment will be matched by those in the package and courier business.
We believe the package and courier business of TransForce is underpinned by recognizable brands and essential services creating a strong presence in the Canadian market. The company has same day services provided by Dynamex and next day operations through Canpar Courier and other brands such as Loomis Express, which owns the Canadian assets of DHL. Dynamex provides everything from point - to - point package delivery, dedicated fleets, and tailored logistics services to the healthcare and retail industries. Current challenges in this segment come from customers focusing more on the price they pay as opposed to requiring timely delivery. This means margins in the segment have been hurt as clients focus on the cheapest shipping options to satisfy their needs. Nevertheless, the company's performance will benefit from the recent acquisition of Velocity, acquired in February of 2013, and continued focus on efficiency similar to the efforts in the TL and LTL segments.
While the courier and trucking business will continue to be a main stay of TransForce we believe profitability will benefit from an increased focus on the waste management activities part of the specialized services segment. These operations offer commercial waste collection along with compost and recycling service. There has been a continued positive trend with landfill operations working at full capacity and contributing to revenue increases year over year. This is a growing business for TransForce and has a much higher contribution margin than the other segments.
Financial performance of the company will also improve by focusing on core businesses with stable cash flows and predictable levels of activity. As of December 2013, TransForce has put up for sale all of its Canadian rig moving operations and expects to recover $11.4 million from the sale. The entire segment including US operations represented 11% of 2013 revenue. Management has realized that it is not a core business and that it is unacceptable to lose $7.8 million on $23.7 million worth of revenue. Mr. Bedard, President and CEO, also stated in the most recent quarterly conference call that the firm will continue to monitor its US rig moving operations and reduced asset allocation to the segment in the meantime. We believe this divestiture will allow TransForce to focus on its competencies and exit from a volatile business. In short, as the improvements across segments are realized TransForce's dominant position will only improve.
Valuation:
Our target price is $27.00 CAD, which represents a total return of 19% from the most recent price of $23.12 CAD and includes the annual dividend of $0.58 per share. Our revenue growth is guided by the GDP projections of the Bank of Canada for the United States and Canada. Our WACC assumption is based on pre-tax cost of debt of 5.2%, 3.8% after tax, and a cost of equity of 11%.
Management's focus moving forward will be to consolidate its acquisitions and existing operations in the less - than - truckload and courier segments, deploy logistics analytical tools in the truck load segment to drive efficiency, and increase capacity of its existing landfills in order to grow its waste management offering. Consolidation will mean sale of redundant real estate assets in the form of service centers and a continued rationalization of the workforce, which resulted in reduction of 1140 employees last year. We have also projected modest gains on sale of assets throughout the forecast horizon as TransForce works through its excess of service center location and other real estate holdings. We believe all of these actions will improve gross and SG&A margins from the deteriorated levels of 2013.
Moreover, the CEO Mr. Bedard has hinted at a slower pace of acquisition for the year to come with a focus on share buybacks as an engine for shareholder wealth generation. This is a welcome change of pace allowing management to focus on integrating its recent purchases and provides an upside to our valuation. Upside in cash flow will also come from continued strength of the US dollar, as 1 cent increase versus the Canadian dollar would generate an extra $1.5 - 1.75 million of EBITDA for the company. In total, TransForce is a strong competitor in the Canadian transportation sector that will continue to improve its profitability and generate strong returns for shareholders.
Disclosure: I have no positions in any stocks mentioned, and no plans to initiate any positions within the next 72 hours.
Business relationship disclosure: The article has been written by Turtle Street Capital; the author is a co-founder of the firm. Turtle Street Capital is not receiving any compensation for it. Turtle Street Capital has no business relationship with any company whose stock is mentioned in this article.