Markets are relatively calm this morning with the issues in Eastern Europe slowly becoming yesterday's news and the world shifting focus to this lost airplane in Southeast Asia. We seriously doubt any foul play and all the news that has come out debunks those early theories. Our guess is that this will end up being like the Air France crash where it took weeks for the debris field to float to the surface of the ocean off of the coast of Brazil.
Looking at the markets right now, it seems that we might be in a holding pattern until Thursday when we get some more weekly jobs numbers and other key economic data. Too many people are pulling capital right now waiting for a pullback for the rally to have legs, so we are on the sidelines until we see another rotation.
Chart of the Day:
With the tensions thawing in Ukraine the flight to safety is ending and the US 10-yr is now trading at levels that are below that of where they were before the Russian incursion, or whatever you want to call their actions in Ukraine's Crimea region. Should this selling continue we might see further buying of equities, and that is what we are watching for.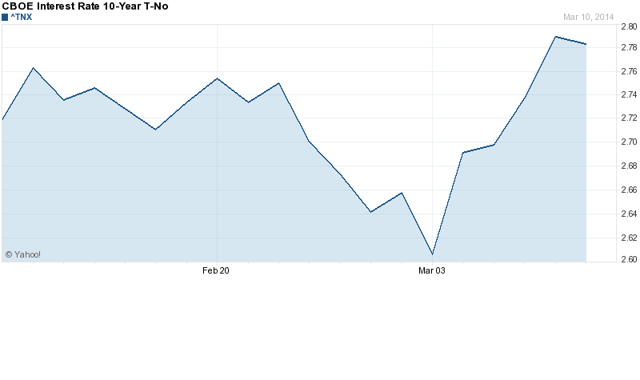 Click to enlarge
Source: Yahoo Finance
We have economic news today and it is as follows:
Wholesale Inventories (10:00 a.m. EST): Est: 0.4% Act: 0.6%
JOLTS - Job Openings (10:00 a.m. EST): Est: N/A Act: 3.974 M
Asian markets finished higher today:
All Ordinaries -- up 0.04%
Shanghai Composite -- up 0.10%
Nikkei 225 -- up 0.69%
NZSE 50 -- down 0.31%
Seoul Composite -- up 0.48%
In Europe, markets are trading higher this morning:
CAC 40 -- down 0.19%
DAX -- up 0.55%
FTSE 100 -- up 0.00%
OSE -- up 0.16%
Hidden Value In Gaming Stocks?
Readers know that we have long been bulls behind the big gaming names such as Las Vegas Sands (NYSE:LVS) and Wynn Resorts (NASDAQ:WYNN) believing that they were the best in the industry. The returns have been impressive with those names, and the gains have continued longer than many of the critics anticipated. Our next favorite name was MGM Resorts International (NYSE:MGM), as it seemed clear to us at the time that this was second class to the others.
With yesterday's news that Elliott Associates has taken a 4.99% equity stake in Boyd Gaming (NYSE:BYD), and adding further exposure through derivative securities (think options) that takes their total stake towards 7%, it seems that the third tier and regional names are going to be gaining some attention moving forward. Boyd is trading higher in early trading, but we are not buying into the euphoria right now. Instead it is our view that one should want to continue to be long those names with exposure to international gaming, especially the Asian markets.
MGM was the underperformer for a while, but halfway through last year it became the leader as measured by returns on its stock. These are still our three favorite names.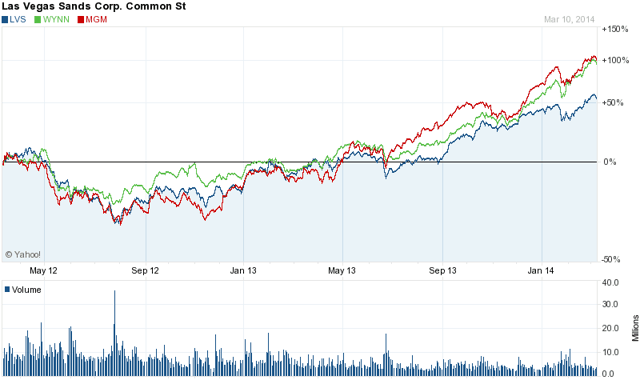 Click to enlarge
Source: Yahoo Finance
Elliott has been quite active over the last year or two and right now it appears that they have no intention of engaging management in a battle. So although the shares are popping on this news, investors might be forced to wait some time before the activist investor agitates for change, if they even do. This will be a story we expect to play out over the next year or so, not the next month or two.
One Casino Stock To Avoid
One name we are avoiding right now is Caesars Entertainment (NASDAQ:CZR), which recently pulled off a move to increase their cash position by selling four casinos to a subsidiary but did not solve some of their longer-term issues facing shareholders. Free cash flow remains weak and the company still has a hefty debt load hanging over its head, two issues that could prove to be an Achilles heel should the economy turn downwards anytime soon.
The businesses which could have led to significant revenue growth and potential profits have been chopped up and are no longer 100% company owned, so the outlook is no longer as bullish in terms of those businesses being able to move the company forward and help reduce the strain of the debt load moving forward. We liked this name when it was part of a trade on internet gaming, as it was a much better pick than the other names out there, but with the company's recent moves we are no longer interested in this name as a play on the gaming industry or a deleveraging play.
Disclosure: I have no positions in any stocks mentioned, and no plans to initiate any positions within the next 72 hours. I wrote this article myself, and it expresses my own opinions. I am not receiving compensation for it (other than from Seeking Alpha). I have no business relationship with any company whose stock is mentioned in this article.