On March 7th, Navidea Biopharmaceuticals, Inc. (NYSEMKT:NAVB) released its 4th-Quarter and full-year 2013 operating results. Lymphoseek was launched in 2013, and the 4th-Quarter report showed just how successful it has become. Revenue for the year was $614K, with half of that, $343K, coming in the 4th Quarter. The company stated the following about the launch:
More than 200 accounts purchasing Lymphoseek (11% market share of the 2000-account market)
Increasing accounts by 3.5% from the previous quarter, and expect that to continue through 2014, with an 80% reorder rate
Projection that Lymphoseek will reach a majority market share in the next 10 to 14 months
Provided guidance that Lymphoseek revenues to Navidea will reach $5 million to $6 million in 2014
Market penetration and projections
The company stated it had achieved an 11% market penetration of the 2000 accounts that conduct lymphatic mapping, representing just over 200 accounts. From that, it is seeing an 80% reorder rate, and a 3.5% growth from the previous quarter. Although it is tough to use one quarter to predict long-term growth, a positive uptick is showing the company is on the right track.
An important point here is that while there may be an 11% market penetration of the accounts conducting lymphatic mapping, that does not equate to 11% of all the cases of lymphatic mapping. During the conference call, it was noted that of the 300,000 breast cancer patients, 66% use lymphatic mapping, and of those, 80% use a radiopharmaceutical agent, so a targeted population of about 160,000 patients.
Cardinal Health is currently the exclusive distributor of Lymphoseek, and has set the price at $300 per treatment, while similar treatments sell for $175-250 per treatment. While there is a premium for Lymphoseek, there have been many healthcare providers who have stated it is a superior product. NAVB has also been able to secure a Pass-Through C code, which streamlines the billing and reimbursement process for hospital providers who use Lymphoseek and support its fair and equitable reimbursement.
There is also speculation that Cardinal Health is using this discounted pricing as a way to gain an increase in market share and acceptance in the medical community. Once there is a greater understanding and use of the drug, along with an increase in the types of cancer Lymphoseek is approved to diagnose, Cardinal Health will increase the price to represent a premium for a superior product.
So, extrapolating the data out, Lymphoseek has been able to gain somewhere between 1.5% and 2.5% of the market share of the 160,000 treatments:

(Source: created by the author based on data from 4th Quarter 2014 conference call)
The company gave guidance for 2014 of reaching between $5,000,000 and $6,000,000 in revenue from Lymphoseek.
In summary, we see solid growth in accounts and share, and a clear indication that our continued growth trajectory will lead to a strong increase in product income. As such, we are providing guidance that Lymphoseek revenues to Navidea will reach $5 million to $6 million in 2014, numbers consistent with the range of analysts estimate. So that's the Lymphoseek story to date in the U.S. It's one of sustained penetration with the beginnings of growth beginning to emerge, the latter coming from a range of expansion opportunities, both in new indications and new markets.
If the company is able to achieve those numbers, then I estimate it will capture between 15% and 25% of the market, or between 25,000 and 40,000 units.

Click to enlarge
(Source: Created by the author based on data from 4th Quarter 2014 conference call)
Lymphoseek is currently approved for use in lymphatic mapping procedures to assist in the localization of lymph nodes draining a primary tumor in patients with breast cancer or melanoma. In addition to the use in breast cancer, the company is also seeking FDA approval for use in head and neck cancer:
…I want to review Lymphoseek's market opportunity today and in the future. With the initial approval in breast cancer melanoma, we are addressing an annual U.S. incidence population of approximately 300,000, about 2/3 of which undergo lymphatic mapping procedures. And these procedures…roughly 80% use a radiopharmaceutical agent. Thus, our initial U.S. market opportunity is approximately 160,000 studies per year, as we've noted previously. But that's just the initial indications limited to the U.S. There's exciting upside potential here, not only from other geographies, but in other cancer types as well. The benefits of expanded lymphatic mapping have largely gone unrecognized and unrealized due to the fact that existing technology had proved ineffective.

Included in such potential cancer types are head and neck disease, again, the subject of our ongoing priority review at the FDA, as well as other cancers, such as colorectal disease, the subject of a fascinating investor-initiated study we previously disclosed, and include, but are not limited to, gynecologic, prostate, bladder and upper G.I. cancers, all of which we plan to explore in one fashion or another going forward. The collective incidents in the U.S. multiplies the overall potential population from 300,000 by as much as 4x to reach potential targets of 1.3 million. These numbers are further multiplied by opportunities in Europe and around the world, where the total incidence of adenocarcinoma patients reaches almost 12 million per year, even helping to provide better care to a fraction of these patients will make a huge difference and fuel growth of the product in turn.
The approval for use in head and neck cancer, as well as global marketing will expand the potential population available for the company:

Click to enlarge
(Source: Created by the author based on data from 4th Quarter 2014 conference call)
In addition to the US market, the company is expanding the approvals for Lymphoseek globally:
Europe has solid tumor instances, in excess of those which we find in the U.S., and the sentinel node biopsy thesis is even more advanced and applied there. Thus, we've continued to focus on the review of our MAA in Europe. After extension of our 180-day clock stop in December, we've been -- we've maintained close interaction with EMA, responding to their questions in a timely manner, and now expect that CHMP will continue to -- will consider the Lymphoseek MAA at their March meetings, though EMA does reserve the right to further extend the review. The remaining areas of interest to do with its -- have to do with supplemental products specification data and NEO3-06 Phase III study in head and neck cancer. The 06 study is important, not only with regard to its dramatic potential impact on the care of head and neck cancer patients, but also those applies to additional safety and utilization data, supportive of the primary MAA. Including -- excuse me, inclusion of even elements of these data could be very valuable commercially given the advanced state of lymphatic mapping in Europe.
Right now, the population stands at around 160,000 patients. If the company can receive approvals for the additional forms of cancer and targeting of lymphnodes, the population increases to 1,300,000 patients. If it is expanded globally, the population expands to 12,000,000 patients.
Warrant Exchange
The successful launch of Lymphoseek has yet to be truly appreciated by the market, with the price hovering around the $2.00 mark. While it has had significant successes with the launch of Lymphoseek and other developmental milestones, the offering in September 2013 with Crede CG III, Ltd. caused a significant pullback: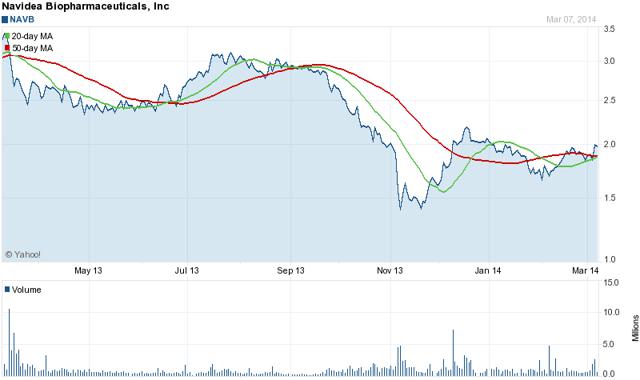 Click to enlarge
(Source: Yahoo Finance)
The deal was closed with a final total of $30 million in proceeds, at a price of $2.84:
The price paid by Crede is $2.84 per Unit, which is equal to the closing bid price of Navidea common stock on Monday, September 23, 2013. Each Unit consists of one share of NAVB common stock, and a warrant to purchase three tenths (0.3) of a share of NAVB common stock at an exercise price of $3.83, representing a 35% premium above the closing bid price of Navidea common stock on Monday, September 23, 2013. Under the Offering, Navidea has issued to Crede 10,563,381 shares of Navidea common stock and warrants to purchase up to an aggregate of 3,169,015 shares of NAVB common stock. The warrants have a three-year term.
The warrant potentially has a value of just over $12 million, however, one clause in the documents has some of those on the message boards worried that Crede may be manipulating the price to keep it below $2. From the SEC filing:
Exchange of Warrant

As an alternative to exercising the warrant in whole or in part, beginning six months after the date of issuance, if our common stock is then trading at a price at or lower than the warrant exercise price per share, a holder may, without the payment of additional consideration, exchange all or any portion of the warrants based on a formula for a number of shares of our common stock equal to the negotiated Black-Scholes value as defined below divided by the closing bid price of our common stock as of two trading days prior to such exchange (provided that if such closing bid price is less than $2.00 per common share, it shall be deemed to be $2.00 for purposes of this calculation).
The speculation surrounds the ability of Crede to manipulate the price and keep it below $2 per share in order to reap the benefit of the free shares. There is currently no evidence to support the price manipulation. Crede has stated on its website it does not participate in shorting, and this was specifically prohibited in the offering, except for the day prior to exercise of the warrants:
No Short Sales

For as long as the warrants are outstanding, the holder shall not engage in any short sales of our common stock, except certain short sale may be permissible if made one trading day prior to the exercise of such warrant.
Crede would certainly benefit from the price being kept below $2, and there may be other manipulation going on behind the scenes, but there is currently no evidence of this. However, $2 does certainly seem to be the ceiling the company hasn't been able to break through up until this point, in spite of offering operational successes with Lymphoseek. If the six months is the trigger for NAVB to rise above $2, then March 24th would be the six-month point, the average price for the two prior training days would be March 20th and 21st, and the first day that Crede would be able to short the stock would be the 21st. Right now, short interest stands at 16.75%, not significantly high, but enough to demonstrate there are some betting against the company: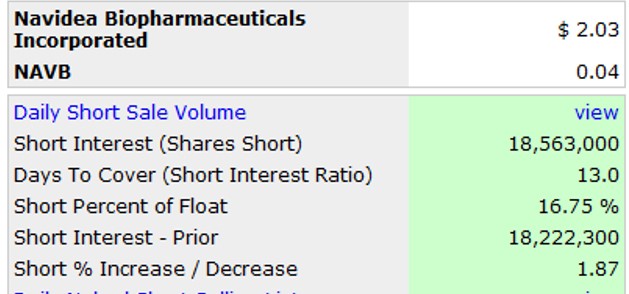 Conclusion
NAVB looks like it hit a home run with Lymphoseek and will reap the benefits of it as sales ramp up and markets open up. I don't normally buy into the conspiracy theories, and am not accusing Crede of manipulating the stock price, however, there is enough to make me go "hmmmm". On the other hand, this may be a good opportunity for investors to take advantage of a special situation. I look forward to seeing how the price moves over the next two weeks as we approach the six-month mark. Based on the potential for increased revenues, I remain highly bullish on NAVB.
Disclosure: I have no positions in any stocks mentioned, and no plans to initiate any positions within the next 72 hours. I wrote this article myself, and it expresses my own opinions. I am not receiving compensation for it (other than from Seeking Alpha). I have no business relationship with any company whose stock is mentioned in this article.