In the coming years, there may be a new "milk" arriving at your local grocery store. At the Natural Products Expo West convention which took place this past weekend, renewable oils and bioproducts company, Solazyme (SZYM), showcased some of its latest food products. The company served samples of algae milk, an alternative milk product free of dairy, soy, lactose, and nuts. The product was made using Solazyme's whole algal flour.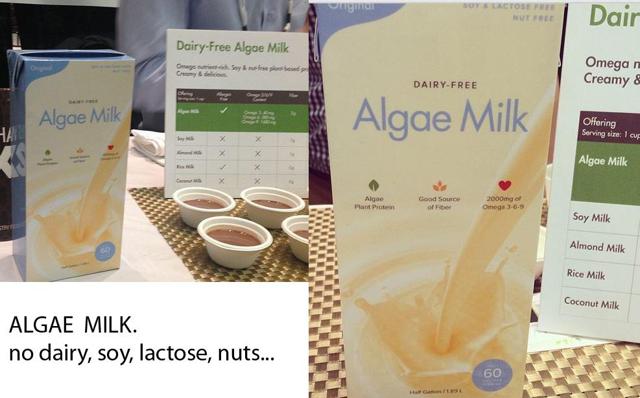 (Images taken from conference attendees found here and here)
There has been little innovation when it comes to new food ingredients for the consumer market. A large part of this problem is the fact that it is very expensive to develop and scale these technologies. As a result, much of the innovation in food to date has primarily been secluded to the large established players in the industry. However, Solazyme is on track to tackle this trend with its suite of algae-based products.
How Solazyme Can Impact The Food Industry
In many ways, the company is ambitious. Solazyme has raised nearly a half billion dollars since its inception. When it comes to nutrition, Solazyme stated in its annual report that it expects to compete with large competitors such as Cargill, Monsanto, Syngenta, DSM, and DuPont. However, despite anticipated competition from these large companies, Solazyme expects that it "may also partner or collaborate with these types of companies."
Indeed, Solazyme has already begun to do just that. Large food companies such as Archer Daniels Midland Company (ADM), Bunge (BG), and Unilever (UL) have partnered with Solazyme. As the company ramps up its first large-scale commercial production, the prospect for additional partnerships with food-based companies continues to loom on the horizon. Stated in the company's latest conference call, Solazyme has already begun filling out the more than 160 requested samples for its algal flours.
What makes Solazyme's algal flours so unique for the food industry is the vast array of functional properties that microalgae can provide. Ken Plasse, Solazyme's VP of Business Development & Marketing, talked about this very concept in a recent panel discussion on next-generation food technologies. There he described some of the inherent benefits found in Solazyme's algae-based technology platform. Some of this is described in the transcription below:
"We use fermentation tanks, and literally five days after you put the seed culture into the tank you get a product that can be 65% protein - one of the highest percentage of protein within the plant market. Most plant protein is around 15% - 30%. So you're getting to 65% cell mass of protein. Or [you can get] a product that is 50% lipid, 20% fiber, and a whole bunch of micronutrients and vitamins. Or you can go the other extreme, and in this case we've asked the cell to produce as much oil as possible. What's interesting is that this particular oil is one of the most healthy and most stable in the world. It's got less than 3% polyunsaturates. Typically, [it is] less than 1% polyunsaturates - that's the cause of most oxidation. There's actually no oil available in the world with that low polyunsaturates. It's got 90% monounsaturates, [which] is extremely high. So you've got an incredibly healthy oil that is incredibly stable. And these are all produced by algae from Nature."

-Ken Plasse, Solazyme VP
Yet it is the vast range of use for these algal flours that should inherently capture the attention of potential investors in Solazyme. In its pending patent application named "Food Compositions of Microalgal Biomass," Solazyme lists a wide-ranged spectrum of food categories which can use the company's algal flours. Included in this list is the mention of algal milk. Several additional consumer food categories are shown in the excerpt found below:
"The algal flour of the invention is useful for a wide range of food preparations. Because of the oil content, fiber content and the micronized particles, algal flour is a multifunctional food ingredient. Algal flour can be used in baked goods, quick breads, yeast dough products, egg products, dressing, sauces, nutritional beverages, algal milk, pasta and gluten free products."
The global food ingredient market that Solazyme is focused on is approximately 83 million metric tons as of 2011. This estimate was stated in the company's Form 10-K found here. The company is exploring products which can enhance or replace emulsifiers, fats and oils, polysaccharides, oliosaccharides, and proteins. Solazyme's microalgae-based food ingredients can increase the functionality of the food products in its target markets. Likewise, it can also improve upon the nutritional profiles of such food products.
Solazyme's food ingredients align with several favorable consumer trends in the present. Most notably, this includes the demand for products that are more nutritious yet do not compromise on taste. Additionally, the company can address markets often plagued by food allergies. Solazyme's products also contain ingredients which are both natural and sustainable. Functional benefits also include enhanced taste and texture, natural emulsification, and robust industrial processibility.
A Chocolate Milk Comparison
For some time now, Solazyme has been testing the market for its food products. One such beverage profile that the company has previously tested is that of a chocolate milk. While possibly distinct from the company's latest showing of algal milk, the product testing helps to demonstrate the clear nutritional benefits offered by the company. Of greatest importance for this beverage product is the rather indistinguishable consumer acceptability. For such vast gains in nutrition, consumer research largely showed an inability to distinguish between the retail and test product. The graphic below is taken from the former joint venture with Roquette found here and described in detail through the patent found here: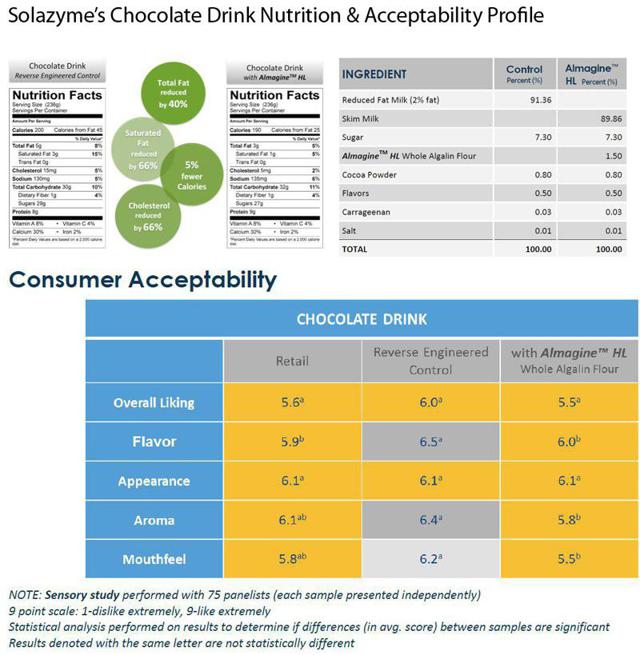 Click to enlarge
We see that Solazyme's beverage profile does not compromise on taste. On this subject, I too can vouch for this. In January, I visited the company's research headquarters in San Francisco. While I was there, I personally tried a variety of products including some chocolate milk, alfredo sauce, french dressing, egg bread, white cake, chocolate chip cookies, vanilla ice cream, and a protein bar. For myself, there was no noticeable taste difference between the control and the test products using algal flour. This includes the beverage profile seen above.
A Look At The Dairy Alternative Industry
Despite these significant advances in food & nutrition, Solazyme remains largely perceived as a petrochemical company. While having a growing hand in the world of nutrition, investors have largely mistaken Solazyme as a mere biofuel company. Yet as a progressive developer of tailored renewable oils, the company's products have found inherent usefulness in a wide range of applications ranging from chemicals, to cosmetics, and even into foods.
This brings us back to dairy alternatives. One such company that investors might want to refer to when it comes Solazyme's entry into this market is The WhiteWave Foods Company (WWAV). WhiteWave is the parent company for Silk Soymilk, Silk Almondmilk, and Silk Coconutmilk. The company now trades with a $5.17 billion market capitalization and a price-to-earnings ratio of 52.32 as of March 9. WhiteWave provides plant-based beverage products including soy-, almond-, rice-, and coconut-based products. These are the very markets which Algae Milk was contrasted against at the convention shown above.
According to Marketresearch.com in the article found here, retail sales of dairy alternatives made from almonds, rice, and coconut in the US are nearing $1.4 billion. The market is expected to grow to $1.7 billion by 2016. One of the more astonishing trends is the decline in drinkable soy. WhiteWave claims that across the plant-milk industry, soy now represents a mere 35% of sales whereas almond milk sales has significantly increased to more than 55% of the market.
It is clear that consumers want alternatives, and the introduction of an algae-based milk might prove to be a meaningful market in the future. Algae milk could address a population susceptible to allergies. It can also provide the essential protein, fiber, and Omega fatty acids needed for healthy living. While the company may want to give greater heed to the negative connotation often associated with the term "algae", those willing to try the product will find it quite pleasant to the taste.
A Look At The Company Now
Solazyme now trades with a market capitalization of $930 million based on the last price of $13.58 as of March 9, 2014. Most recently, the company has begun its transition into large-scale commercial production. In late January, Solazyme opened its first 20,000 MT facility based in Iowa with partner ADM. The company anticipates opening up another 100,000 MT facility based in Brazil with partner Bunge. This much larger location is expected to be opened in March or April.
As a result of these two facility openings, Solazyme's existing manufacturing capacity will effectively increase by more than 6,500%. As these facilities ramp up to their nameplate capacity, it is expected that the company's revenue will significantly increase in a manner not witnessed in prior years. Formerly operating as a development-stage company, Solazyme had only generated revenue of $39.75 million, $44.11 million, $38.97 million, and $37.97 million in the last four years respectively.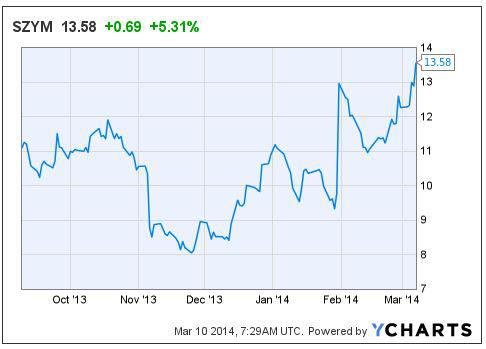 Final Thoughts
There are no easy entry pathways into the consumer food industry. However, Solazyme has developed the key relationships and raised the necessary capital to scale its production. Above all, the company's food products are differentiated and progressive on multiple consumer trends. While Solazyme continues to address the needs of large oil markets found in chemicals and personal care, it would be a mistake to dismiss the opportunity found in nutrition.
Investors should consider the rather large premiums often associated with growth names in the food industry. Wall Street often associates food companies with stability. The lack of innovation in this sector also brings increased attention to those who can make a difference to it. Solazyme carries a rather unique technology platform capable of disrupting multiple markets, including nutrition. The company appears to be a long-term investment worth holding onto for many years to come as its story unfolds.
Disclosure: I am long BG, SZYM, UL. I wrote this article myself, and it expresses my own opinions. I am not receiving compensation for it (other than from Seeking Alpha). I have no business relationship with any company whose stock is mentioned in this article.