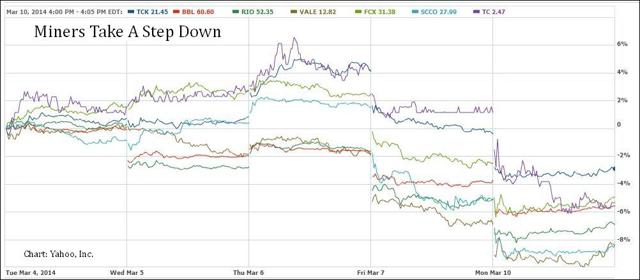 China's steel industry is in disarray causing the sharpest daily decline in ore prices since the 2008-2009 financial crises. Some iron producers have shuttered their operations and are in difficult financial straits due to their debt levels. In what seems like a bizarre twist, Mining.com reports that, "The stockpiled iron ore is not being put to industrial use, but because of tight credit conditions inside China the ore is being used as collateral to secure loans". Rumors of the financial failure of a mill in Shanxi province caused widespread panic in the industry. China did not allow private firms to go bankrupt until recently and now the fear is of a widespread collapse among steel producers. Platts reported on March 7:
"Wang Yingsheng, a senior CISA official, said at an iron ore conference in East China's Jiangsu province last week that 43% of its member mills reported losses in January, compared with over 30% in the whole of 2013.

The market outlook for the Chinese steel industry is expected to remain dismal for the rest of 2014, he said, as domestic steel mills, amid a limited increase in steel consumption and existing steel overcapacity, will continue to compete aggressively with each other, mainly through prices."
Concurrently with the decreased demand due to the flagging Chinese economy, reporting exports down 18% year-on-year at the end of February, there is increased supply in iron ore. The three largest Vale (NYSE:VALE), Rio Tinto (NYSE:RIO) and BHP Billiton (NYSE:BBL) have brought major new production on line. China is the major customer for sea bound iron ore, 60% of the world market.
Copper is now at an 8 month low, again largely because of the weakness of the Chinese economy. China accounts for more than 40% of the world consumption of the red metal. There has been, as with iron ore, expansion in copper production with new mines coming into production this year. The largest of these is Rio Tinto's huge Mongolian site at Oyu Tolgoi in the Gobi desert. Major copper producers include BHP Billiton, Rio Tinto, Freeport Copper and Gold (NYSE:FCX) and Southern Copper (NYSE:SCCO).
The decrease in price of these commodities will have a deep impact of the bottom line of the miners. The below chart from a recent BHP Billiton report shows the very large impact on profits that a small change in commodity costs can produce. Notable, a one-dollar decrease in the iron ore price translates into a $120 Million hit to the bottom line. A one-cent decrease in the price of copper has a $25 Million impact to profits.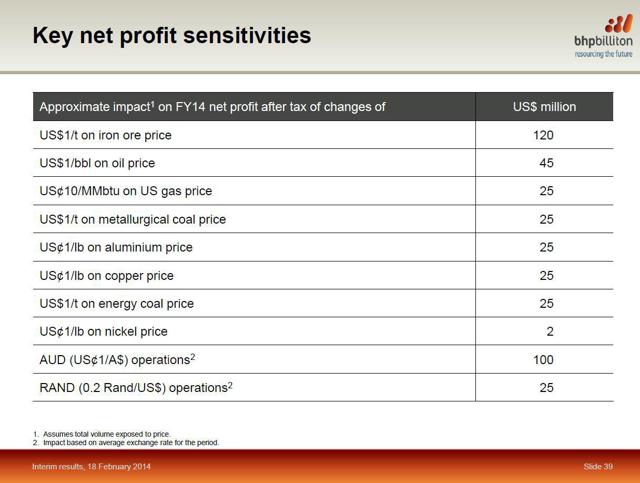 Action - Two Choices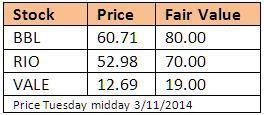 Has the commodities market and the stock market over reacted? To figure its fair value estimate of miners, Morningstar is using the prices $90/ton for iron ore fines and $2.50/pound for copper. If you agree with their Fair Values, this is a buying opportunity. If, based on a dismal outlook for China you see even softer prices, then you might want to short your favorite miner.
Disclosure: I am long BBL. I wrote this article myself, and it expresses my own opinions. I am not receiving compensation for it (other than from Seeking Alpha). I have no business relationship with any company whose stock is mentioned in this article.