It is widely known that a large part of Warren Buffett's fortune was made through investing in the insurance industry. In fact Berkshire Hathaway(NYSE:BRK.A) (NYSE:BRK.B), the company where he is CEO, owns the following insurance subsidiaries: Geico; Applied Underwriters; General Re; Kansas Bankers Surety Company; National Indemnity Company; United States Liability Insurance Group; Central States Indemnity Company; Wesco Financial Corporation; BoatUS; and has a large stake in Munich Re. It's natural to assume that if one of the (if not THE) world's most legendary investor spends so much time and capital in the insurance industry, then maybe we should invest in the sector as well. With that in mind I'll explore some potential investments in the insurance sector.
The Companies
Aflac (NYSE:AFL)- Aflac was founded and incorporated in Columbus Georgia in 1955. Through its various subsidiaries Aflac sells a variety of life and health insurance products in the US and Japan.
Allstate Corp (NYSE:ALL)-Allstate was founded in 1931 and headquartered in Northbrook Illinois. It sells various property (home and vehicle) insurance, life insurance, and retirement products under the Allstate, Encompass, and Esurance brands.
MetLife Inc (NYSE:MET)-MetLife was founded in 1863 and is headquartered in New York, New York. It sells nearly every conceivable insurance product, in nearly every region of the world.
Progressive Corporation (NYSE:PGR)-Progressive Corporation was founded in 1937 and is headquartered in Mayfield Village, Ohio. Through its subsidiaries Progressive provides personal and commercial vehicle insurance to customers in the United States and Australia.
Company Comparisons
According to Buffett, one of things that drew him to the insurance industry was the "float". Float is the money that insurance companies take in (as premiums) and get to invest for the companies own purposes, until such time as they need to pay out a claim to the customer. As Buffett wisely noted, the float functions as a free loan provided the company ran an underwriting profit. So, we're looking for stable and consistent profitability from these companies.
I compiled the table below to compare our 4 insurance companies. MetLife, the largest and most diversified of these four insurance companies, trades at the highest PE ratio and the lowest PEG ratio. With MetLife's high PE and low PEG analysts must be expecting big growth from it in the near future. Aflac trades at the lowest PE ratio of the four, and also has the highest PEG ratio and highest operating margins. The PEG is concerning, but the operating margins and dividend yield are excellent.


Data provided by Yahoo Finance and Morningstar.com
Note: PEG is the PE Ratio divided by the company's growth
One of my favorite metrics is Return on Equity (ROE). Many of the legendary investors, including Warren Buffett, keep a close eye on the ROE of the companies they invest in. We want to see consistently high ROE figures, so any potential investment can grow year after year. In the table below you can see the ROE that each company has recorded over the past 10 years. All of the companies, except Aflac, had a poor ROE during the financial crisis.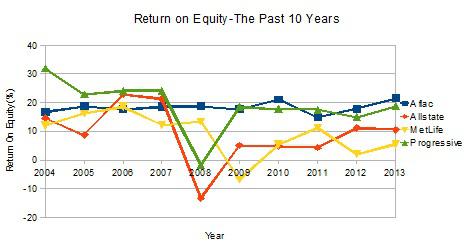 Data courtesy of Gurufocus.com
Conclusion
Based on the data above, I would be most likely to invest in Aflac. It has been on my radar screen for a while, but its stock price has continued to march higher. I need to dig into Aflac's books, but it is likely I will invest in the company in the future. Based on the metrics in the table above, it appears investors are paying a lot of money for Aflac's future growth. Aflac has more debt than I would prefer. Still, its PE ratio, price to cash flow, and operating margins all look solid. The return on equity metrics also look very stable.
Many metrics have me thinking the stock market is due for a substantial correction, so I'm not in any hurry to rush out and invest in Aflac (or any other company). I, personally have to be mindful of my strengths and weaknesses and resist the urge to rush into this rising market. Until the broad market gets a correction of some sort, I will remain very cautious, but Aflac has the makings of a great long term investment.
Disclosure:
I do not currently own any of the stocks mentioned in this article. This article is for informational purposes only and should not be considered a recommendation for anyone to buy, sell, or hold any equities. I am not a financial professional. The information above is provided by Yahoo Finance, Gurufocus.com, and Morningstar.com
Disclosure: I have no positions in any stocks mentioned, and no plans to initiate any positions within the next 72 hours. I wrote this article myself, and it expresses my own opinions. I am not receiving compensation for it (other than from Seeking Alpha). I have no business relationship with any company whose stock is mentioned in this article.