Revenues for Windstream (NASDAQ:WIN) have been declining in the recent past due to intense competition and secular changes within the industry. The company offers a high dividend yield of 12.30%; however, the sustainability of the dividend remains a concern for shareholders, as the company has a high payout ratio of 87%. I believe WIN's high dividend yield will be challenged in the near future, as the company could accelerate growth investments. Growth investments are important for the company, as they will help in addressing the growing competition and portend well for the stock's future performance.
Revenue and Subscribers Drop
The company reported annual revenues of $5.99 billion for 2013, representing a decrease of 2.4% year-on-year. In 2013, the company's consumer and wholesale segments' revenues decreased by 3.2% and 16% year-on-year, respectively. However, WIN's business segment, which comprises approximately 65% of total revenues, experienced a revenue increase of 1.4% year-on-year in 2013. The company has been struggling to sustain its top line results as the competition within the industry is increasing and due to secular changes. The following table shows the drop in total revenues for WIN in the recent past.
| | | | | | |
| --- | --- | --- | --- | --- | --- |
| | Q1 2013 | Q2 2013 | Q3 2013 | Q4 2013 | Full Year - 2013 |
| Change in Total Revenues (Year-on-year) | -2.5% | -1.8% | -2.8% | -2.8 | -2.5% |
Source: Company's Quarterly Reports
The following graphs show the revenues for WIN's business and consumer services segments.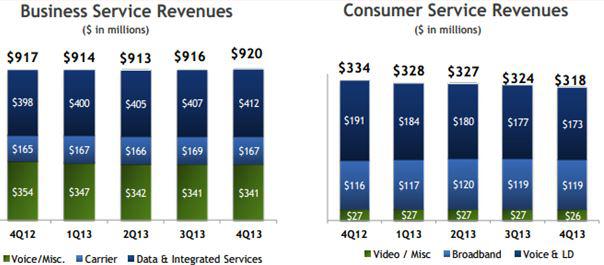 Source: Company's Presentation
Due to secular changes the company has been consistently losing its access line subscribers, whereas, high speed broadband services from cable operators are taking a toll on its broadband subscribers. The company's broadband subscribers dropped 3.5% year-on-year in 2013. The continuous subscriber loss remains a concern for the company, and I believe WIN needs to ramp up its growth CAPEX to address intense competition and stabilize its revenues.
If the company does not focus on growth investments, I believe the revenue drop will continue in future, as the competition remains intense and customers will move to advance integrated voice and data service providers. Also, the congestion and disruptions in WIN's network and infrastructure may cause further customer losses in the near term. The following chart shows the drop in number of subscribers in both access lines and the broadband segment.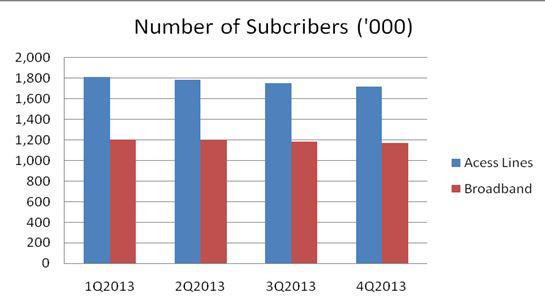 Source: 10-K
Bottom Line Results
The company has been taking measures to support its bottom line results, while the top line numbers deteriorate. WIN recently announced workforce reduction as a part of its cost cutting program to increase its operational efficiency. The company plans on eliminating 400 positions, 3% of its total workforce, which will bring an annualized saving of approximately $20 million. This program will surely benefit the company's cash flow and will allow WIN to direct cash flow towards growth projects. As the workforce savings will have a positive impact on the company's free cash flows, it will lower the company's dividend payout ratio in the future.
The company has done well in maintaining its OIBDA margin within a range of 38%-40% since 2010, despite the weakness in the top line numbers.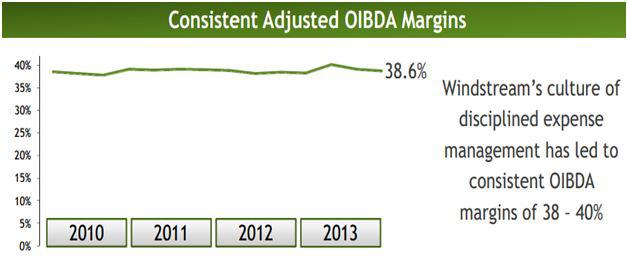 Source: Company's Presentation
The following table shows analysts' EPS estimates for WIN.
| | | | |
| --- | --- | --- | --- |
| YEARS | CONSENSUS EPS ($) | HIGH EPS ($) | LOW EPS ($) |
| 2014 | 0.37 | 0.5 | 0.26 |
| 2015 | 0.39 | 0.56 | 0.23 |
| 2016 | 0.43 | 0.45 | 0.41 |
| 2017 | 0.53 | 0.67 | 0.42 |
Source: nasdaq.com
Relatively Weaker Balance Sheet
The company has a relatively weak balance sheet as compared to its peers; WIN has a debt to equity ratio of 10.26x, as compared to CenturyLink (NYSE:CTL)'s and Frontier (NYSE:FTR)'s debt to equity of 1.2x and 2.0x. Also, the company also has lower interest coverage of 1.5x, as compared to its peers, as shown below in the table. The high debt to equity and lower interest coverage ratio for WIN adds to its risk profile.
Due to a highly leveraged balance sheet, credit ratings agencies have assigned lower credit ratings to WIN, as compared to CTL, as shown below in the table. Last month, Fitch Ratings downgraded WIN's issuer default rating from BB+ to BB, and also revised the rating outlook from 'stable' to 'negative'. Fitch Ratings revised the credit rating due to the company's high leverage, and anticipates WIN's gross leverage will not improve to 3.5x or below in the next 1-1.5 years.
| | | |
| --- | --- | --- |
| | TOTAL DEBT TO EQUITY | INTEREST COVERAGE |
| WIN | 10.26x | 1.5X |
| CTL | 1.2x | 2.1X |
| FTR | 2.0x | 1.65X |
Source: Morningstar.com
| | | | |
| --- | --- | --- | --- |
| | WIN | CTL | FTR |
| S&P | BB- | BB | BB- |
| FITCH | BB | BB+ | BB |
Source: Form 10-K
Also, the need for growth CAPEX in the near future might keep WIN's balance sheet and credit outlook under stress. The company guided its CAPEX to be in a range of $800-$850 million for 2014. Moreover, the company has notable long term debt repayments in the near future, and I believe a significant proportion of debt repayments will be covered through debt refinancing, and internally generated cash flows will be directed towards growth investments. The following chart shows WIN's long term debt maturity profile.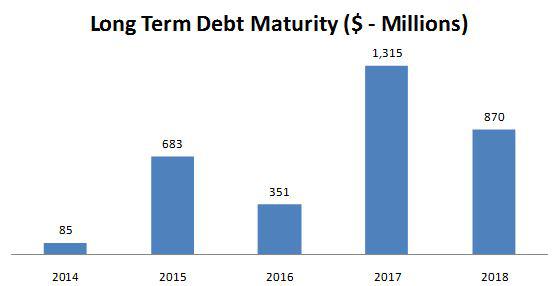 Source: Form 10-K
Dividends at Risk
The company offers a high dividend yield of 12.3%, as compared to dividend yields of 6.9% and 8.1% for CTL and FTR, respectively. Win's high dividend yield is a result of its high payout ratio of 87%. The dividends offered by the company remain challenged, as it will require cash for growth investments and to finance its debt repayments in the coming years. Also, due to WIN's high payout ratio, I believe it will face issues to sustain its dividends. However, WIN's reluctance to alter the dividend policy inserts risks to the business.
*(DIVIDEND PAYOUT RATIO=ANNUAL DIVIDEND/FREE CASH FLOW)
| | | | |
| --- | --- | --- | --- |
| | WIN | CTL | FTR |
| DIVIDEND YIELD | 12.30% | 6.90% | 8.10% |
| DIVIDEND PAYOUT RATIO | 87% | 52% | 49% |
Source: Yahoo finance, companies' reports and calculations
Conclusion
The company has been struggling to maintain its revenues, as the industry is going through secular changes. Therefore, I believe the company needs to adjust its dividend policy and direct its cash towards growth spending, which will portend well for the company's long term performance. Also, a high dividend payout ratio and high debt to equity presents challenges for the company and will keep the stock price checkered. Due to the aforementioned reasons, I have a hold rating on the stock.
Disclosure: I have no positions in any stocks mentioned, and no plans to initiate any positions within the next 72 hours. I wrote this article myself, and it expresses my own opinions. I am not receiving compensation for it (other than from Seeking Alpha). I have no business relationship with any company whose stock is mentioned in this article.