eBay Inc., headquartered in San Jose, California, is a leading global e-commerce marketplace bringing millions of buyers and sellers together to exchange goods and services. The company has over 16,000 employees and a localized presence in 24 countries across the globe.
I have written about eBay numerous times in my instablog commentary that covers my call writing portfolio here on Seeking Alpha. The strategy has provided relatively safe income time and time again by purchasing shares and selling calls against that position as the stock was range bound for quite some time.
However, last year I noticed that the fundamentals were also improving and in addition to my position in the call writing portfolio, I decided to add shares to my account @ $51.30.
Feeling more confident, I then marked EBAY as one of my stocks for 2014.
I believe the fundamentals alone make a compelling argument for share purchase. From a valuation perspective, eBay has grown its EPS from $0.82 in 2008 to $2.07 in 2013. Last year also saw revenue growth of 14%, with the Paypal division growing at a remarkable 19% and their latest quarterly report which details these accomplishments also announced a $5 billion share repurchase program.
Recently eBay broke out of the trading range I mentioned earlier as it closed @ $58.77 on February 28th. This last round of strength has come with Carl Icahn's involvement in the company, as in addition to the fact that he has purchased a stake in eBay, he is now taking on a more 'activist' role.
In a letter to eBay, Mr. Icahn proposed that eBay spin off PayPal, and unlock the value he sees in the company. The company then responded that it believes it is in shareholders' best interest to keep eBay and PayPal as one company, given operating synergies. The battle lines have been drawn. I like having Mr. Icahn as my partner.
Here is the weekly chart showing that breakout.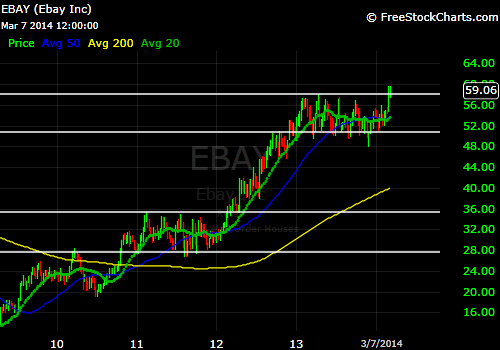 First, let's take a look at the trading range in 2011, then the upward breakout to the next range that developed in 2013.
The old intraday high in the upper range was $58.04 with a closing high of $57.31. With a close of $58.77 and an intraday high of $59.70 on February 28th, the technical breakout is confirmed. It was also an all-time high.
The old all-time record high was recorded in December '04 when the stock hit an intraday high of $59.17 and a close of $58.17; both of these milestones were surpassed last week.
The adage of what was resistance will now become support ($57.50- $58.50) should play out in the shares as it did when it broke the first trading range in 2011. Notice the 2012 breakout, then the quick retest of that new support (old resistance) @ $35-$36 followed by the march higher.
Now it has to be noted that the stock surely had the overall market tailwinds at its back in 2012 to assist in the stock charging ahead. Now that the S&P has come a long way, we may not have those same tailwinds.
Even so, there are many stocks that will outperform the overall market and this may be one of those names.
There are no guarantees, but the same could very well be in the offing for the shares now, as was evident in the earlier breakout in 2012. False breakouts can occur, but with the Icahn involvement and good fundamentals, I like the prospects that this breakout is real. This may then be the trifecta to take EBAY to new all-time highs.
With no overhead resistance, the shares could trade up to the mid 60's, my original target when I initially bought the shares back in December.
The recent surge last week leaves EBAY overbought on a short-term basis. However, any weakness could suggest a buying opportunity.
Given the market weakness over the Ukraine situation, I added shares to my initial position at the open @ $57.92 on March 3rd.
Disclosure: I am long EBAY. I wrote this article myself, and it expresses my own opinions. I am not receiving compensation for it (other than from Seeking Alpha). I have no business relationship with any company whose stock is mentioned in this article.
Disclaimer: It is my intention to present an introduction to this security and state my intent and position. It should be used as a starting point to conduct your own due diligence before making any investment decision. I am long numerous equity positions; all can be seen here on my SA Instablog.