Mexico is an intriguing market for many businesses because of the growth, population expansion and rapid developments there. Radical reforms in the state-controlled energy sector also tempted many businesses, including exploration companies and financial institutions to expand in Mexico. Inviting foreign investments for its oil industry acted as a catalyst, as Mexico is one of the top ten oil producing countries in the world. Seeing such a rosy picture of the economy and oil industry, Citigroup (NYSE:C) also preferred to invest in Mexico's oil industry in the hope of expanding its profits. No doubt Citigroup was right in this, but the problem arose when it became a victim of fraud in one of its financing deals in Mexico.
It was a deal to finance the oil services company, Oceanografia S.A., and it was managed by Citigroup's Mexican lending division, Banco Nacional de Mexico, or Banamex. Short-term credit of $585 million was awarded to OSA under an accounts receivable financing program. Later, Banamex discovered that receivables due from ''Pemex'' (the Mexican state-owned oil company) were substantially lower than $585 million, and it is alleged that OSA fraudulently overstated receivables. Citigroup had to reduce its 2013 net profits (after tax) by $235 million after the alleged fraud was discovered. Now, its profits are $13.7 billion for 2013 and per share effect of the write-down is $0.07 that proved to be minimal, driving down EPS from $4.42 to $4.35. According to Fitch, there is no chance that Banamex can recover the money it lent to OSA. As an outcome of the negative effects, Moody's Investors Service has decided not to upgrade the debt of Banamex because of internal control lax. It is still to be investigated whether OSA had misrepresented its receivables knowingly or not. OSA also owes Banamex $33 million, either in direct loans or standby letters of credit issued on OSA's behalf. The recoverability of this $33 million remains unknown, as the Mexican Government has seized OSA's accounts and assets.
This fiasco raises the question regarding Banamex risk management and internal controls. Banamex, bought by Citigroup back in 2001, contributes 10% of the group's global profits, and thus, is a significant part of the bank. If Banamex faces defaults on its other loans as well, it will indicate systemic problems and create a serious problem for Citigroup. However, CEO Michael Corbat has delivered relieving news that a rapid review has been conducted across the board for any programs similar to current incident and discovered that none exists. That suggests there is no systemic problem, and Citigroup has become more cautious by tightening its controls to avoid any such catastrophe in future. But in its 2013 annual report released on January 16th, 2014, the CEO had already certified the effectiveness of its controls. Despite his certification, in mid-February, the company learned of the fraud problem in Mexico. OSA had a history of being late in paying its bills, salaries to staff, and coupons to bondholders. How could the bank be careless in financing a company with such a history? This is enough to suggest that the controls are not tight enough to detect or prevent frauds. If this fraud went unnoticed by the bank's controls, what other irregularities might have gone undetected? Citigroup has a diversified franchise around the globe, with operations in 160 countries, and that is a factor that cannot be matched by many banks. In short, Citigroup has the guts and ability to transform its global reach, a valuable asset, to make money for the organization. But penetration into different economies brings risks along with it, and it is the bank's internal control system that needs to be robust enough to withstand those risks.
However, the real cause of concern is Citigroup's other pending deals in Mexico, as the Mexican economy, once thriving, has hit the skids. This slowdown in the economy may produce a slow outcome for Citigroup in the future. According to OECD, structural reforms are needed to reverse the downward sloping productivity trend and help Mexico to propel forward. Any structural reforms will take time to show their impact even after being implemented. This suggests Citigroup will see staggered growth in Mexico in the near term.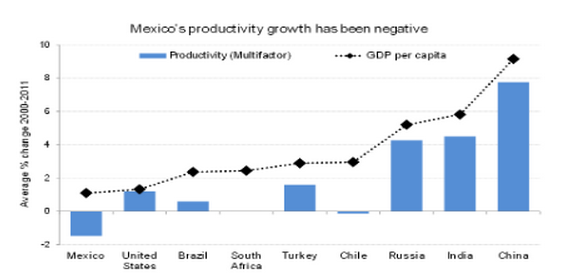 Source: OECD
Bullish Stance Regarding the Stock
After such a catastrophe, I see this stock as bullish because of the enormous top and bottom line growth and its currently cheap valuation. The following table sums up some of Citigroup's metrics, comparing it with those of JPMorgan Chase & Co (NYSE:JPM) and Bank of America Corp. (NYSE:BAC). Citigroup is expected to grow at a rate of almost 4.2% during 2014 and 6% during 2015, while its competitors are expected to show meager or negative growth. The long-term growth rate for Citi is comparable to that of BAC, but way higher than JPM. Its net profit margin and ROA are also more robust than its competitors. Looking at the total debt-to-equity ratio, we discover that it is less leveraged than JPM but more than BAC.

Source: Reuters
In the 4th quarter of 2013, Citi reported allowance for credit losses of $6.5 billion, or 6.98% loans, that were way lower than 9.35% of loans during the comparable period last year. This shows that the company has tightened its controls on credit and loans. It has a Tier 1 Common ratio of 12.64%, which implies that it is well-capitalized, and thus, faces no restrictions on paying dividends to shareholders. It is well-equipped and can bear much more losses than the current write-down. Despite all of its strengths, this stock couldn't outperform its competitors in the previous year.

Click to enlarge
Source: YCharts
Turning our focus towards the price multiples will lead us to the conclusion that Citigroup is trading lower than its competitors, regardless of which measure we take. Citigroup's stock is undervalued and is not trading at its full potential. This may be because the market carries a negative sentiment regarding the company since the 2008-09 financial crisis that tarnished the company and resulted in it having to be saved by a government bailout package.

Source: Yahoo Finance
The negative market sentiment regarding Citigroup after the 2008-2009 financial crisis had long-lasting effects and was the reason why the stock is still trading at a cheap valuation. Its stock price is $49.42, compared to its book value per share that is $65.23.
Bottom Line
This stock is trading at a 25% discount to its book value. This is the opportunity for contrarian investors to look into the long-term prospects of the company, unbiased and positively. As the effect of the financial crisis fades and the economy moves towards new heights, the stock will elevate in terms of price. Given the current catastrophic situation, Banamex may continue recording losses in the near term as the actual picture of OSA becomes clear and will bring the stock prices further down. This one-time event should make company improve its risk measures, making future losses less likely. Investors should look for any negative news and the resultant dip in the price as an opportunity to buy the stock.
Disclosure: I have no positions in any stocks mentioned, and no plans to initiate any positions within the next 72 hours.
Business relationship disclosure: The article has been written by a Blackstone Equity Research research analyst. Blackstone Equity Research is not receiving compensation for it (other than from Seeking Alpha). Blackstone Equity Research has no business relationship with any company whose stock is mentioned in this article.