With the events in Eastern Europe having moved the confrontation from a possible military clash to one that is now playing out in the legal and diplomatic spheres, world markets are far less concerned about region this week. Commodity markets have also calmed down, but we think that the issue may be forcing countries such as Germany to rethink their stances on nuclear energy. Japan recently reiterated their nuclear plans as there are not too many other choices for them when it comes to energy, and that is the situation that Europe finds itself in. Japan is an island in the Pacific ocean and Europe is an island of its own creating because of its refusal to develop its energy supplies via new technologies. Renewables are obviously not working at this point in any of the EU member countries which subsidize solar, wind, etc so we have to believe that nuclear is back on the table in Europe. It has to be.
Chart of the Day:
Physical copper has had a rough go of it lately, but recent sessions have really compounded the pain for bulls, which we are one. Now we are watching to make sure that this is not signaling a future move downward by the equity market here in the US.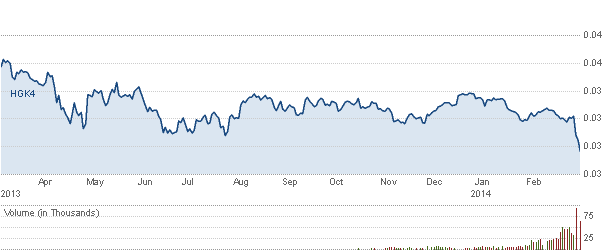 Source: Yahoo Finance
Commodity prices this morning are as follows:
Gold: $1,343.50/ounce, up by $2.00/ounce
Silver: $20.805/ounce, down by $0.105/ounce
Oil: $100.43/barrel, down by $0.69/barrel
RBOB Gas: $2.9537/gallon, up by $0.0043/gallon
Natural Gas: $4.591/MMbtu, down by $0.06/MMbtu
Copper: $2.9625/pound, down by $0.069/pound
Platinum: $1,464.20/ounce, down by $13.00/ounce
Uranium Miners Rallying
The news from Japan and Eastern Europe has seen investors flock to shares of Cameco (NYSE:CCJ) in recent sessions, with those shares now trading at 52-week highs. Management on their last conference call was pretty conservative, but that was before the latest round of bullish news for the sector. We have been pounding the table for investors to purchase the shares between the $18-21/share range for some time and all of those purchases are now solidly in the green.
The recent strength in Cameco can be attributed to Japan's continued dedication to their nuclear industry. We think Germany may be forced to cancel their plans to abandon nuclear if the reports concerning renewables coming out of that country are true.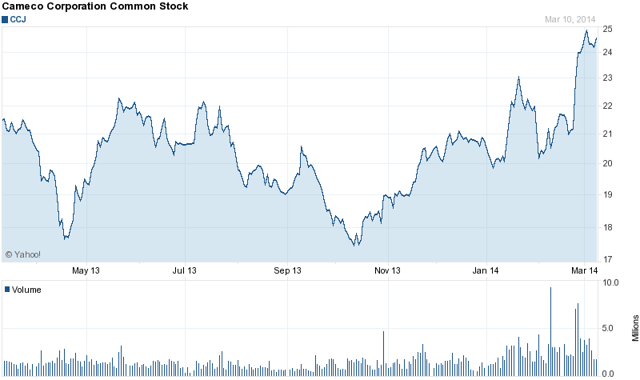 Source: Yahoo Finance
The company has new supply coming to market and needs to find buyers for that new production, and if Japan and Germany ultimately decide not to close their nuclear industries then it is obvious where this new supply could find buyers. Readers should also keep in mind that Russia is planning to pull sales at below market prices from its stockpiles to the open market in the future and this should lead to more demand from cheap mined production, something that Cameco has an abundance of.
Also rallying has been Ur-Energy (NYSEMKT:URG), which has for a long time been our top pick in the uranium sector. These days it seems that it is everyone's top pick due to the fact that production is expected to ramp up and more and more people are paying attention to it now that management has delivered on many of its promises where competitors have stumbled. Where Cameco is a great play for those looking to take on minimal risk while gaining exposure to the uranium miners, Ur-Energy is a high-risk, high-reward opportunity.
The next catalyst for the sector will be when the spot and contract prices for physical uranium begin to move higher. That has always been the main reason for these stocks to move and with the metal appearing to have possibly bottomed the next year could be quite interesting.
Copper Falling
Copper continues to fall, and considerably so. We have taken out the $3 mark in today's trading and it is obvious that the market is deeply concerned with the recent news out of China. Freeport-McMoRan (NYSE:FCX), Southern Copper (NYSE:SCCO) and the Global X Copper Miners ETF (NYSEARCA:COPX) are all trading near recent lows; all having dropped sharply in recent sessions.
Although we remain bulls, historically it has proven to be wise to look to the copper market for clues as to which way the equity market was headed...although in recent years that correlation has broken down somewhat as China grew to dominate the copper market.
Disclosure: I have no positions in any stocks mentioned, and no plans to initiate any positions within the next 72 hours. I wrote this article myself, and it expresses my own opinions. I am not receiving compensation for it (other than from Seeking Alpha). I have no business relationship with any company whose stock is mentioned in this article.
Additional disclosure: FCX has previously been recommended.
Editor's Note: This article covers a stock trading at less than $1 per share and/or has less than a $100 million market cap. Please be aware of the risks associated with these stocks.