Qualcomm (NASDAQ:QCOM) designs, develops, manufacturers and markets digital communication products. Qualcomm's business segments include mobile device chipset manufacturing, mobile device royalties and strategic investments. Qualcomm is the leader in ARM-based chipset processors which can be found in the bulk of Android (NASDAQ:GOOG), BlackBerry (NASDAQ:BBRY) and Windows (NASDAQ:MSFT) mobile devices. The licensing segment is used by almost all mobile device manufacturers including Apple (NASDAQ:AAPL). Considering that 1 billion smartphones were shipped last year, the real winner from the smartphone wars really is Qualcomm. Qualcomm charges royalties on each handset sold based on its technology and one time licensing fees from handset vendors to use its proprietary technology.
Competition And Risks
On the technology front, Qualcomm competes with GSM mobile phone technology, which is wildly prevalent outside North America and is an open source technology.
As the world moves from 3G to 4G (LTE/WiMax), Qualcomm has lost some of the hefty royalty pricing power on OFDMA-based LTE technology as it commanded on CDMA technology.
On a corporate front, Qualcomm faces intense competition from Broadcom, Mediatek and Intel.
Market saturation in the smartphone market. More about this later.
The ongoing foreign currency fluctuations will pose a risk on Qualcomm's results in the future.
Qualcomm faces regulatory trouble in China, where it is accused of overcharging and abusing dominance.
Financials
Qualcomm's revenue per share, earnings per share (EPS) and free cash flow (FCF) per share are extremely healthy. The following chart shows the 10-year trend of the said metrics. In addition, QCOM has no debt and holds $8.29B cash in its coffers.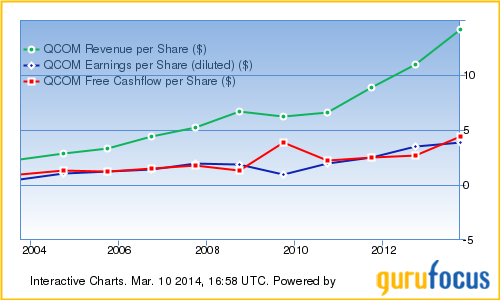 Revenue breakdown
Qualcomm's industry leading processors are not only found in the latest Android, BlackBerry and Windows phones, but Qualcomm commands a formidable patent portfolio. Qualcomm currently generates two-thirds of its revenue from sales of mobile device chipsets and one-third of its revenue from royalties by licensing the technology.
As is apparent from the numbers above the patent licensing is a very important part of the business segment. Some of the oldest CDMA patents started expiring in 2010, but due to the nature of the technology and fast changing landscapes of mobile development, Qualcomm has kept up either through its own R&D innovation, acquiring firms that have a strong patent portfolio, or simply buying patents from other firms - as Qualcomm did recently buying 2,400 patents from HP in January 2014.
The Future
Global smartphone and tablet penetration is estimated to be about 22% and 5.8% (respectively) of the world's population, according to BI Intelligence. The saturation of the smartphone market is something that has caught the attention of analysts. Citi analyst Glen Yeung noted, "The desktop computer market took a little more than 12 years to mature, reaching a saturation point in 2008, the laptop computer market took 10 years, maturing by 2012. When you get into smartphones and tablets, those markets are expected to mature in 2015, giving smartphones a product life cycle of seven years and tablets one of 5 years."
This has caused Qualcomm and other chipset makers and tech giants to focus their attention on new avenues of growth. Qualcomm, in 2013, started exploring markets for device expansion and penetration into the living room such as Smart TVs, set top boxes, etc., to create a smart home platform, which is Qualcomm's take on the Internet of Things (IOT) movement. Qualcomm could also see some growth in wearables - products such as Google glass and Smart watches (Qualcomm's own Toq, Apple's rumored iWatch).
But the most promising growth could come from In-Car Entertainment (ICE) and the development of vehicular networks. Apple recently announced the release of CarPlay, which is to premiere in Ferrari, Mercedes-Benz and Volvo cars, with 13 other manufacturers slated for later releases. This platform opens up a whole new industry for communication over mobile networks - and again, Qualcomm stands to benefit from either selling its chipsets or from the licensing royalties.
Qualcomm has been working on its Snapdragon 602A processor which, with its extra cores, will provide automakers with options to improve audio, video infotainment and communication. It should be noted that Qualcomm does not have the market cornered for itself. Intel has its own in-vehicle Infotainment (IVI) technology for the automobile market and is said to have BMW, Jaguar, Land Rover and Toyota as key clients.
Qualcomm as a dividend play
There are a handful of technology companies that can be considered as dividend plays. Qualcomm qualifies as a one of them - with a yield of 2.2% (based on the market price at the time of writing). Qualcomm also has a record for growing dividends, having raised dividends 12 years in a row with the latest dividend hike coming in at a rate of 20%. Despite the high dividend growth rates over the last few years, the payout ratio is a sustainable 45%.
Conclusion: Qualcomm provides an opportunity for investors to profit from the global adoption of mobile devices, no matter which manufacturer (whether Apple, Samsung, BlackBerry, Nokia or Windows) they choose. The company is also well positioned to profit from growth sectors of the tech industry such as wearables, IoT, in-car infotainement and communication. Although Qualcomm faces some headwinds in China, clearing the regulatory roadblocks in China could translate to a huge sales increase as China moves forward and adopts LTE. Qualcomm provides investors with a unique mix of growth, income and dividend growth.
Full Disclosure: I am long QCOM. My full list of holdings can be found here.
Disclosure: I am long QCOM. I wrote this article myself, and it expresses my own opinions. I am not receiving compensation for it (other than from Seeking Alpha). I have no business relationship with any company whose stock is mentioned in this article.