In an attempt to explore the healthcare opportunities in Australia, Tenet Healthcare Corp. (NYSE:THC) authenticated its plan of acquiring Australia-based private hospital chain, Healthscope Ltd., on Tuesday. Healthscope operates Australia's third largest pathology business with 43 hospitals, enjoying a 15% share in the country's private hospital market.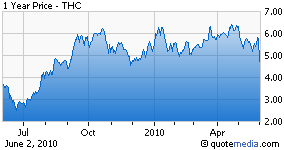 While Tenet is at the preliminary level of negotiations, there are reportedly a handful of more bidders who are interested in Healthscope. Firms such as Kohlberg Kravis Roberts (NYSE:KKR), CVC Capital Partners (NYSE:CVC), Texas Pacific Group, Carlyle Group and the Blackstone Group (NYSE:BX) are reported to be some of the bidders. However, Healthscope is yet to confirm its final buyer.

Although Tenet has not quoted any fixed value for the acquisition, KKR and CVC together have valued Healthscope at $1.84 billion, pricing it at a premium at $5.80 per share. While KKR and CVC are being advised by Morgan Stanley (MS), Tenet has appointed Citigroup Inc. (NYSE:C) as its sole advisor for the deal.

Further, Tenet views this deal to be rewarding as Australia's booming economy holds an increasing opportunity en route for private health insurance coverage. While over 40% of the country's population is covered by private health insurance providing a substantial market, the expenditure at such private hospitals is estimated to grow merely by mid-single digits.

This paves way for ample scope in perking up Tenet's payer mix, margins and mid-long term growth rates. The deal can also help Tenet in geographical expansion, thereby creating promising growth opportunities in future.

However, the news flow did not delight Wall Street as Tenet's shares plummeted 17.5% on Tuesday, closing at $4.72. While Tenet believes the deal could to be a strategic fit and a solid addition to its balance sheet, the market and analysts are doubtful about Tenet's capacity to carry out the deal if Healthscope chooses it as a final bidder.

Although Tenet is optimistic about its own ability to improve its earnings and cash flow growth in its domestic operations, the debt-ridden company had trimmed its guidance for 2010 during the recent earnings release. Higher bad debt expenses, operating costs and a decline in collection rates and cash continue to reflect a cautious outlook for the stock. It is yet to find out if the company can sustain a further cash burn and simultaneously acquire fundamental growth.

Hence, currently we remain on the periphery in order to observe the developments on the company.