Readers of our recent articles know the focus has been on MLPs with distributable cash flow numbers that have fallen well short of the amount the companies are paying out as distributions. In this situation, a company must either find a way to increase DCF or eventually reduce the distribution rate. EV Energy Partners, LP (NASDAQ:EVEP) has veered away from the cash flow strategies followed by other E&P MLPs and the result has been a significant DCF shortfall in each quarter of 2013. Several factors are in the company's favor to get the cash flow back on track to cover the distributions.
Note: Master limited partnerships are not corporations, so investors in an MLP own units and not shares. Income payments made to investors are distributions and not corporate dividends. However, to keep things moving along and not become repetitive, the words shares and dividends may be used in this article with an understanding that the use is not technically correct.
Lower Hedging Activity Compared to Peers
The usual practice for an exploration and production MLP is to fully hedge future production, often up to 3 to 4 years in the future, to lock in the prices earned for oil and/or natural gas production. If production forecasts are accurate, the E&P MLP produces the expected amount of cash flow and can pay steady distribution to investors. Investors buy into MLPs like Linn Energy, LLC (LINE) and Vanguard Natural Resources LLC (NYSE:VNR) because of the steady distributions that result in high-yielding investments.
In contrast, over the course of 2013, EVEP experienced about a 30% decrease in DCF, which the earnings releases stated "are primarily attributable to the decrease in cash settlements on commodity derivatives". EVEP had purchased a large amount of energy derivative hedges in 2008 when gas and oil prices were much higher. Those hedges expired in 2012, and both hedged values and market energy prices starting in 2013 were at much lower levels than those that supported cash flow and distributions through the end of 2012. The company has the bulk of production hedged through 2015, but the current hedging prices have put the DCF level at about 0.75 times the amount of payments to unit holders.
The DCF vs. distributions shortage must be generated from some source. If the money is not generated by business operations, the cash will come from either borrowing money or by raising equity through the sale of additional units.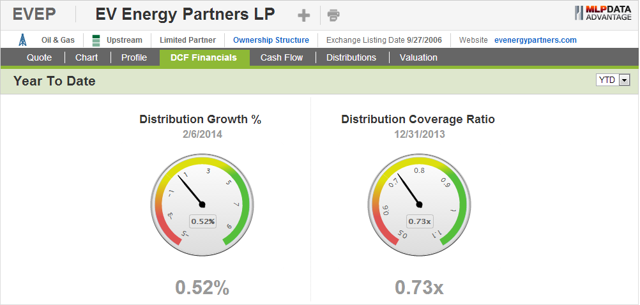 Potential for Midstream Assets to Pick Up the Slack
EV Energy Partners has put together an interesting portfolio of assets in the Utica shale play. The assets include 173,000 working interest acres, overriding royalty interest on 880,000 acres, a 9% interest in Cardinal Gas Services - a gathering and compression operation - and a 21% interest in the Utica East Ohio gas gathering, processing and fractionating complex.
The joint venture drilling project is in the early stages of production, the royalty interest have not yet produced any income, Cardinal Gas Services is just starting to hook up wells, and UEO will start significant processing in Q1 of 2014 and grow from there. The Utica assets owned by EVEP will feed on each other, multiplying revenue at the different stages of production, gathering and processing in the shale energy play. From basically zero in 2013, a recent EVEP presentation shows projected EBITDA of about $35 million in 2014 from the midstream projects and double that amount in 2015. For comparison, in 2013 adjusted EBITDAX was $209 million producing DCF of $100 million.
Back to 100% DCF Coverage in 2014
The EV Energy Partners management has stated a goal to get back to 1.0 times coverage, and more importantly, has indicated a willingness to make significant changes to get there. As noted above, the spending over the last couple of years on the midstream assets should start to pay off this year, and there is potential for the royalty overrides to start kicking in some meaningful revenue.
The company has also indicated that the projects in the Utica play have significantly increased the value of those holdings and EVEP would seriously consider selling some of those assets and reinvest the capital into E&P assets that would generate immediate cash flow. EVEP's general partner rights are owned by EnerVest, an E&P company funded with private equity capital. EnerVest focuses on the develop of new drilling sites, resulting in producing wells that can be sold to EV Energy Partners. The potential for drop down acquisitions from the GP that would b immediately accretive to DCF provides a significant level of flexibility for EVEP.
The options available to EVEP reinforces the probability that this MLP will be able to get back to 1.0 times DCF coverage while maintaining the current distribution level. Another factor that could force EVEP to change the asset mix towards higher cash flow is the fact that the minimum quarterly distribution per the partnership agreement is $0.7615 per unit. The min distribution level was reset in 2011 and since the actual payout has only increased to the current $0.771.
High-Yield vs. Limited Distribution Growth
The current 8.8% yield is in line with other E&P MLPs. VNR yields a little less, and LINE is at 9.5%. However, EVEP was yielding about 5% at the start of 2013 and before the DCF issues came up. The low current DCF coverage ratio of 0.73 times was in effect for all of 2013, so it is important for the coverage gap to soon start to narrow. Investors holding EVEP for the long term should probably not expect the distribution rate to increase before sometime in 2015. However, if the company does bring DCF back in line with the payouts, the market may push the unit price higher on that bit of good news.
EVEP Notes: The company currently pays a 2% IDR split. The next IDR level, 15%, occurs when the distribution rate exceeds $0.875725 per unit.

Disclosure: I have no positions in any stocks mentioned, and no plans to initiate any positions within the next 72 hours. I wrote this article myself, and it expresses my own opinions. I am not receiving compensation for it (other than from Seeking Alpha). I have no business relationship with any company whose stock is mentioned in this article.