Let me show you three charts that concern me, all related to the bullishness of US retail investors today.
1. US Households: More Exposed to Stocks Now than Since 1999
At the end of 2013, US households in aggregate have 25.5% of their total net worth (financial assets - debts) in shares and mutual funds invested in shares (Figure 1). That is the highest level since 1999, at the peak of the technology bubble that then promptly turned into tech bust, with the Nasdaq Composite index (CCMP) falling from over 5100 in March 2000 to a low of just over 1100 by October 2002...
Figure 1. US Households' Net Worth more than One Quarter in Stocks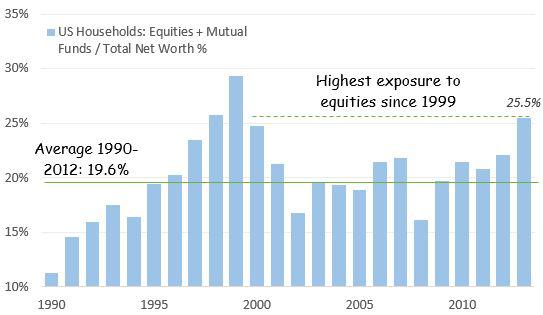 Source: Author, Federal Reserve
As a whole, US households saw their net worth increase by nearly three trillion dollars over the last three months of 2013, boosted largely by gains in stock and house prices. So, yes, they have done very well out of their financial assets, with their net worth nearly 14% higher by the end of last year, compared with end-2012. But this is exactly why they may now be becoming overconfident, switching investments increasingly out of cash and bond funds and into stocks and stock funds instead.
2. TD Ameritrade Investor Gauge hits a new high
TD Ameritrade is one of the largest online stock brokers in the US; they collect data on their clients' buying and selling activities, and summarize it neatly in their Investor Movement Index (Figure 2).
Figure 2. TD Ameritrade's Investor Movement Index Hits a New High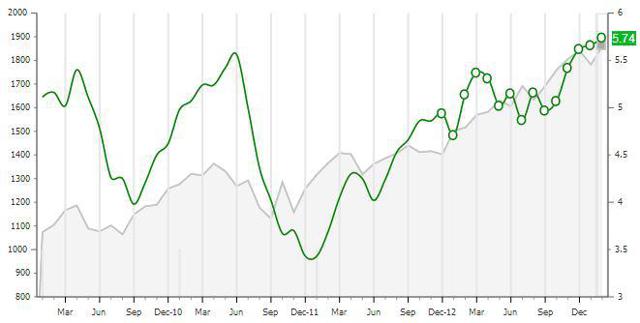 Source: TD Ameritrade
You will notice from this graph that following the previous peak in mid-2011, investor sentiment and the S&P 500 stock index (NYSEARCA:SPY) both fell pretty dramatically (S&P 500 dropped over 19% from peak to trough over this period) as a result of the onset of the Euro sovereign crisis. You may well wonder whether the current concerns over Ukraine/Russia or over potential Chinese economic slowdown could have a similar dramatic effect on stock markets this time around...
3. NYSE Margin Debt has run up to a new extreme
The third worrying retail investor fear is centered on the new extreme hit in margin debt in accounts held with NYSE member firms - some $451 billion in stock market-related debt (Figure 3).
Figure 3. NYSE Margin Debt in US Stock Trading Accounts At a New All-Time High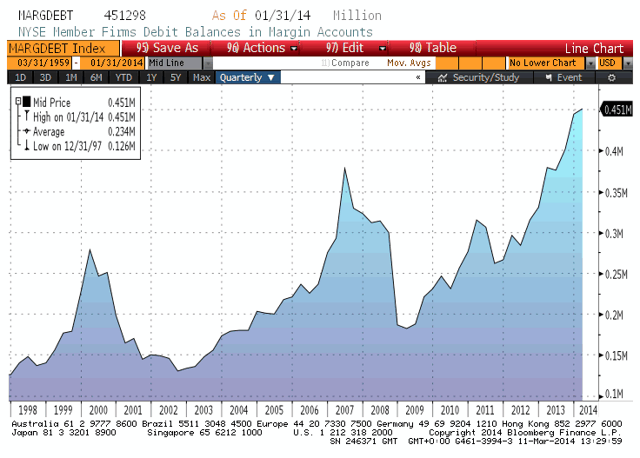 Source: NYSE, Bloomberg
Again, the last two times that this margin debt ran up sharply in US stock market trading accounts were in 1999-2000 and 2007: and both times, there was a subsequent bear market in stocks as the stock market fell, investors suffered margin calls on their debt-laden stock trading accounts and were then forced to sell stocks, sending the stock market even lower in a classic "negative feedback loop", in scientific parlance.
But don't rush to sell everything just yet...
Three scary charts, I think you will agree. But, in fairness, I should also present the other side of the coin too. First of all, there are plenty of stock markets both inside and outside the US that have not broken out to new historic highs.
Exhibit 1: the technology-heavy Nasdaq Composite index (QQQ; Figure 4). The Nasdaq today still has another 18% to go just to get back to the peak reached almost 14 years ago in March 2000...
Figure 4. The Nasdaq Index Still Well Below the March 2000 Peak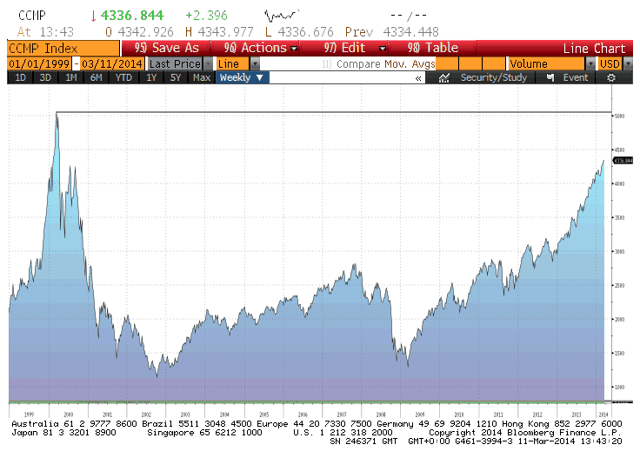 Source: Bloomberg
Secondly, US corporate earnings have grown significantly to new highs since the stock market peaks in 2000 and since 2007: Figure 5 shows S&P 500 aggregate earnings, which have grown to 32% above the 2007 peak as of today, with over 8% yearly EPS growth forecast for the end of this year.
Figure 5. S&P 500 Forward Earnings Now 32% Above The 2007 Peak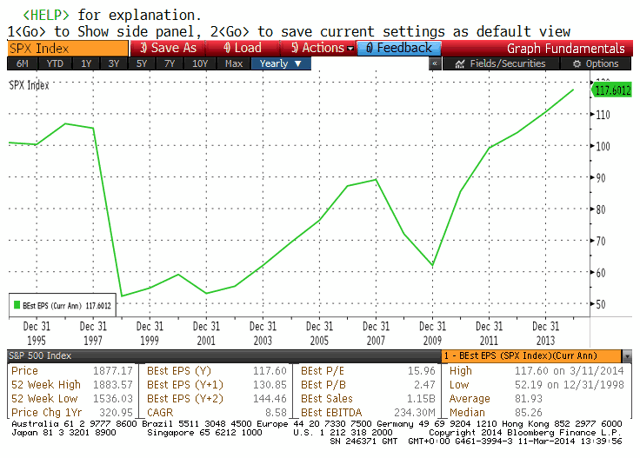 Source: Bloomberg
From this, we can argue that the stock markets should be well above their 2000 and 2007 levels, as corporate earnings and dividends are far higher today than at either of these two points in history.
And thirdly, there are a number of stock markets outside the US that are not anywhere near their highs, and which represent very good value for a long-term value-based investor, particularly in Emerging Markets. The MSCI Emerging Markets index (NYSEARCA:EEM), including Brazil, India, Russia and China, amongst other countries, remains 27% below its late 2007 peak (Figure 6).
Figure 6. MSCI Emerging Markets Index Still 27% Below 2007 Peak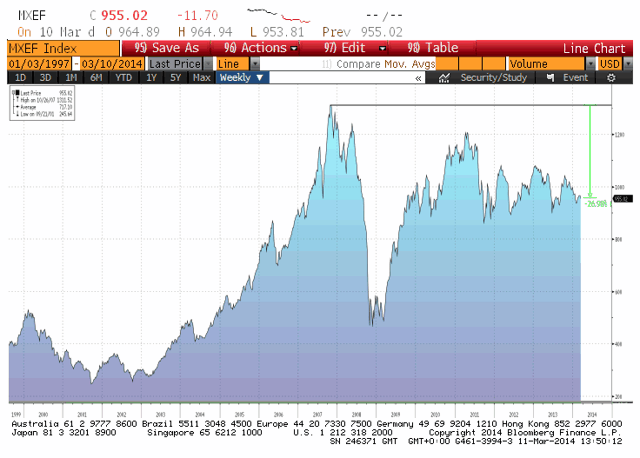 Source: Bloomberg
This Emerging Markets index is priced at a lowly 10x forward P/E and offers a dividend yield in excess of 3%, to compare with 16x P/E and a 2.1% dividend yield for the US S&P 500 index.
Conclusion: Some warning signs, but the bell is not yet tolling for the stock market
There are clearly signs of over-exuberance creeping back into the stock markets in Initial Public Offerings (NYSEARCA:IPO) and Social Media stocks (NASDAQ:SOCL), reminiscent of the 1999-2000 bubble period in particular. But that being said, there are also some important differences too, most notably in terms of overall stock market valuation and also earnings power.
So, for now, I would keep a watchful eye on geopolitical events, e.g. in the Ukraine in case matters take a marked turn for the worse, and I would certainly not be investing in some of the frothier areas of the financial markets, such as IPOs and social media stocks, where valuations are quite frankly incredible.
But I am not abandoning US or European stocks and heading for the metaphorical hills just yet, as there are still plenty of pockets of combined value and growth to take advantage of. My preferences:
1. European Small-Cap ETF ((NYSEARCA:DFE); which has a disproportionate exposure to Peripheral European countries which are outperforming currently);
2. Single-country Peripheral European ETFs, for those who want more specific exposure to Italy (NYSEARCA:EWI), Spain (NYSEARCA:EWP), Portugal (NYSEARCA:PGAL), Greece (NYSEARCA:GREK) or Ireland (NYSEARCA:EIRL). All of these countries still appear cheap on a 5- or 10-year Cyclically-Adjusted P/E ratio (CAPE).
3. Asian technology-heavy exposure via Taiwan (NYSEARCA:EWT) or South Korea (NYSEARCA:EWY).
Disclosure: I have no positions in any stocks mentioned, but may initiate a long position in QQQ, GREK over the next 72 hours. I wrote this article myself, and it expresses my own opinions. I am not receiving compensation for it. I have no business relationship with any company whose stock is mentioned in this article.