Last year it was so simple! Stocks rose because the economic recovery, while slow by historical standards, persisted even against "headwinds" caused by sequestration and the taper. Bonds fell because demand for capital raised interest rates. Precious metals fell, in large part because they looked less attractive against those interest bearing assets.
Along comes 2014, and while stocks are higher, so too are bonds and, noticeably, gold prices, shown by the SPDR Gold Trust (NYSEARCA:GLD).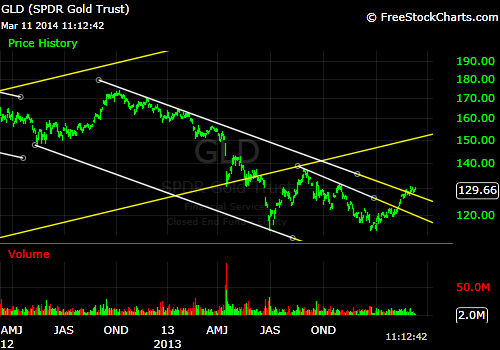 source: www.freestockcharts.com
Technicians will notice I have a few trendlines and channels that draw attention to the recent strength in gold prices. Using last year's logic, do these higher gold prices mean slower growth and lower stock prices? The strong rally and solid breadth of the advance over the last six weeks suggests this is not the case.
Or maybe investors should expect core inflation, which has been remarkably tame so far in this recovery, to pick up slightly?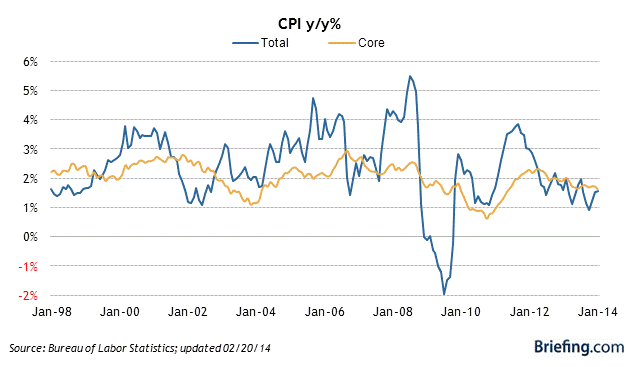 Perhaps this argument can be settled by comparing the relative performance of ordinary Treasury bonds (NYSEARCA:TLT) with inflation indexed bonds (NYSEARCA:TIP). The latter, you will recall, have interest and principal adjusted for changes in prices.
If there were little or no changes in inflation expectations, TLT and TIP would track one another precisely. If investors start to sniff the possibility of higher prices, then TLT should underperform for two reasons:
inflation erodes the value of fixed interest payments, and
inflation really erodes the value of your principal when you receive it thirty years from now
Are inflation indexed bonds outperforming their generic cousins since the start of the year? The answer is no!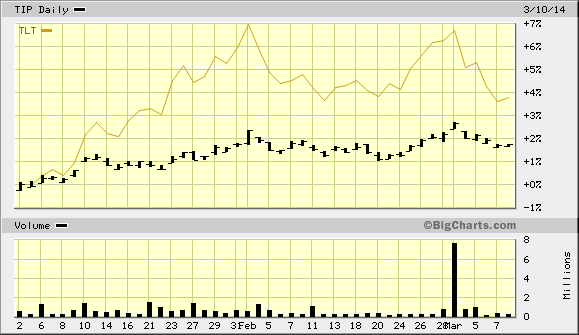 Investors are not seeking the shelter of TIPs. How can we resolve this conundrum?
Perhaps gold prices are rising because of international tensions; not inflation expectations.
Gold bugs are wrong: there is no higher inflation in the cards.
Traditional bondholders are wrong: they'll wish they bought TIPs when price gains accelerate.
Any one of these three possibilities may play out in 2014. This article is not a crystal ball; I am trying to lay out the consequences for investors as they unfold. Markets, with their incredible foresight, should resolve this conundrum before long. What should we look for?
If GLD prices cannot sustain an advance above last August highs in the $136 area, the inflation argument can be dismissed.
If TIPs do not catch up and start to outperform TLT, we can reach the same conclusion.
In contrast, if GLD continues higher and TIPs move ahead of TLT than we can expect the economic recovery to start generating price pressures.
In future articles I will highlight other market based indicators that might provide clues about inflation.
Disclosure: I am long XLV, IHI, IYT. I wrote this article myself, and it expresses my own opinions. I am not receiving compensation for it (other than from Seeking Alpha). I have no business relationship with any company whose stock is mentioned in this article.