Before you continue you should know that I am a Bank of America shareholder (NYSE:BAC) (through warrants) and that this article will cover a few negative points about the company's earnings. I respectfully acknowledge your zeal and love for the company but let's set aside some of those defensive energies and get a little "judgy."
I'll get straight to the discussion of my fears by omitting the millionth review that outlines the price movement of the shares and management's work by saying that I'm a little worried about the quality of the bank's earnings for two reasons: tax benefits and reserve releases.
For the sake of gaining a little credibility, I turn to the following sentence pulled from the 1983 Wesco Financial Shareholder Letter written by none other than Charles Munger (yes I went there).
Earnings so derived from income tax savings are not of the top quality possible because they have less cushion in reserve against future adversity than earnings from ordinary operating income on which income taxes have been paid in full in cash at the highest corporate rate and are recoverable from the I.R.S. in the event of future operating losses.
Now that I have you a little soft, I'm going to throw in that equal to lower quality earnings derived from tax savings are non-recurring ones derived through the release of loan loss reserves (hope that wasn't too soon).
To put this into perspective, Bank of America reported a tax expense of only $406 million in the 4th quarter of 2013 compared to a $2.348 billion one in the 3rd quarter (5.78Xs) when income before taxes was only 20% lower for an effective tax rate of 10.6%.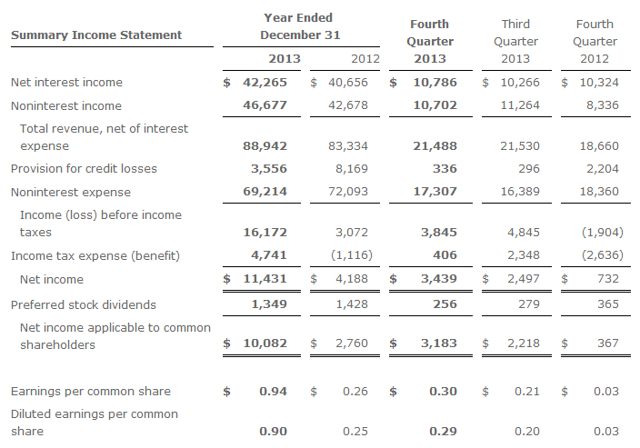 In addition to this non-recurring benefit, the bank continued to release allowances for loan losses to the tune of $6.75 billion. I remind you, the bank's diluted earnings per share of $0.90 were made on net income to common shareholders of $10.082 billion.
This release was made possible because of the continued improvement in real estate prices and a much lower level of nonperforming/credit impaired loans outstanding.
Now, I am not bringing up these two non-recurring items in an attempt to speak badly about the bank because I want the bank to realize as many deferred tax assets as they can (because they do expire) and because I don't want unprofitable loans to continue to weigh down earnings. I bring these two items up to highlight that while the bank does appear to have a very large opportunity to improve earnings on just about every line of business, it does appear to be at an inflection point where those lines will need to improve because these non-recurring bottom line benefits are of a lesser quality and cannot be relied upon indefinitely.
I for one can't wait to see next months earnings but I am confident that long-term investors still have a lot of value here and it appears Mr. Munger does too as it was recently reported that he held a $38.5 million investment in the bank made through the portfolio of the Daily Journal Corporation (NASDAQ:DJCO).
Again, I am a holder of Bank of America A and B warrants. Thank you for reading, I would love to hear your thoughts.
For those readers that do need visual confirmation of the bank's appreciation over the past year, this graph is for you.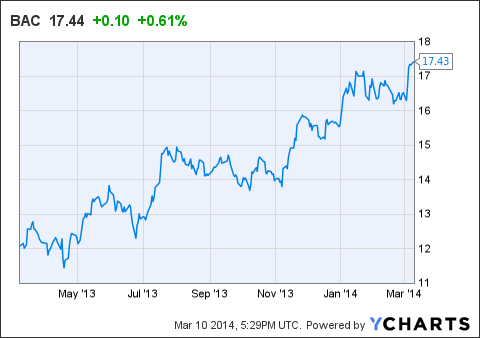 Disclosure: I am long BAC. I wrote this article myself, and it expresses my own opinions. I am not receiving compensation for it (other than from Seeking Alpha). I have no business relationship with any company whose stock is mentioned in this article.
Additional disclosure: I am long Bank of America through both the A and B warrants.