On February 20, 2014, Seadrill Limited (NYSE:SDRL) gave a presentation at the Credit Suisse 2014 Energy Summit in which the company discussed the current market conditions and the company's strategy to weather the oft-publicized slowdown in the offshore drilling market. Seadrill does, in fact, have a credible strategy to make it through the soft market. The company is better positioned to do so than many of its competitors due to its modern, high-specification rig fleet and enormous revenue backlog. The outlook for the drilling market over the long-term remains strong for reasons that will be discussed later in this article. Thus, the current market conditions do not appear to be analogous to the malaise that has devastated the shipping industry for the last half decade.
Seadrill is one of the largest offshore drilling contractors in the world, boasting a fleet of 69 modern, high-performance offshore drilling rigs. This fleet, which is divided up among Seadrill and several majority-owned subsidiary companies including North Atlantic Drilling (NYSE:NADL) and Seadrill Partners (NYSE:SDLP), consists of 34 ultra-deepwater floating rigs, 32 high-specification jack-up rigs, and three tender rigs. A large number of these rigs (11 ultra-deepwater floaters and 9 jack-ups) are still under construction. This offers Seadrill significant growth potential as these rigs leave the shipyard and begin operating.
This large fleet provides Seadrill with a significant global reach. In fact, the company currently has offshore drilling rigs operating in all major oil and gas producing areas.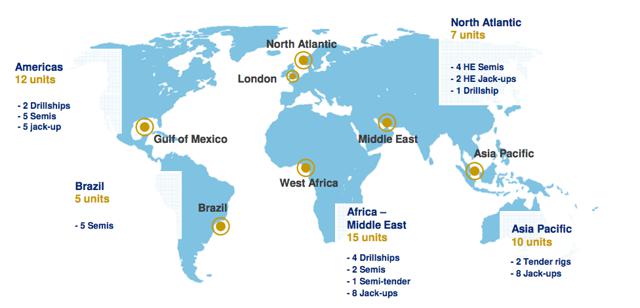 Source: Seadrill
This global operational footprint grants Seadrill many advantages. First of all, many of the major offshore oil producing regions have only a small handful of companies dominating the region's production. For example, Statoil (NYSE:STO) in Norway and Petrobras (NYSE:PBR) in Brazil. Thus, any offshore drilling company operating exclusively in one area would likely see the majority of its revenue coming from only one company. This would expose that contractor to a significant amount of risk since any financial troubles at that oil company could have adverse effects on the offshore drilling contractor. By operating all over the world, Seadrill reduces its risk of such a scenario. This is evident by looking at Seadrill's backlog. The majority of Seadrill's revenue backlog of $20.2 billion is owed to the company by giant, multinational oil companies that enjoy considerable financial stability. In addition, no single company accounts for 25% or more of Seadrill's backlog. This greatly reduces its dependence on any single company.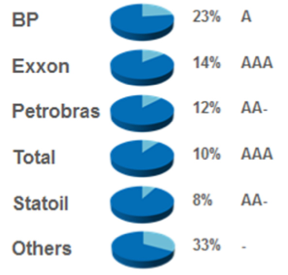 Source: Seadrill
The second advantage of being globally diversified is that Seadrill significantly reduces its exposure to the government of any single country. The actions of the United States government following the Macondo disaster of 2010 and the actions of the Brazilian government following the Frade oil spill of 2012 illustrate the importance of not "putting all your eggs in one basket" when it comes to international diversification of operations in this industry. Seadrill's size allows it to diversify itself internationally as the map above shows.
Many analysts have expressed fear about the increasing cash constraints on many exploration and production companies that have forced them to reduce their capital expenditures and even delay some projects. For example, here is just a small sample of projects that have been delayed from their original planned start dates this year until 2015.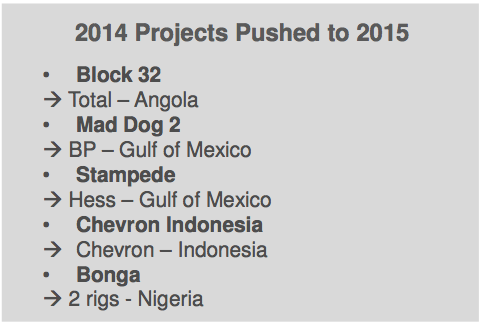 Source: Seadrill
This is being caused by cash constraints at E&P companies worldwide which have been suffering from falling free cash flows despite ever rising investments into the development of new productive assets.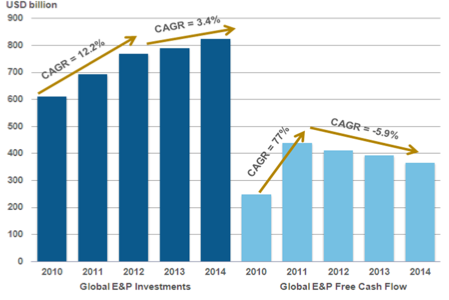 Source: Seadrill, Morgan Stanley, Rystad Energy
As the chart shows, oil and gas companies have been increasing their CapEx spending every year since 2010. However, with the exception of 2010-2011, their free cash flows in aggregate have been declining at a compound annual rate of 5.9%. One reason for this is that oil companies are seeing much higher depletion rates and so need to devote greater amounts of spending just to maintain current production rates. This, combined with higher production costs that what these same companies saw in the past, is leaving less cash available to fund exploration activities and these exploration activities are the primary use for offshore drilling rigs. These falling exploration budgets are the primary cause for the fear that is surrounding the offshore drilling industry.
However, the majority of the decline in production spending on the part of exploration and production companies has been directed at North American shale. In fact, while North American shale producers were reducing their capital expenditures over the past year, non-North American and offshore producers were actually increasing their CapEx spending.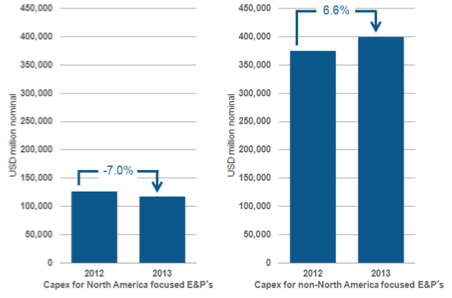 Source: Seadrill, Morgan Stanley, Rystad Energy
This situation is perhaps somewhat counter intuitive given all the media hoopla surrounding the North American "energy miracle" but it makes sense when we consider that producing oil from shale formations in North America can, in some instances, be much more expensive than producing oil offshore. The following chart is from Rystad Energy and Morgan Stanley and it shows the average costs of producing oil in various regions on a per barrel basis: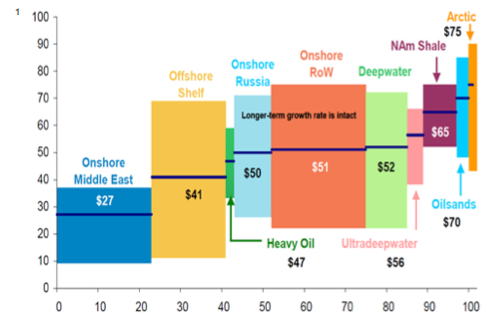 Source: Seadrill, Morgan Stanley, Rystad Energy
The highest cost areas have naturally been the ones most affected by slowdowns in production CapEx spending. However, despite offshore production spending not bearing the brunt of the spending decline, offshore drilling companies have still been affected negatively by this due to the decline in exploration spending.
Offshore drilling rigs are primarily used for exploration purposes, as mentioned earlier. Therefore, they have been affected by declining exploration spending. However, not all rigs or companies have been affected equally. While the entire industry has seen a reduction in demand, the demand for older, less technically-capable rigs has fallen much more sharply than the demand for rigs of a newer vintage. We can see some evidence of this by looking at the utilization rates of the floater fleets of the major offshore drilling companies:

Source: Seadrill, ODS Petrodata
As the chart shows, Seadrill enjoys 100% utilization for its existing floater fleet, better than any of its competitors. This is due, at least in part, to the fact that its fleet is much newer and more modern than that of its competitors. The company's higher utilization means that it is doing a better job than its competitors at maximizing its profits given the current market conditions. A lower utilization rate means that the company has a greater number of rigs sitting idle or that rigs are, for whatever reason, spending less time working. As rigs that are not working are not producing revenue, Seadrill's competitors are not doing as good of a job deriving maximum revenue from their fleets as Seadrill is.
Seadrill noted in its presentation that the current weakness in the offshore drilling market is unlikely to persist over the long-term. This is because the supply-demand balance for rigs still favors the offshore drilling contractors, as it has for the last several years. According to Rystad Energy, exploration and production companies will require 455 ultra-deepwater rigs to meet their development goals in 2020. However, there will not be that many rigs in the world at that time.

Source: Seadrill, Rystad Energy, DNB
According to Rystad, there will be, at most, 316 floating rigs in the world by 2016. The consulting firm expects that fifty rigs will reach the end of their useful life and be retired over the same time period. This leaves a gap of 189 rigs that will need to be built over the remaining four years of the decade. However, the world's shipyards cannot build this many rigs so quickly. From those numbers, we can see that even if the industry manages to build thirty rigs per year that projected demand will still not be met. However, this industry cannot build this many rigs. Over the past few years and still to this day, the world's shipyards have been producing as many rigs as possible in order to meet the demands of the industry which was in the midst of an epic building boom. Even in this situation, not once did a single year even see thirty ultra-deepwater rig deliveries.

Source: Seadrill, Rystad Energy, DNB
Therefore, it appears likely that the demand for rigs by the end of the decade will significantly exceed supply. Today, supply and demand are roughly equal following the reduction in demand that the industry has seen due to the already discussed decline in exploration spending. Therefore, this situation should push dayrates back up in the latter half of the decade as this scenario plays out.
Disclosure: I am long SDRL, NATDF. I wrote this article myself, and it expresses my own opinions. I am not receiving compensation for it (other than from Seeking Alpha). I have no business relationship with any company whose stock is mentioned in this article. I am short call options on SDRL.