Introduction
In this article I'll have a closer look at Sandstorm Gold (NYSEMKT:SAND) which has just released its financial results for 2013. I will provide my view on the company's financial results and the status of Sandstorm's balance sheet. Thereafter I will discuss the outlook for Sandstorm Gold which will result in my conclusion at the end of the article.
All images were sourced from the company's press release and financial report.
My view on the financial results
In 2013, Sandstorm Gold reported total revenue of $59.8M which is an increase of 7% compared to the revenue in 2012. This means that even though the average gold price decreased throughout the year, the company's increase in attributable production (mainly due to the acquisition of the gold royalties which resulted in a revenue of $9.2M in 2013) was sufficient to offset the effects of a lower gold price. However, as the company recorded an impairment on the value of goodwill and mining assets of $91M, Sandstorm shows a net loss of $74.6M at the bottom line.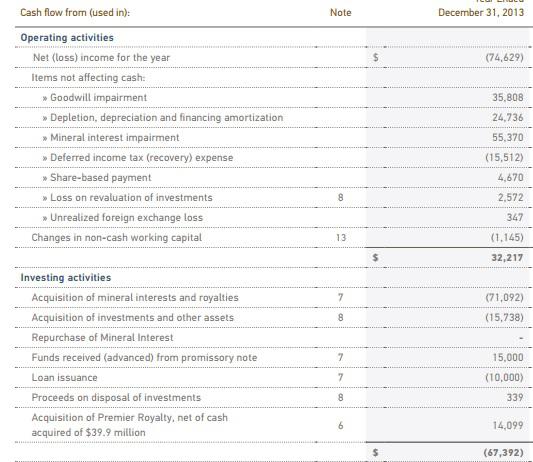 Most of my readers know I prefer to have a look at the cash flow statements of a company as well, as I believe these statements give a better view on the quality of the underlying business. This is especially the case with Sandstorm Gold as the impairment charges are a non-cash charge and thus do not impact the cash flow profile of the company. When looking at the cash flow statements, Sandstorm Gold had an operating cash flow of $32.2M which is approximately 10% lower than in 2012. As the company acquired $87M in assets, it was essentially free cash flow negative, but keep in mind the 'capex' is non-recurring.
My view on the balance sheet
As of at the end of December 2013, Sandstorm had a working capital position of in excess of $98M with a current ratio of almost 30. Keep in mind a ratio higher than 1 means the company has sufficient current assets to cover its current liabilities. On top of that, as the current assets are higher than the company's total liabilities, Sandstorm won't run into any financial problem whatsoever.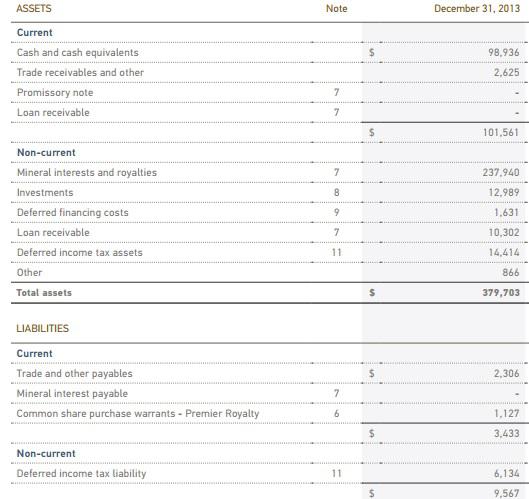 The book value was approximately $3.60/share which means the company is currently trading at a premium of approximately 50% to its book value. This isn't very expensive as Sandstorm is aiming to grow its production by double-digit percentages over the next few years.
Outlook
Sandstorm officially expects to produce between 40,000 and 50,000 gold-equivalent ounces which would be the fourth consecutive year of growth for the company. This will allow Sandstorm to continue to build and diversify its asset base as I believe the company will use its $100M working capital to acquire new assets to increase its production profile even further.
That being said, I hope that if Sandstorm decides to acquire another streaming and/or royalty deal, I hope its level of due diligence will be higher than when it bought the deal on Colossus Minerals' Sierra Pelada project which has been a disastrous investment.
Conclusion
Sandstorm Gold is still doing well and the production growth is expected to continue until at least 2016 when the company expects to hit the 60,000 gold-equivalent ounce production mark. As such, an investment in Sandstorm is actually an investment in a growth company and therefore a current price of 1.5 times the book value is relatively reasonable.
As Sandstorm has a working capital position of approximately $100M, I think the company will continue to add streams and royalties to its portfolio which I hope will be value accretive.
I currently have a long position in SAND, but as I wrote some C5 March 2014's I'm afraid those shares will be called away, so I plan to write some P5's expiring in June 2014 for an option premium of $0.40. This would result in an annualized yield of 27.4% should Sandstorm Gold expire at a share price higher than $5 in June.
Disclosure: I am long SAND. I wrote this article myself, and it expresses my own opinions. I am not receiving compensation for it (other than from Seeking Alpha). I have no business relationship with any company whose stock is mentioned in this article.