The near 3.7% dividend yield will only keep investors at bay for so long. Intel (NASDAQ:INTC) has underperformed the market over the last three years. This comes despite a relatively killer start to 2012 that had Intel trading at near decade highs.
The stock still is compelling, trading at 13x earnings and under 6x enterprise value-to-earnings before interest taxes depreciation and amortization. A 13x price-to-earnings multiple is a far cry from the 20x plus multiples we saw prior to the financial crisis, but to get us back to that level, we'll need more. There are a few things that can get us there, some of which are outside the core data server market.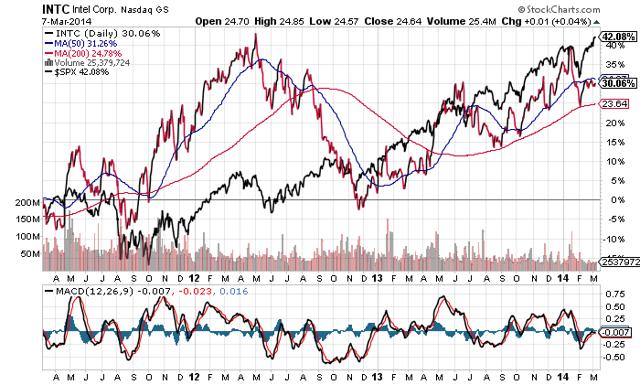 First, there's the mobile device market
Now, granted Intel is still the unquestioned leader in the microprocessor market, remaining number one in terms of market share and product performance. The company has focused on selling not just separate components but platforms optimized for specific markets, whether mobile, enterprise or the digital home.
There's no denying that PC growth will continue to slow, with tablets and smartphone growth outpacing that of PCs. And although the PC market will not disappear anytime soon, in order to achieve meaningful and sustainable growth, Intel will have to make a move into the smartphone and tablet markets.
There is some fierce resistance though, including the likes of Qualcomm (NASDAQ:QCOM), which has a market share of the smartphone apps processor market of 54% and is the leading manufacturer of chips used in non-iPad tablets. However Intel has the resources and the size to make a serious effort in this direction.
Intel initially concentrated on Windows tablets, which touched 11 million in 2013 and account for a market share of around 4.8%, a 400% growth from the previous year. The sales number is expected to grow by about 10% in 2014. There's still plenty of room for growth for Intel. Strategy Analytics reports that the smartphone apps processor market was worth an enormous $18 billion in 2013, and Intel's market share was a negligible 0.2%. They also report that the tablet apps processor market was worth $3.6 billion during the same year. It is true that these will not be as profitable as PC chips but there is no reason why they can't make money in the industry.
Where do wearables fit into Intel's strategy?
Some sources have noted that Intel won the acquisition for Basis, the maker of a health-tracker watch with advanced sensors, at the rumored price of between $100 million and $150 million. Prior to that, there was some speculation that Apple (NASDAQ:AAPL) and Google (NASDAQ:GOOG) were interested in Basis given its quality and accuracy of its health watches.
The bid is regarded as an effort by Intel to remain competitive in a technology market where wearable devices have become a craze over the last year. It's been argued that Intel has missed many of the recent trends in the technology business, thus, it presumably does not want to play an expansive game of catch-up in the case of wearables.
Meanwhile, Apple has a team of experts working on the so-called iWatch. There is also some speculation that the launch of a Google watch is imminent. Thus, and presumably, Intel's interest in Basis lies in the sensors which include an accelerometer and sensors for heart rate, skin temperature and perspiration which can together provide an accurate estimate of the calories burned. Some of Intel's rivals, Texas Instruments (NYSE:TXN), Qualcomm and STMicroelectronics (NYSE:STM), are believed to be ahead in the race to develop sensors for the wearables market. So, in some respects, Intel is already playing a game of catch up.
Data centers are still at the core
Intel's computational ability of its chips are quite impressive. The server business remains a key market, but it has some opportunities to expand into the faster growth smartphone and wearables markets. However, investors shouldn't be too quick to rule out data centers, which still has a number of big spenders.
Its ability to boost the average selling price of its server processors should help continue driving revenue higher. Its new processors just launched represent a new price point at the top of the price range and this follows the launch. The data center business should easily grow at a rate of 15% annually over the next few years and the launch of new server processors should help. This should also come as the industry sees a drive to lower-cost computing. This move will increase server demand.
Bottom line
In the off chance that Intel can get back to 20x earnings by fiscal 2015 (and hit $2 in EPS) the upside is compelling. However, if the company can't manage to make a meaningful move into a faster growing area outside of PCs it could easily remain stuck trading at 10x earnings and could miss earnings and come in on the low-end at $1.75. The risk-reward there is still 2-to-1.
Intel has an opportunity in the wearables and smartphone market, and there's still a lot to get excited about in the cloud computing and virtualization space. The small- and medium-business market is flocking to the area. And assuming that enterprise continues to move to the cloud, this is a huge opportunity for a company such as Intel.
Disclosure: I have no positions in any stocks mentioned, and no plans to initiate any positions within the next 72 hours. I wrote this article myself, and it expresses my own opinions. I am not receiving compensation for it (other than from Seeking Alpha). I have no business relationship with any company whose stock is mentioned in this article.