Shares of Google (NASDAQ:GOOG) are trading at an all-time high thanks to an incredible two-year run that has increased the company's market cap to over $400 billion. The substantial rise in share price has been justified; since 2011 the company has grown revenues by 58% and EPS 28%, and in doing so, has increased their cash, equivalents, and marketable securities position 32% to $58.6 billion. Still, as shares rise, investors are beginning to wonder how all that cash is going to work for them.
Strong Balance Sheet Begs Question
GOOG has fortified themselves with a superior balance sheet. Given the continual high growth nature of their business, the strength of the balance sheet is actually a divergence from industry standard. Similarly, the fact that they're one of the world's largest companies and still experiencing this growth poses the same measure of duality. Take a look at the balance sheet below which is sourced from GOOG's most recent 10-K and highlights the years ending 12/31/12 and 12/31/13.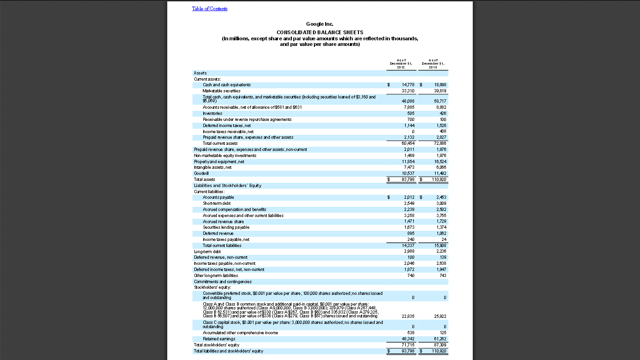 Source: Google 10-K
Shareholders can certainly feel a sense of safety: cash and equivalents alone (ex-marketable securities) cover current liabilities and long-term debt. GOOG boasts a Current Ratio of 4.6x and a Debt-to-Equity Ratio of .27x, and is generating new cash at an increasing rate since 2011. The strength is impeccable, and the balance sheet is safe, so the dialogue then shifts to whether or not "safe" is the place GOOG needs to be right now. If the goal for GOOG and the expectation of the shareholders is for continued growth, the company has a duty to consistently reevaluate the opportunity cost of keeping so much cash on the sidelines.
Comparison to Apple at the Peak
Shares of Apple (NASDAQ:AAPL) saw their meteoric rise in September '12 to over $705/share, or a market cap of $658 billion. The stock plummeted nearly 45% in six months on worries of compressing margins, lack of innovation in the pipeline, and a slowdown in future revenue growth. Another pressing worry was the amount of cash, equivalents, and marketable securities AAPL had hoarded away; at the peak of the ascent, AAPL held over $121 billion in short-term liquid assets. Investors were crazed; activists demanded action.
For the first time in its history, the company declared a quarterly dividend and has rewarded shareholders since. Additionally, in April '13, Tim Cook announced that the share repurchase program would increase from a previously stated $10 billion to $60 billion. Still, shares of AAPL haven't even come close to rebounding to 2012 peak levels; the hesitation amongst investors seems to be the lack of innovation going forward. The question begs to be answered: has AAPL maximized the return on their asset allocation or would strategic acquisitions into new technology and trends have been more sound investments?
While investors aren't sour on GOOG's prospects for innovation, questions about sustaining the growth numbers of the past two years will soon come into play. GOOG grew revenues 21% y/y in FY '12 and 20% y/y in FY '13, but analysts forecast growth of 16.7% y/y in FY '14. The company continues to expand, but at a slowing rate. Additionally, the company's operating margin has shrunk in each of the past three years - 30%, 25%, 23%, though largely attributed to the addition of Motorola to the business, which will be sold to Lenovo sometime in 2014.
At the end of FY '13, the cash, equivalents and marketable securities that GOOG held on the balance sheet accounted for 14.5% of the $404.5 billion market cap, which is rapidly approaching the ratio AAPL saw in 2012 when the liquid assets accounted for 18.4% of their market cap.

Slowing growth will soon lead to doubts on sustainability of the earnings multiple, and that's the point when the dormant cash will come to the forefront of the discussion. Hopefully GOOG can avoid the fate of AAPL. The key going forward
How Can Google Use the Cash?
GOOG is one of the few tech companies that has developed innovation both internally and through acquisitions. They purchased a young YouTube platform in 2006 that they were able to develop through maturity into one of the most important components of their revenue stream. On the other hand, they built their search business from the bottom up, which was the first product in a company that now features multiple products over many verticals. From their 10-K:
Google is a global technology leader focused on improving the ways people connect with information. We aspire to build products and provide services that improve the lives of billions of people globally. Our mission is to organize the world's information and make it universally accessible and useful.
For the most part, GOOG has held true to its mission - internal development or external acquisition has been in-line with organizing information and making it useful and accessible. The company continues to increase spending on R&D to optimize the internal innovation and product pipelines - it's up 57% since 2011. Still, as shown in the chart below, in FY '13, 91% of revenues were generated through the advertising business. That's down from 94.6% the year before - primarily due to increased exposure and sales within the Google Play application space - but still significant. All signs point to the fact that any future innovations or acquisitions will come with two guiding principles - new businesses will stay true to the core mission and be a new outlet to optimize advertising revenues.

Source: Google 10-K
One area that is particularly hot right now given the recent acquisition of WhatsApp by Facebook (NASDAQ:FB) is the mobile messaging space. In fact, it seems that GOOG unsuccessfully tried to counter FB's deal. Similarly, both tech giants made a play on messaging application Snapchat in late 2013. The arena is still young and underdeveloped, and there are several prime targets for acquisition. GOOG could make a play on BlackBerry's (NASDAQ:BBRY) BBM service, KIK Messenger, Asian apps Line or KaKaoTalk, or even attempt again at Snapchat. All five have substantial user bases with growing engagement as the market more actively moves toward the voice and message over internet platforms, though an international platform might be a more appealing takeover target given the tax implications of GOOG bringing its cash back into the United States for a deal.
GOOG is already exploring partnerships with major auto manufacturers, but they'll need to expedite the process if they want to be first movers. It was recently noted that AAPL executives met with Tesla (NASDAQ:TSLA) CEO Elon Musk last year to discuss integrating iOS into the company's vehicles. GOOG has a tremendous foothold with the Android operating system - the company already serves 1 billion+ devices worldwide. Integration into vehicles with major manufacturers - perhaps Ford (NYSE:F) - would be the first push toward consumers seeing self-driving cars, which GOOG is already working on. Likewise, a deal with Toyota (NYSE:TM) or Honda (NYSE:HMC) might be more appealing given the aforementioned tax liability.
And finally, internally GOOG can continue to increase its R&D spend to enhance current businesses. While YouTube has been wildly successful - and profitable in the advertising space - since its acquisition in 2006, GOOG might look to begin developing original content, similar to how Netflix (NASDAQ:NFLX) has done over the past two years.
Conclusion
Investors aren't knocking down the doors yet with worry, and they won't so long as shares of GOOG continue their rise. As growth continues to taper, though, look for shareholders to take much more interest in the liquid assets GOOG has quietly been building. Like they did with AAPL, shareholders will soon demand GOOG put those assets to work to maximize value, because while competitors continue to innovate and acquire, the opportunity cost of keeping capital on the sidelines is growing by the day.
Disclosure: I have no positions in any stocks mentioned, and no plans to initiate any positions within the next 72 hours. I wrote this article myself, and it expresses my own opinions. I am not receiving compensation for it (other than from Seeking Alpha). I have no business relationship with any company whose stock is mentioned in this article.