I visited Universal Display (NASDAQ:
PANL
) about 14 months ago when I wrote in a Seeking Alpha
article
that "Universal Display should ride the growth in OLED TV monitors." In recent days, Universal Display is gaining traction but its potential is driven more by the OLED mobile market than by the OLED TV monitor market. The company's move into the OLED TV market still might happen, but Universal may be gaining more momentum in the mobile market where its partner Samsung is expanding rapidly.
According to a report June 1st from analysts Jonathon Dorsheimer and Josh Baribeau at Canaccord, "Samsung expects to ship 600 million small area mobile displays by 2015." The analysts also noted that Samsung should play an important role for this growth as "OLED technology has become the standard" and that Universal "owns the key patent." The analysts at Canaccord have a $22.50 price target on the stock and rate it a buy.

Insider activity at Universal Display is notable since one director, Lawrence Lacerte, seems to have been especially prescient over the years, buying shares between $5 and $14, and selling some between $15 and $20. This time since the stock has moved above $15, Mr. Lacerte has not yet sold. The average analyst estimate for 2011 is for an EPS loss of $0.10 and revenues of $35.3 million. Canaccord analysts are more bullish with their 2011 EPS estimates at +$0.66 on revenues of $68 million. In 2012, Canaccord estimates EPS of $1.50 on revenues of $112 million.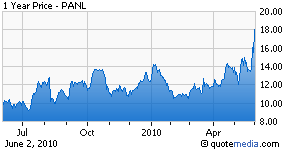 What is interesting to note is that the shorts have taken a fairly substantial position against the stock with about 5.5 million shares or 20% of the float short the stock. Putting myself in their shoes, they likely think that a company with small revenues and one that has lost money and continues to do so is a stock that could fall. There is some validity to these points, as the company has shown promise for years but the OLED market has not yet met its full potential. The company is burning through cash, has inconsistent revenues, and its future revenues will depend on how well companies that use Universal's patents sell their products. Other risks include competition from Kodak (EK) and Fuji (
FUJI
). Universal Display also has negative trailing twelve month EBITDA of about $15 million even as trailing twelve month revenues have risen by 50% to $17 million. Universal Display has no debt and around $60 million in cash.
However, the company and stock reminds me of a biotech stock: one that has decent insider ownership, with great technology, but small revenues and a cash burn. If the OLED mobile market takes off and if Universal forges financially beneficial relationships with mobile device makers like Samsung that use Universal's OLED patents, then Universal could have strong potential. From the 2009 10-k, Universal Display "
entered into license agreements with Showa Denko, Konica Minolta, Samsung SMD, DuPont Displays and Seiko Epson." In 2009, it sold proprietary phosphorescent OLED materials to Samsung SMD, LG Display and Tohoku Pioneer for use in commercial OLED display products."
The one spoiler has always been the timing. For years, OLED technology was supposed to be a hit, but it and Universal's day always seemed distant. Now, the potential seems closer than ever to be materializing. The mobile market, and Universal Display's relationship with Samsung (
OTC:SSNLF
), could be the catalyst to drive the company and the stock forward. -
By Tom Henderson, Strategist JBH Capital.

Information sources include the Edgar web site, SEC From 4 web site, and Yahoo Finance.

Disclosure: No position