Every US consumer is familiar with Wal-Mart (NYSE:WMT), which has grown to become a global retail behemoth since it's founding 69 years ago in Arkansas. The company has big box retail stores in 27 countries and has access to plenty more through its various websites. Today I'm going to take a look under the hood of the world's largest retailer.
Competitors
Some would argue that Wal-Mart doesn't really have competition, but I think those people are incorrect. Target (NYSE:TGT) competes with Wal-Mart in its flagship US stores. Costco (NASDAQ:COST) competes with Wal-Mart's discount warehouse division, "Sam's Club". Amazon.com (NASDAQ:AMZN) competes from it's perch on the Internet, and that says nothing of IKEA or a host of foreign brands. It's safe to say that Wal-Mart has plenty of competition to encourage them to keep their prices low. Take a look at the table I compiled (data from Morningstar.com) below to see how they stack up against the competition.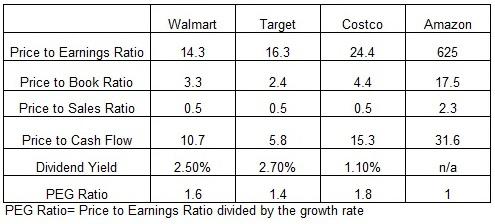 From the table above it appears that Wal-Mart is one of the better values in this group. Four weeks ago I was prepared to invest in Target, but the price went up before I could invest. If the price settles down in the low $50 range, I am still interested in buying. If you would like to read why I was so interested in Target's stock, check out my linked article. Getting back to Wal-Mart, it has the lowest PE ratio of this group of companies. It pays a reasonable 2.5% dividend and seems reasonably valued at the moment.
Headwinds
The retail sector has faced many struggles lately. Wal-Mart beat analysts earnings estimate by a penny last month, but earned less than it did last year. More importantly it slashed it's outlook for this year saying that a decline in food stamps has reduced the gross sales of it's grocery items. See the linked article here. I have written numerous articles and posts about how consumers are being squeezed by stagnant wages and price inflation, but I won't rehash all of that here. My point is that Wal-Mart wasn't the only retailer to disappoint on earnings and profits recently, in fact most stores seemed to struggle in the last 6 months.
Another growth headwind is that the shear number of existing US stores. Wal-Mart and Sams Club have 4,835 existing stores in the US. They are still developing many of their smaller "urban foot print" stores, but clearly the growth of new US stores will slow as they reach the saturation point in the coming years.
Reliable Growth at a Reasonable Price
Wal-Mart has had a great long term track record of growing profits and rewarding shareholders. Take a look at the Gurufocus.com charts below for a graphical representation.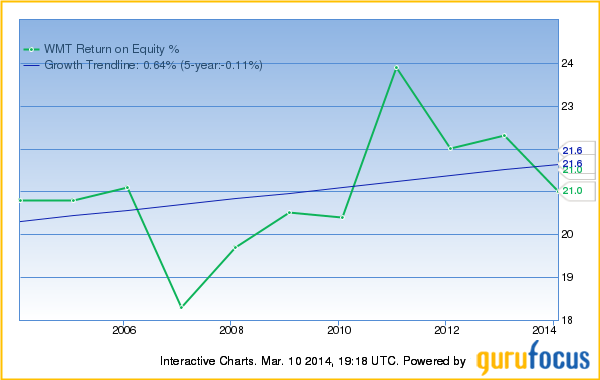 One of my favorite metrics is Return on Equity. Do not let the scale of the chart above fool you, Wal-Mart has recorded a high and relatively stable Return on Equity for its shareholders over the past 10 years.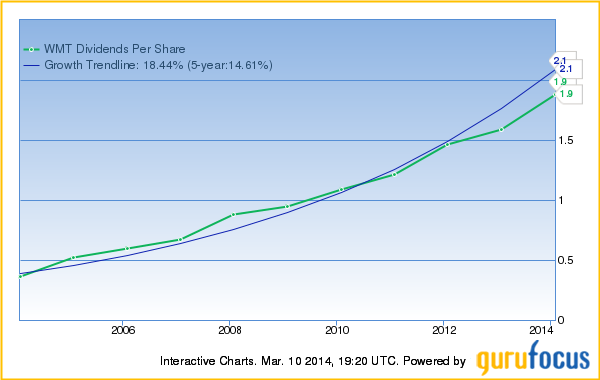 Wal-Mart's management is rewarding shareholders by paying steadily increasing dividends. We don't know for sure that the streak of dividend increases will continue, but it seems very likely.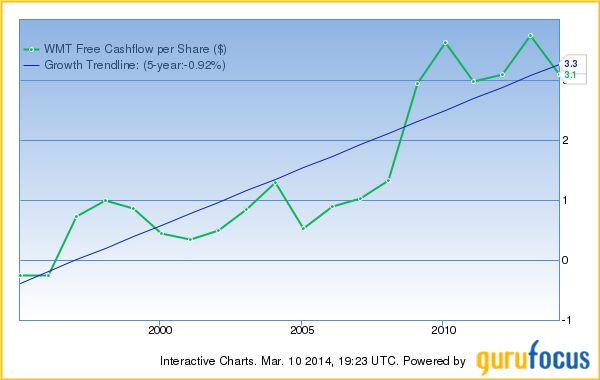 While not as consistent as the other charts, Wal-Mart's free cash flow has been climbing over the years. I look for increasing free cash flow in my investments, so that management has capital available to return to investors or reinvest in the business.
Conclusion
As an added benefit to shareholders, Wal-Mart's management has bought back stock each of the past 10 years. Shrinking the share count is the latest way that the world's biggest retailer is returning value to shareholders. On the whole I feel that the S&P 500 is due for a correction, but I believe Wal-Mart to be fairly valued on a relative basis. The retail sector has fallen out of favor with investors as customers have struggled lately. Wal-Mart's customers, who tend to be on the lower end of the economic food chain, may struggle more than most if the federal government makes further cuts to social service programs. I'm not suggesting that Wal-Mart will go out of business, only that its profit margins could be compressed further as competitors continue to keep prices low. Companies like Amazon do not have the same cost structure as companies like Wal-Mart, and therefore can operate on razor thin margins.
Wal-Mart does has a few huge advantages however. Their logistics and supply chain are phenomenal. They are able to demand massive discounts from their venders because of Wal-Mart's size and market share. Finally, their name is forever etched in the American psyche. You can't get better branding than that.
As an investment Wal-Mart looks reasonably valued. Not a screaming buy, but not a "high flier" destined for a crash either. My chief problem is actually a personal one. Their stores, in my area, are cluttered and filthy. I haven't had a good shopping experience there in nearly a decade. Therefore, does it really make sense to invest in Wal-Mart when I try very hard not to shop in their stores? In the vein of Peter Lynch, this can't be a good sign for Wal-Mart's continued dominance in America. I can't be the only customer trying their best to avoid shopping at this aging beast.
Disclosure: I do not own any of the stocks mentioned in this article. This article is for informational purposes only and should not be considered a recommendation for anyone to buy, sell, or hold any equities. I am not a financial professional. The information above is provided by CNBC.com, Morningstar.com, Yahoo Finance, and Gurufocus.com. I have no positions in any stocks mentioned, and no plans to initiate any positions within the next 72 hours. I wrote this article myself, and it expresses my own opinions. I am not receiving compensation for it (other than from Seeking Alpha). I have no business relationship with any company whose stock is mentioned in this article.