Over the last couple of years, IBM (NYSE:IBM) shares have notably underperformed, declining while the market has grown. Investors have been disappointed by the fall in revenues, with the short-term outlook being less than exciting. The nature of its business has been changing quickly and it is attempting to downplay its now low margin hardware business, while focusing more on higher margin businesses, such as software and the cloud.
Management has been doing its best to create value for investors by paying out a majority of its cash flow via dividend payments and share buybacks. I'd argue that the quality of its earnings is questionable as earnings growth has been driven by tax rates and share buybacks rather than genuine revenue growth.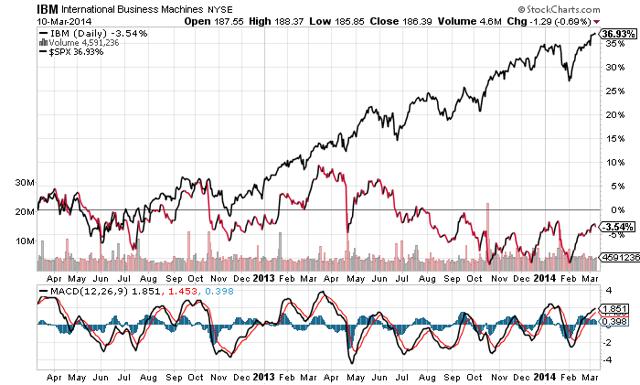 Click to enlarge
How much can software really help?
The software business is considered a bright spot, but the business is becoming increasingly complicated. Heading into 2013, IBM was the world's number two software company, behind Microsoft (NASDAQ:MSFT). However, its business has become a fragmented mess, spanning over fifteen IDC defined segments. Its top five categories make up 66% of software revenues, compared to over 85% for Microsoft and Oracle.
As well, IBM is still losing market share in databases to Microsoft and Oracle, and losing share in application server software to Salesforce.com (NYSE:CRM) and Amazon (NASDAQ:AMZN). And on the other end, process automation and integration middleware, there's stiff competition from SAP (NYSE:SAP) and Software AG (OTCQX:STWRY). Its hardware business continues to make up just a small part of its hardware business.
The investment thesis is less than appealing
IBM posted weaker than expected fourth quarter results. Revenue dropped 5% Y/Y and EPS was 11% light of consensus. The predictability in revenue and earnings is declining. IBM is seeing negative organic growth as its software business loses market share.
The other worry is that any software acquisitions will be less effective. That's as valuations in the industry are rising and it could lead to lower than average corporate operating margins. The stock looks cheap, trading at less than 10x next year's earnings, but its five-year average price-to-earnings multiple is only 13x, leaving little upside in the near-term. With the convolution of software revenues, and the fact that the cloud is becoming cannibalistic to profits, I'd avoid IBM for the time being.
Disclosure: I have no positions in any stocks mentioned, and no plans to initiate any positions within the next 72 hours. I wrote this article myself, and it expresses my own opinions. I am not receiving compensation for it (other than from Seeking Alpha). I have no business relationship with any company whose stock is mentioned in this article.