Gold miners are coming back. After several years of inferior investment performance, investors might want to consider adding indirect gold exposure to their portfolios. In addition to promising rebound potential, investors in mining companies benefit from diversification, some degree of inflation protection and income -- if companies pay investors a recurring dividend. As I said before, investors should consider buying gold miners now, and sell when everybody is in love with them again.
Newmont Mining (NYSE:NEM) is predominantly a gold miner (with an attached copper business), with major production assets in North America, Australia, New Zealand, Indonesia, Peru and Ghana.
I am generally bullish on gold miners, as I believe the gold price has bottomed at the end of 2013. With an increase in the underlying gold price, share prices of mining companies have also increased sharply since December 2013.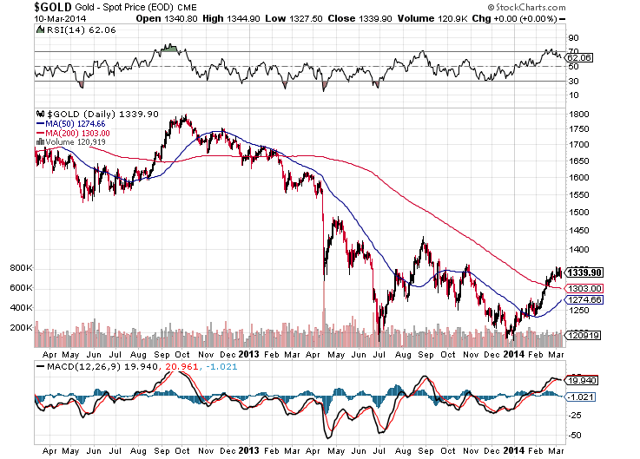 (Source: StockCharts.com)
Share performance
Newmont investors clearly didn't have a great year in 2013, as the stock lost about 37% of its value. However, investors who haven't build a stake yet might find gold miners to be among the best-performing companies in the stock market in 2014.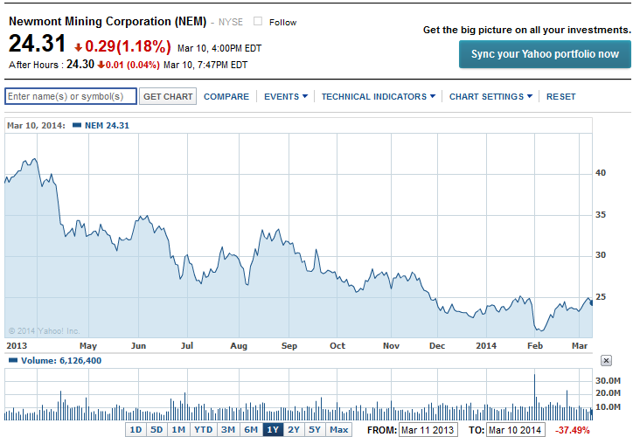 (Source: Yahoo Finance)
Increasing worries about China's state of the economy in 2011 sent commodity prices and equity valuations of mining firms over the cliff. The picture isn't pretty: Newmont Mining lost nearly 37% of its value over the most recent five-year performance measurement period, Barrick Gold (NYSE:ABX) 33%, AngloGold Ashanti (NYSE:AU) 45% and Goldcorp (NYSE:GG) 10%. Large-cap miners were among the most punished companies in the basic materials sector.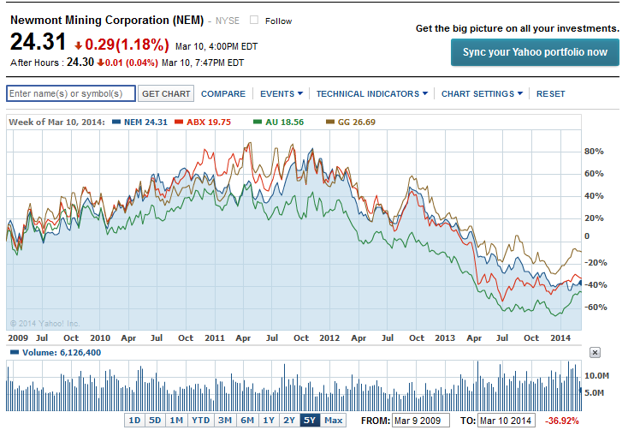 (Source: Yahoo Finance)
Background
Despite the noise and negativity surrounding the gold sector, I believe the outlook for gold investments is very positive and a variety of factors support long-term gold prices:
Large gold discoveries are increasingly scarce. Major discoveries have been virtually non-existent, especially after 2004: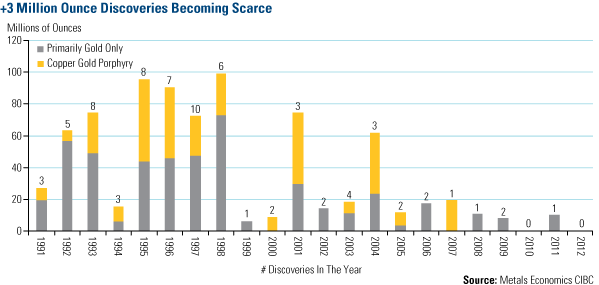 (Source: Metals Economics CIBC)
Gold demand will likely be driven by the middle classes in India and China, where jewelry is a display of coveted economic success and economic upward mobility.
Central banks hold gold as a reserve asset.
Gold is a safe harbor investment. In times of crises, investors purchase gold in order to protect their wealth/purchasing power. Gold has proven to be an effective hedge against geopolitical crises.
Gold provides a hedge against inflation- and currency risks.
Last but not least, gold exposure brings diversification benefits to equity- and bond portfolios.
All these factors (limited supply, increased emerging market demand, investment demand, etc.) should be supportive for long-term gold prices and, in turn, for share prices of gold miners like Newmont Mining.
Capital discipline
In an environment of slow global GDP growth and declining commodity prices, basic materials companies resort to non-core asset divestments, capital expenditure adjustments and cost optimization programs to deliver value for shareholders. Capital expenditure adjustments are a major theme in the current investment climate, and Newmont Mining is no exception. The company will seriously cut back on capital spending until 2016 - especially in North America.
Newmont's capital expenditures are expected to drop 30% from 2014 levels, helping the company to concentrate on the highest-yielding investment opportunities and alleviating cash flow. At the same time, rebounding gold prices have an immediate bottom line effect, which could cause equity valuations to rise quickly.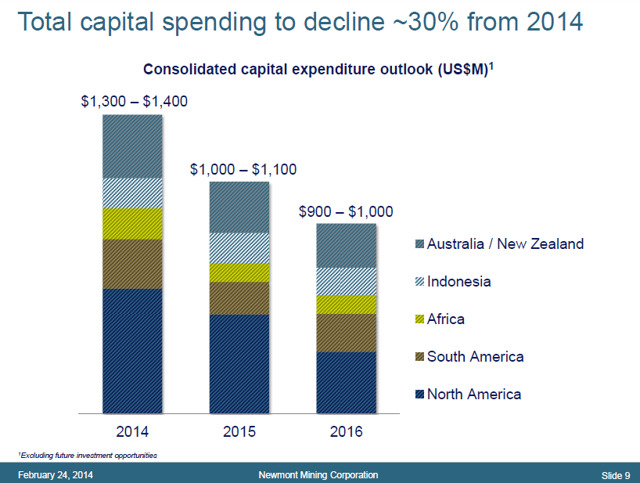 (Source: Newmont Mining BMO Conference Presentation February 24, 2014)
Bottom line
Equity valuations of gold miners have contracted long enough. China's sluggish growth can be blamed as the main reason for the declining gold price, which in turn, caused valuations of mining companies to fall. However, long-term supply/demand dynamics still favor an investment in a large-cap gold miner such as Newmont Mining: Supply is limited, demand is likely to increase substantially -- particularly as Asia earns a larger share of the global income- and wealth pie -- and I am sure there won't be a shortage of man-made geopolitical crises in the future.
I also believe gold prices have bottomed, as the market has been unconstructive about gold exploration companies for a while now. While I still prefer Barrick Gold due its asymmetric payoff profile and almost comical valuation, Newmont Mining might still be a suitable investment for contrarian investors seeking to play a recovery in both the gold price and in the global economy. Long-term BUY.
Disclosure: I am long ABX. I wrote this article myself, and it expresses my own opinions. I am not receiving compensation for it (other than from Seeking Alpha). I have no business relationship with any company whose stock is mentioned in this article.