When a potential investor looks to establish a long-term position in the oil and gas pipelines sector, a firm's ability to enhance its long-term revenues through the continued development of its pipeline infrastructure is certainly something to consider.
With that said, I not only wanted to examine Energy Transfer Partners' (NYSE:ETP) most recent development with regard to the proposed Bakken pipeline, but also highlight a number of reasons why I'm staying fairly bullish on shares of this particular pipeline play that offers investors a higher-yielding stream of quarterly income.
Company Overview
Headquartered in Dallas, Texas, Energy Transfer Partners is a master limited partnership owning and operating one of the largest and most diversified portfolios of energy assets in the United States. ETP currently owns and operates approximately 35,000 miles of natural gas and natural gas liquids pipelines. ETP owns 100% of Panhandle Eastern Pipe Line Company, LP (the successor of Southern Union Company) and a 70% interest in Lone Star NGL LLC, a joint venture that owns and operates natural gas liquids storage, fractionation, and transportation assets.
Recent Developments Regarding ETP's Bakken Pipeline
On Friday, Energy Transfer Partners announced its plans to build a pipeline aimed at transporting oil from the Bakken shale in North Dakota to multiple refineries in the Midwest and Gulf Coast regions of the United States.
Although not much was disclosed in terms of the pipeline's capacity, investors should note that ETP has already begun developing the Trunkline conversion project. Trunkline could also play a key role in ETP's long-term growth, especially since it is designed to take upto 420K bbl/day Bakken and Canadian crude from Illinois to Louisiana.
Performance And Trend Behavior As Of March 10
On Monday, shares of ETP, which currently possess a market cap of $20.45 billion, a forward P/E ratio of 20.50, and an annual dividend yield of 6.73% ($3.68), settled at a price of $54.66/share.
Based on its closing price of $54.66/share, shares of ETP are trading 0.18% above their 20-day simple moving average, 1.36% above their 50-day simple moving average, and 7.28% above their 200-day simple moving average.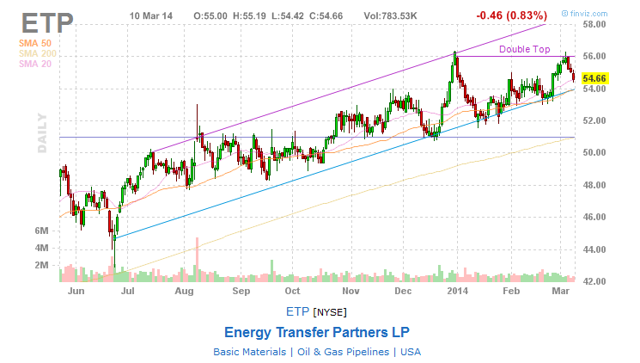 It should be noted that these numbers indicate a slight short-term as well as a very moderate mid-to-long term uptrend for the stock, which generally translates into a moderate buying mode for most near-term traders and most long-term investors.
Recent Dividend Behavior
Since Feb. 3, 2012, the company has increased its quarterly dividend twice in the last two years, with the most recent increase having taken place in February of this year. The company's forward yield of 6.73% ($3.68), coupled with its ability to maintain its quarterly distribution over last two years make this particular oil and gas play a highly considerable option, especially for those who may be in the market for a higher-yielding stream of quarterly income.
Comparative Forward P/E Ratios Set ETP Apart From Several Of Its Peers
Even though the above referenced numbers indicate a long-term uptrend for the company's stock, I actually think its share price of $54.66/share offers investors a considerable point of entry. Why? Well, I think that since shares are trading at a much better forward P/E ratio than a number of its sector-based peers, this could be a great buying opportunity for many investors.
As of Monday's close, ETP's forward P/E ratio of 20.50 was much better than the forward P/E ratios of both Crestwood Midstream Partners (NYSE:CMLP) (forward P/E ratio of 30.88 as of 3/10) and Atlas Pipeline Partners (NYSE:APL) (forward P/E ratio of 38.03 as of 3/10). A stronger forward P/E ratio clearly signals a greater level of affordability for Energy Transfer Partners, especially when compared to the shares of both Crestwood Midstream and Atlas Pipeline.
Conclusion
For those of you who may be considering a position in Energy Transfer Partners, there are a number of things I'd keep a close eye on over the next several months.
From a growth-driven perspective, I strongly recommend keeping a close eye on the partnership's Bakken pipeline project, as any further developments could begin to shed some light on not only the project's capacity, but also on the names of potential firms who may be interested in signing a long-term service agreement with ETP. The amount of interest this particular project draws, as a result of ETP's open season which begins on March 12, could result in the signing of long-term service agreements that could play a key role in the company's revenue generation over the next several years.
From an income-driven perspective, I strongly recommend keeping a close eye on both the company's recent trend performance (which has signaled a buying mode for most long-term investors) and its recent dividend behavior (which has grown quite nicely over the last 24 months), as both sets of numbers could play a role in one's decision to establish a position at their current price levels.
Disclosure: I am long ETP. I wrote this article myself, and it expresses my own opinions. I am not receiving compensation for it (other than from Seeking Alpha). I have no business relationship with any company whose stock is mentioned in this article.