By: Konstantinos Venetis, Fathom Consulting
With the currency pegged to the US dollar, FX reserves have been depleted as devaluation pressures mount. Total reserves are reported at just below $22 billion, out of which liquid assets are only around $2 billion, on some estimates. Inflation is running at 56% and real GDP grew at 1.1% in the twelve months to September, according to the central bank. Venezuela's external debt is estimated to be around $40 billion, or a third of GDP, while the country's annual import bills amount to roughly $50 billion.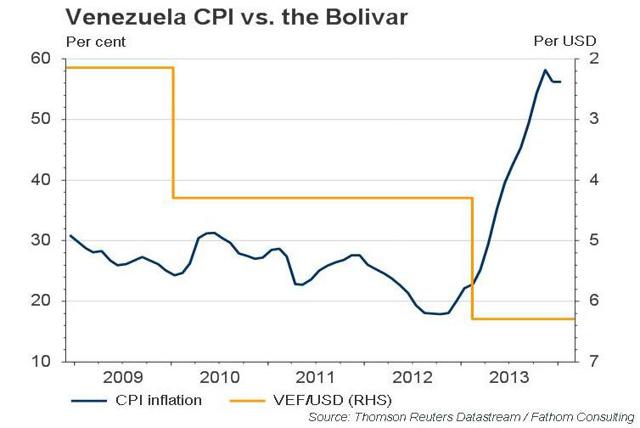 In response to acute shortages of basic goods, the government has announced immediate plans to ease exchange controls by introducing a new, market-based mechanism. Under the so-called Sicad 2 platform, "there will be no pre-set band or rate, it will be a market with a free supply of foreign currency… we will also supply currency to help the market flow", according to Venezuela's vice-president for the economy. Effectively, this move amounts to a devaluation. Not surprising, since Venezuela's existing two-tier exchange rate structure - where a 6.3 bolivar per dollar rate applies to "preferential" goods, such as medicine, and 11 to other items - is way below the black market rate of around 80.
Default risk, as measured by CDS prices, has eased a little in recent days, but remains elevated. China is coming to the rescue (again), with a $5bn credit line repayable in oil and other fuels, while a $2bn deal is apparently being negotiated with Russia. Stay tuned.
Disclosure: I have no positions in any stocks mentioned, and no plans to initiate any positions within the next 72 hours. I wrote this article myself, and it expresses my own opinions. I am not receiving compensation for it. I have no business relationship with any company whose stock is mentioned in this article.