As an income-driven investor who has a penchant for higher-yielding plays, I've decided to shift my focus to the independent oil and gas sector and highlight a number of reasons behind my decision to remain bullish on units of QR Energy, L.P. (NYSE:QRE).
Company Overview
Headquartered in Houston, Texas, QR Energy, LP, through its subsidiary, QRE Operating, LLC, engages in the acquisition, exploitation, development and production of oil and natural gas properties in the United States. As of December 31, 2012, the company's properties consisted of working interests in 4,527 gross producing wells located in Alabama, Arkansas, Florida, Kansas, Louisiana, Michigan, New Mexico, Oklahoma and Texas. It also had estimated net proved reserves of 56.8 million barrels of oil and condensate, 190.3 billion cubic feet of natural gas, and 10.6 million barrels of natural gas liquids.
Recent Performance And Trend Behavior
On Monday, units of QRE, which currently possess a market cap of $1.08 billion, a forward P/E ratio of 18.75, and an annual distribution yield of 10.56% ($1.95), settled at a price of $18.47/unit.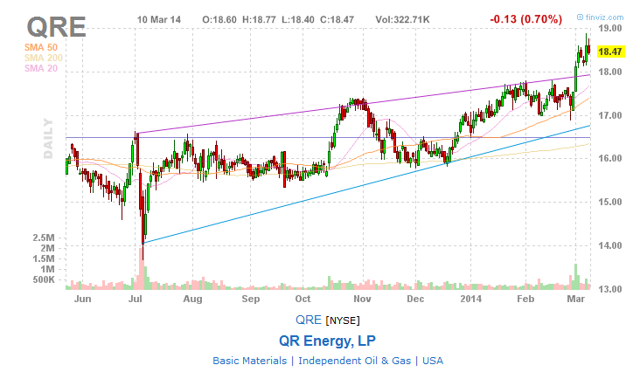 (Source: Finviz.com)
Based on its closing price of $18.47/unit, units of QRE are trading 4.77% above their 20-day simple moving average, 6.32% above their 50-day simple moving average, and 13.04% above their 200-day simple moving average. It should be noted that these numbers indicate a slight short-term as well as a very moderate mid-to-long-term uptrend for the stock, which generally translates into a moderate buying mode for most near-term traders and most long-term investors.
Comparative Forward P/E Ratios Set QRE Apart From Its Peers
Even though the above referenced numbers indicate a long-term uptrend for the company's stock, I actually think its unit price of $18.47/unit offers investors a considerable point of entry. Why? Well I think that since units are trading at a much better forward P/E ratio than a number of its sector-based peers, this could be a great buying opportunity for many investors.
As of Monday's close QRE's forward P/E ratio of 18.75 was much better than the forward P/E ratios of both EXCO Resources (NYSE:XCO) (forward P/E ratio of 23.89 as of 3/10) and PDC Energy (NASDAQ:PDCE) (forward P/E ratio of 24.82 as of 3/10). A stronger forward P/E ratio clearly signals a greater level of affordability for QR Energy especially when compared to both EXCO Resources and PDC Energy.
A Look At QR Energy's Distribution Behavior
When it comes to QR Energy's most recent distribution behavior, it should be noted that not only has the company increased its annualized distribution, it has also gone from paying its unit holders on a quarterly basis to paying them on a monthly basis. In the chart I've inserted below, both potential investors as well as existing unit-holders can see the company's significant distribution growth over the last several years.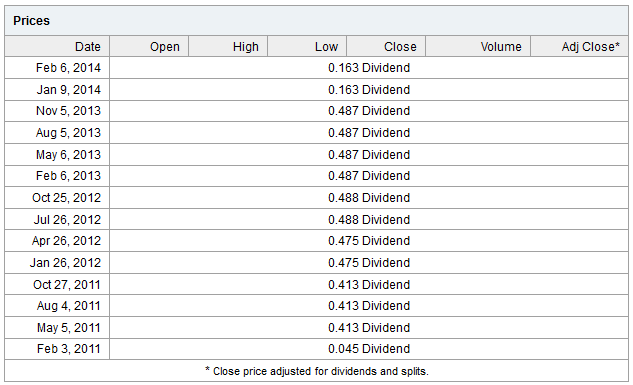 (Source: Yahoo Finance)
Can we expect an increase in its monthly distribution anytime soon? Predicting if and when a particular MLP plans on increasing its distribution is fairly hard. However, QR Energy's recent acquisition of its general partner is said to be 7% accretive to its 2014 DCF/unit, which could in fact translate into a higher annualized distribution over the next 6-12 months. In my opinion, the acquisition not only impacts the partnerships long-term distribution growth, but also enhances the competitiveness in the A&D market as was noted on March 3 by Alan L. Smith, QR Energy's Chief Executive Officer.
Conclusion
For those of you who may be considering a position in QR Energy, I strongly recommend keeping a close eye on the partnership's distribution behavior, its trend performance, and its ability to continue to enhance unit-holder value over the next 12-24 months, as each of these factors could play a role in the company's long-term growth.
Disclosure: I have no positions in any stocks mentioned, but may initiate a long position in QRE over the next 72 hours. I wrote this article myself, and it expresses my own opinions. I am not receiving compensation for it (other than from Seeking Alpha). I have no business relationship with any company whose stock is mentioned in this article.