Earnings estimates have been soaring for Huntington Ingalls Industries (NYSE:HII) following the company's third straight earnings beat. It is a Zacks Rank #1 (Strong Buy) stock.
Shares of Huntington Ingalls Industries have been on a tear since the latest positive earnings surprise. But there is plenty of room for this stock to run higher given its reasonable valuation and strong growth projections.
Huntington Ingalls Industries has been designing, building, overhauling and repairing ships primarily for the U.S. Navy and the U.S. Coast Guard for more than a century. It operates in two segments: Newport News Shipbuilding (60% of revenue) and Ingalls Shipbuilding (40%). Newport News Shipbuilding produces nuclear-powered aircraft carriers, submarines, and refueling and inactivation work for the Navy's in-service carrier fleet. Ingalls Shipbuilding builds expeditionary warfare, surface combatants and coast guard cutter ships and provides fleet support services.
Huntington Ingalls Industries was spun off from Northrop Grumman Corporation (NYSE:NOC) in 2011.
Fourth Quarter Results
Huntington Ingalls Industries reported better-than-expected Q4 results on February 27. Adjusted earnings per share came in at $1.66, crushing the Zacks Consensus Estimate of $1.22. It was a 28% increase over the same quarter last year.
Revenue rose 6% year-over-year to $1.938 billion, well ahead of the consensus of $1.785 billion. This was driven by strong growth in its Ingalls Shipbuilding segment.
Meanwhile, the adjusted operating margin improved 237 basis points to 8.2% of revenue.
Estimates Rising
Following the company's strong Q4 results, analysts revised their estimates significantly higher for both 2014 and 2015. This sent shares of Huntington Ingalls Industries to a Zacks Rank #1 (Strong Buy).
The 2014 Zacks Consensus Estimate is now $7.04, up from $6.22 just 30 days ago. The 2015 consensus is currently $7.93, up from $7.31 over the same period. Based on these estimates, analysts are projecting 31% EPS growth in 2014 and 13% growth in 2015.
You can see the sharp increase in consensus estimates - and the stock price - over the last several months in its 'Price & Consensus' chart as Huntington Ingalls Industries has delivered three consecutive earnings beats greater than 20%: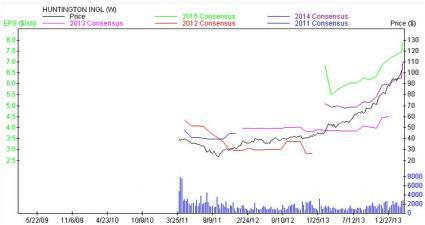 Rising earnings estimates appears to be a common theme in the 'Aerospace/Defense' industry. It ranks in the top 14% off all industries based on earnings momentum.
Reasonable Valuation
Shares of Huntington Ingalls Industries have risen more than 8% since the Q4 earnings report and are trading at an all-time high. But the valuation picture still looks reasonable. Shares trade at 14.5x 12-month forward earnings, which is a discount to the industry median of 15.8x. Its price to cash flow ratio of 10.6 is also less than the peer group of 12.8.
The Bottom Line
With soaring earnings estimates, strong growth projections and reasonable valuation, Huntington Ingalls Industries offers investors attractive upside potential.
Todd Bunton, CFA is the Growth & Income Stock Strategist for Zacks Investment Research and Editor of the Income Plus Investor service.
HUNTINGTON INGL (HII): Free Stock Analysis Report (email registration required)