By Carla Fried
As one of the largest stocks in the S&P 500 it's no surprise that Google (NASDAQ:GOOG) is among the most widely held by institutional investors.
But what's more noteworthy is that it is very popular among some of the sharpest active managers who go out of their way to avoid index hugging. In its latest Ultimate Stock-Pickers roundup, Morningstar reports that Google is owned by 15 of the 26 fund managers tracked by Morningstar. Microsoft (NASDAQ:MSFT) is owned by 16 of the 26, but in terms of assets devoted to a stock, Google ranks as the top conviction holding among Morningstar's elite cadre of stock pickers. (Full disclosure: Morningstar is an investor in YCharts.)
Unlike Microsoft and Apple (NASDAQ:AAPL) Google is a tech behemoth that isn't full of question marks. When was the last time you heard an activist investor agitating on Google? This chart is a microcosm of a healthy company.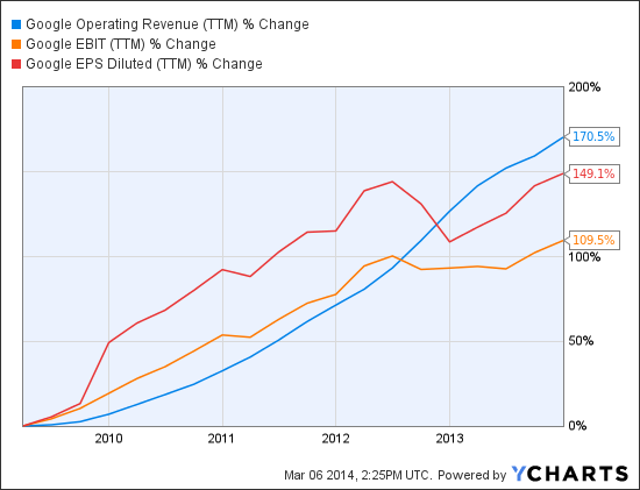 GOOG Operating Revenue (TTM) data by YCharts
But the ultimate stock pickers also signaled that Google is ripe for some profit taking. In the fourth quarter, six Google shareholders sold shares. Only Johnson & Johnson (NYSE:JNJ) was a more active sell among the stock pickers. For example, Morgan Stanley Focus Growth fund, run by a management team named as Morningstar's Equity Fund of the Year for 2013, reduced its Google stake by 8% in the fourth quarter. That said, Google is still its third largest holding, accounting for more than 7% of fund assets.
A year ago, Google was still trading below previous valuation levels. Not now: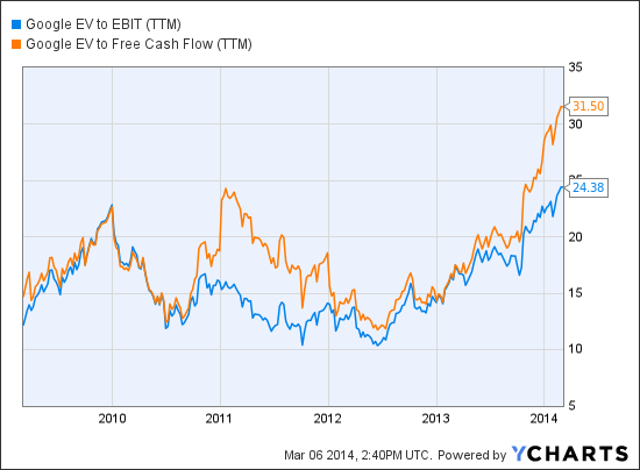 GOOG EV to EBIT (TTM) data by YCharts
Google's trailing 12-month PE ratio is now 35 and its PE ratio less cash - a smart way to look at cash-rich tech firms - is at 30. While the overall market valuation has drifted higher, Google's expansion since the beginning of 2013 is worth noting: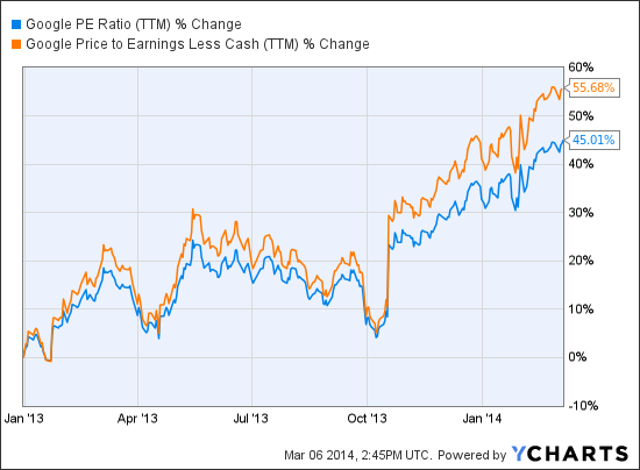 GOOG PE Ratio (TTM) data by YCharts
Google seems to be a textbook case of owning a great company at a fair price, rather than a fair company at a great price. But as the ultimate stock pickers' moves in the fourth quarter suggest, even rock stars can need a haircut from time to time.
Flipping the table, the highest conviction purchase among the ultimate stock pickers in the fourth quarter was Qualcomm (NASDAQ:QCOM). Five of the 26 were buying the stock at the close of last year, and it was the third highest conviction purchase in the third quarter of 2013, behind Philip Morris (NYSE:PM) and Exxon Mobil (NYSE:XOM). That said, Qualcomm has yet to crack the Top 10 most widely held among the stock pickers.
FPA Crescent, a contrarian fund YCharts has written about, was one of the ultimates buying Qualcomm in the fourth quarter.
Disclosure: None.