By Brandon Clay
The offshore drilling business has been in the headlines since the April 20th Deepwater Horizon explosion and subsequent oil spill. However, the spill is affecting more than cable news and Gulf of Mexico seafood. With environmental costs and legal risks rising, share prices for some oil companies have deservedly plummeted. According to MarketWatch, British Petroleum (NYSE:BP), Anadarko Petroleum (NYSE:APC), Transocean Limited (NYSE:RIG), Halliburton (NYSE:HAL) and Cameron International (NYSE:CAM) together lost over $100 billion in market cap since the explosion. Falling oil prices are not the only thing to blame for these companies' market woes.
The oil industry has already reacted to political pressure. Offshore drilling costs are rising. Reuters reports: "African independent oil and gas company Afren said it had already experienced a 7-8 percent increase in costs for a project in Ghana following the safety response of Ghanaian authorities." No doubt American offshore production will be affected soon. Washington politicians will ride the proverbial wave of public discontent until it's no longer expedient. Is the energy sector doomed?
We don't think so. In recent days, crude oil prices have turned up while the euro appears to be stabilizing against the dollar. The loss of an estimated 210,000 gallons of oil gushing into the Gulf every day isn't helping. Every time a "top-kill" fails, investors look for less PR-toxic production techniques.
White House Chief of Staff Rahm Emmanuel once said: "Rule 1: Never allow a crisis to go to waste." We think this crisis fits Emmanuel's proclamation. With oil prices rising and offshore production looking unattractive, we turn our attention to the great frozen north where water is sparse and oil sand abounds. Canada boasts 54,000 square miles of oil-soaked earth containing approximately 1.7 trillion barrels of oil. That's quite a deposit, and it's far away from offshore rigs.
One company situated to profit from Canada's landlocked deposits is Cenovus Energy Inc. (NYSE:CVE). A 2009 spinoff from EnCana Corp (NYSE:ECA), Cenovus is headquartered in Calgary, Alberta. Most of the company's production depends on their bitumen reservoirs. Their specialized techniques, production leases, and lower steam-to-oil production ratio, make CVE well-suited to harvesting the northeast Athabasca oil sands deposit.
Even better, despite the specialized processing techniques oil sand requires, there's no drilling. Cenovus' bitumen production is offset by other natural gas and crude oil production. CVE also has partial interest in refineries in Illinois and Texas.
The Cenovus books look positive. The firm has $378 million in cash with $6 billion in debt. However, $10.6 billion annual revenue and $2.8 billion earnings give CVE a decent 13.3 trailing P/E ratio. With the Canadian dollar running near parity with the US dollar, currency exchange is presently not a factor.
After bouncing off support on May 26, CVE jumped to nearly $28. Though a small correction may be in order, we think CVE is poised to climb as offshore oil companies fall. We agree with Jeff Saut, a top Raymond James strategist who rates Cenovus (CVE) "outperform." Oil is rising, and we shouldn't forget that opportunity can be found in a crisis. To go long onshore oil production, go with CVE.
click to enlarge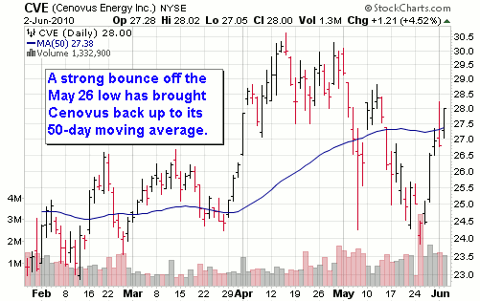 Disclosure covering writer, editor, publisher, and affiliates: No positions in any of the securities mentioned. No positions in any of the companies or ETF sponsors mentioned. No income, revenue, or other compensation (either directly or indirectly) received from, or on behalf of, any of the companies or ETF sponsors mentioned.