This article analyzes the most recent quarterly and annual results of Energy Transfer Partners, L.P. (NYSE:ETP) and looks "under the hood" to properly ascertain sustainability of Distributable Cash Flow ("DCF") and assesses whether ETP is financing its distributions via issuance of new units or debt.
In 2012, following the acquisitions of Southern Union Company ("Southern Union") and Sunoco, Inc. ("Sunoco"), ETP's general partner, Energy Transfer Equity L.P. (NYSE:ETE), re-evaluated and changed ETP's reportable segments. In 4Q13, ETE again realigned the composition of ETP's reportable segments. Prior results have been recast and ETP's segments are now as follows:
Intrastate Transportation and Storage Segment: ETP owns and operates ~7,800 miles of natural gas transportation pipelines with ~14.0 Bcf/d of transportation capacity and three natural gas storage facilities located in Texas. It is the largest intrastate pipeline system in the U.S.
Interstate Transportation and Storage Segment: ETP owns and operates ~12,800 miles of interstate natural gas pipeline with ~11.3 Bcf/d of transportation capacity. This includes Panhandle Eastern Pipe Line Company, LP ("Panhandle"), the successor entity to Southern Union, which owns and operates the Trunkline and Sea Robin natural gas open-access interstate pipelines. Through Southern Union, ETP also acquired a 50% interest in Citrus Corp., ("Citrus") which owns 100% of Florida Gas Transmission Company, LLC ("FGT"), a ~5,400 mile pipeline system that extends from south Texas through the Gulf Coast to south Florida. The other 50% of FGT is owned by Kinder Morgan, Inc. (NYSE:KMI). ETP also has a 50% interest in the joint venture that owns the 185-mile Fayetteville Express pipeline.
Midstream Segment: ETP owns and operates ~6,700 miles of natural gas and natural gas liquids ("NGLs") gathering pipelines with ~6 Bcf/d of gathering capacity, 5 natural gas processing plants, 15 natural gas treating facilities and 3 natural gas conditioning facilities with an aggregate processing, treating and conditioning capacity of ~4.2 Bcf/d. The midstream segment focuses on natural gas gathering, compression, treating, blending, and processing. Operations are currently concentrated in major producing basins and shale formations, including Austin Chalk and Eagle Ford in South and Southeast Texas, the Permian Basin in West Texas and New Mexico, the Barnett Shale and Woodford Shale in North Texas, the Bossier Sands in East Texas, the Marcellus Shale in West Virginia, and the Haynesville Shale in East Texas and Louisiana.
NGL Transportation and Services Segment: consists of ETP's 70% interest in Lone Star NGL LLC ("Lone Star"), a joint venture that owns and operates ~2,000 miles of NGL pipelines with an aggregate transportation capacity of ~388,000 Bbls/d, three NGL processing plants with an aggregate processing capacity of ~904MMcf/d, three fractionation facilities with an aggregate capacity of 251,000 Bbls/d and NGL storage facilities with aggregate working storage capacity of ~47 million Bbls. The NGL pipelines primarily transport NGLs from the Permian and Delaware basins and the Barnett and Eagle Ford shale formations to Mont Belvieu, Texas. Lone Star's gas liquids storage, fractionation and transportation assets are located in Texas, Louisiana and Mississippi. Regency Energy Partners (NYSE:RGP), an MLP controlled by ETP's general partner, owns the other 30% of Lone Star.
Investment in Sunoco Logistics Segment: ETP's interests in Sunoco Logistics Partners L.P. (NYSE:SXL) consist of a 2% general partner interest, 49.95% (as of October 1, 2013, down from 100% previously) of the incentive distribution rights ("IDRs") and 33.5 million SXL common units representing 32% of the limited partner interests in SXL as of 12/31/13. SXL owns and operates ~4,900 miles of crude oil trunk pipelines and approximately 500 miles of crude oil gathering lines, principally in Oklahoma and Texas, aggregate storage capacity of ~46 million barrels, ~39 refined products marketing terminals and several refinery terminals. SXL has ~2,500 miles of pipelines that transport refined products, including multiple grades of gasoline, middle distillates (such as heating oil, diesel and jet fuel) and liquefied petroleum gas ("LPG") such as propane and butane, from refineries to markets. SXL also has joint venture interests in four refined products pipelines in selected areas of the United States.
Retail Marketing Segment: ETP's retail marketing operations consists of retail locations and convenience stores selling gasoline and middle distillates in 24 states, primarily on the east coast and in the mid west region of the U.S. ETP's wholesale distribution business is engaged in the distribution of gasoline (including gasoline blend stocks such as ethanol), distillates, and other petroleum products to wholesalers, retailers and other commercial customers.
All Other Segment: includes interests in numerous entities, including: a) ~24% (as of 12/31/13) of the common units of AmeriGas Partners, L.P. (NYSE:APU), a portion of which was sold in a public offering in January 2014 leaving ~14% (12.9 million units) and accounted for under the equity method; b) ~33% non-operating interest in PES, a joint venture that owns a refinery in Philadelphia; c) an investment in RGP related to the RGP common and Class F units received by Southern Union in exchange of its interest in Southern Union Gathering Company, LLC to RGP on April 30, 2013. As a result of the 1Q14 realignment, the natural gas marketing operations were moved from the Midstream Segment to the All Other Segment.
Several significant related party transactions occurred in 3Q13 and 4Q13. On October 1, 2013, ETE exchanged 50.16 million ETP units it owned for 50.05% of the IDRs held by the general partner of SXL who, as previously stated, is owned by ETP. On November 19, 2013 ETP and ETE completed another exchange transaction in which Trunkline LNG Company, LLC ("Trunkline LNG"), the entity that owns the existing LNG regasification facility at Lake Charles, Louisiana and was 100% owned by ETP, would be transferred to ETE on January 1, 2014 in exchange for the redemption of 18.71 million ETP common units currently held by ETE (equivalent to an effective purchase price of ~$1 billion based on ETP's closing unit price as at November 18, 2013).
Evaluating ETP's results and ascertaining its DCF sustainability, already made difficult by the string of transactions, structural changes, segment definition changes and related-party transactions mentioned above, is further complicated by a change in ETP's definition of Segment Adjusted EBITDA to reflect amounts for less than wholly owned subsidiaries based on 100% of the subsidiaries' results of operations. In prior periods, amounts for less than wholly owned subsidiaries were reflected in Segment Adjusted EBITDA based on ETP's proportionate ownership. Beginning in 1Q13, Segment Adjusted EBITDA includes 100% of Lone Star (of which ETP owns 70%) and also 100% of the FGT and 100% of the Fayetteville Express Pipeline ("FEP"), even though ETP owns 50% of these latter two ventures and previously accounted for them using the equity method. Prior financial statements have had to be retrospectively adjusted to reflect these changes.
It is therefore exceedingly difficult to compare across periods, to say nothing of trying to draw forward-looking conclusions based on ETP's past performance. So while I generally review trailing twelve months ("TTM") data, in ETP's case a comparison of historical data is not meaningful given the major changes in the businesses owned by ETP and the manner in which it accounts for them. For example, it is not meaningful to compare revenues in 2013 ($46.3 billion) to 2012 revenues ($15.7 billion), and the same goes for other financial statement items. It makes more sense to compare ETP's 4Q13 and 2013 results to the prior year periods' pro forma (rather than historical) results since those are adjusted for the sale of the propane business, the Sunoco acquisition, the Southern Union acquisition, and for adjustments required by transactions involving ETP Holdco Corporation ("Holdco"), an entity that was owned 40% by ETP and 60% by ETE, and that was formed to in a manner that enabled ETP to consolidate Southern Union's results. Pro forma data is available for selected metrics, some of which are presented in Table 1 below: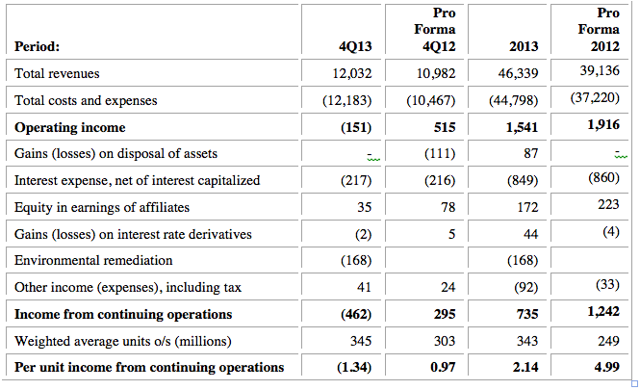 Table 1: Figures in $ Million except units outstanding. Source: company 10-K, 10-Q and 8-K filings
The pro forma numbers in Table 1 show results as if the Sunoco acquisition, the Southern Union acquisition and all the Holdco adjustments had occurred on January 1, 2012.
Operating income in 4Q13 and 2013 was adversely impacted by a $689 million goodwill impairment charge related to Trunkline LNG following a fourth quarter assessment that led to a conclusion that its estimated fair value was less than its carrying amount. As previously mentioned, ETE has taken over this asset from ETP as of January 1, 2014. I don't think the rationale for transferring the asset to ETE was properly explained and am uncomfortable with such related party transactions and value adjustments.
But even absent this charge, Table 1 indicates operating income per unit would have declined in 4Q13 vs. 4Q12 and in 2013 vs. 2012. It also highlights the adverse impact of a $168 million environmental remediation expense on income from continuing operations in 4Q13 and 2013. The fourth quarter charge was primarily related to Sunoco's recognition of environmental obligations related to closed sites.
Segment Adjusted EBITDA is a metric developed by ETP management to measure the core profitability of its operations. Segment Adjusted EBITDA forms the basis of ETP's internal financial reporting and is one of the performance measures used by senior management in deciding how to allocate capital resources among business segments. Since pro forma information on this metric is not available, there is no alternative except examining the historical data. Therefore, note that 2012 numbers exclude Sunoco results for 1/1/12 through 10/4/12 and exclude Southern Union results for 1/1/12 through 3/25/12. Fourth quarter periods (which are much more comparable) show a decrease in Segment Adjusted EBITDA on a per unit basis: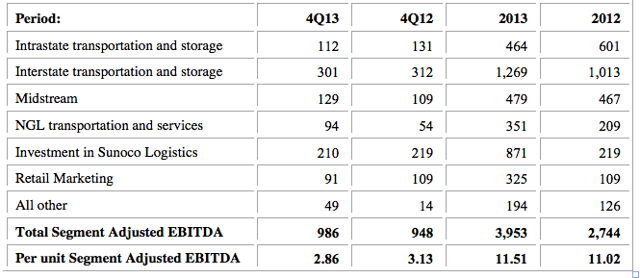 Table 2: Figures in $ Millions, except per unit amounts. Source: company 10-K, 10-Q and 8-K filings
Intrastate contribution to Segment Adjusted EBITDA decreased in the periods reviewed primarily because transported volumes decreased due to the cessation of certain long-term contracts, the impact of which was partially offset by the impact from a more favorable pricing environment.
Interstate contribution to Segment Adjusted EBITDA decreased in 4Q13 vs. 4Q12 primarily due to lower volumes. It increased in 2013 vs. 2012 primarily due to the consolidation of Southern Union's transportation and storage operations beginning March 26, 2012.
The Midstream segment's contribution to Segment Adjusted EBITDA vs. prior period amounts is difficult to evaluate. Volumes increased on ETP's legacy assets but decreased on Southern Union's gathering and processing operations. But some or all of the decrease in Southern Union volumes were due to related party transactions pursuant to which Southern Union's results were consolidated into ETP's results through April 30, 2013 and deconsolidated thereafter.
NGL contribution to Segment Adjusted EBITDA increased in the periods reviewed primarily due to higher volumes resulting from pipelines placed into service, additional NGL production and commissioning of Lone Star's fractionators at Mont Belvieu, Texas.
ETP obtained control of SXL and Sunoco's retail operations in connection with the acquisition of Sunoco; therefore, these segments' results for 2012 only reflect the period from October 5, 2012 to December 31, 2012 compared to a full twelve months of results for 2013.
Overall, Table 2 shows a decrease in Segment Adjusted EBITDA in 4Q13 vs. 4Q12 and would probably have shown a decrease in 2013 over 2012 on a pro forma basis.
The generic reasons why DCF as reported by an MLP may differ from what I call sustainable DCF are reviewed in an article titled "Estimating sustainable DCF-why and how." ETP's definition of DCF and a comparison to definitions used by other MLPs are described in an article titled "Distributable Cash Flow." Using ETP's definition, DCF for 2013 was $2,423 million ($7.06 per unit), up from $1,453 million ($5.83 per unit) in the prior year period.
Table 3 below provides a comparison between sustainable DCF and the DCF number reported by management:

Table 3: Figures in $ Millions. Source: company 10-K, 10-Q and 8-K filings, author estimates
Note that the $689 million charge reducing Trunkline LNG to its fair value is not reflected in DCF because it is a non-cash item. The principal differences between reported DCF and sustainable DCF relate to working capital, to risk management activities and to a variety of items grouped under "Other."
Under ETP's definition, reported DCF always excludes working capital changes, whether positive or negative. My definition of sustainable DCF only excludes working capital generated (I deduct working capital consumed). Despite appearing to be inconsistent, this makes sense because in order to meet my definition of sustainability the MLP should generate enough capital to cover normal working capital needs. On the other hand, cash generated by the MLP through the liquidation or reduction of working capital is not a sustainable source and I therefore ignore it. Over reasonably lengthy measurement periods, working capital generated tends to be offset by needs to invest in working capital. In 2013 working capital consumed $146 million. Management adds back working capital consumed in deriving reported DCF while I do not.
The $95 million adjustment for risk management activities in 2013 consists primarily of adjustments for derivative activities relating to interest rate swaps and commodity price fluctuations.
The $125 million adjustment for items grouped under "Other" items in 2013 consists of various components, including deferred income taxes and amortization of finance charges. But the largest component is a $168 million charge for environmental remediation taken in 4Q13. Management excludes these items from its DCF calculation (i.e., they are added back).
Coverage ratios are shown in Table 4 below:

Table 4 ($ millions, except ratios). Source: company 10-K, 10-Q and 8-K filings, author estimates
ETP reports coverage based on a narrower definition. The numerator is DCF attributable to the partners of ETP (i.e., after deducting distributions to SXL and RGP) and the denominator is distributions made to the partners of ETP. The manner in which ETP determines coverage ratio is presented in Table 5 below:

Table 5 ($ millions, except ratios). Source: company 10-K, 10-Q and 8-K filings
Tables 3, 4 and 5 illustrate the difficulties that result from the lack of standardization when it comes to calculating DCF. Should "one time" items such as the previously mentioned $689 million write off be excluded because it is non-cash? Should a $168 million charge for environmental remediation be excluded because it is "non-operational," even though it appears to require cash outflow? Should cash required for working capital be ignored? Factoring in the high "noise" level in ETP's 4Q13 and 2013 results causes me to assign a lower rank to the quality of its DCF numbers. However, this is a subjective, non-quantitative, assessment.
Sustainable DCF coverage in 2013 crossed the 1x threshold and improved considerably compared to the prior year period. Coverage also improved in the last two quarters (4Q13 and 3Q13) vs. the same quarters in 2012. This too is encouraging.
Table 6 below presents a simplified cash flow statement that nets certain items (e.g., acquisitions against dispositions, debt incurred vs. repaid) and separates cash generation from cash consumption in order to get a clear picture of how distributions have been funded:
Simplified Sources and Uses of Funds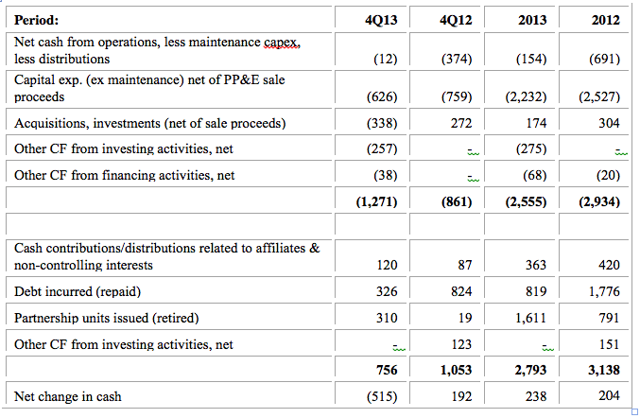 Table 6: Figures in $ Millions. Source: company 10-K, 10-Q and 8-K filings, author estimates
Net cash from operations, less maintenance capital expenditures, less net income from non-controlling interests fell short of covering distributions by ~$154 million in 2013 and by ~$691 million in 2012. But adding net amounts received from unconsolidated affiliates ($363 million in 2013, primarily AmeriGas, Citrus, FEP and RGP) covers the shortfall and enables me to conclude that 2013 distributions were not funded by issuing debt and limited partnership units.
Table 7 below provides selected metrics comparing ETP to some of the other MLPs I follow based on the latest available trailing twelve months ("TTM") results.
As of 03/11/14:

Price

Current Yield

TTM

EBITDA

EV / TTM EBITDA

2014 EBITDA

Guidance

Buckeye Partners (NYSE:BPL)

$73.74

5.90%

627

18.3

710

Boardwalk Pipeline Partners (NYSE:BWP)

$12.75

3.14%

689

9.4

650

El Paso Pipeline Partners (NYSE:EPB)

$29.40

8.84%

1,113

9.5

1,200

Enterprise Products Partners (NYSE:EPD)

$67.29

4.16%

4,685

17.1

-

Energy Transfer Partners

$54.32

6.77%

2,746

12.8

-

Kinder Morgan Energy (NYSE:KMP)

$75.00

7.25%

5,165

10.1

5,900

Magellan Midstream Partners (NYSE:MMP)

$68.61

3.41%

845

21.7

936

Targa Resources Partners (NYSE:NGLS)

$53.32

5.61%

661

13.2

750

Plains All American Pipeline (NYSE:PAA)

$53.25

4.62%

2,168

11.8

2,150

Regency Energy Partners

$27.50

6.91%

477

19.1

-

Suburban Propane Partners (NYSE:SPH)

$43.41

8.06%

307

12.4

-

Williams Partners (NYSE:WPZ)

$50.14

7.12%

2,215

14.0

-
Table 7: Enterprise Value ("EV") and TTM EBITDA figures in $ Millions. Source: company 10-K, 10-Q and 8-K filings, author estimates
My concerns regarding ETP are as follows: 1) it is difficult to evaluate ETP's results and ascertain its DCF sustainability given the structural complexity and changes, segment definition changes; key business parameter definition changes; 2) the rationale for some major related-party transactions is not properly explained; 3) the significant "one time" charges in 4Q13; 4) the decline in net operating income on a pro forma, per unit, basis in 2013; 5) the decline in Segment Adjusted EBITDA in 2013 on a per unit basis; 6) the IDR burden is still high; and 7) the debt burden is still high with long-term debt to TTM Adjusted EBITDA at 4.2x (5.8x if we use EBITDA instead of Adjusted EBITDA due to the write-offs.
On the other hand: 1) sustainable DCF improved in 2013 and covered distributions; 2) per unit Segment Adjusted EBITDA improved in 2013; 3) ETP is reporting improving spreads on interstate pipelines and management believes it will be able to roll over and/or add new contracts at rates equal to or better than current rates on both interstate and intrastate systems; and 4) ETP expects increased processing and throughput volumes in 2014 as projects recently placed in service ramp up (growth projects aggregating $830 million are expected to be placed in service through 2014, of which ~$603 million are in the Midstream and NGL Transportation and Services segments).
I continue to hold my position and be overweight on ETE relative to ETP.
Disclosure: I am long EPB, EPD, ETP, ETE, MMP, PAA. I wrote this article myself, and it expresses my own opinions. I am not receiving compensation for it (other than from Seeking Alpha). I have no business relationship with any company whose stock is mentioned in this article.