You'll be hard pressed to find a safer stock than McDonald's (NYSE:MCD). The company is in the enviable position of being both a high quality blue-chip stock as well as a dividend champion, with 38 years of annual dividend increases. In addition, the company is by far the dominant name in its sector, with an absolutely massive moat and a worldwide footprint.
Same store sales are on the decline, blame the winter weather?
On March 10, McDonald's reported that its global comparable sales fell 0.3% in February. Sales in the Asia/Pacific, Middle East and Africa ("APMEA") segment were down 2.6%, largely due to weakness in Japan as well as the timing of Chinese New Year. McDonald's has announced measures to improve performance in that region, including increasing menu variety as well as closing 74 underperforming stores in Japan.
An area of strength for McDonald's was Europe. Comparable sales rose 0.6% in that region, thanks to strong performance in the U.K. and a rebound in French sales due to increasing marketing. However, these gains were largely offset by declines in Germany; McDonald's biggest market on the continent.
In the US, comparable sales decreased 1.4% in February. This follows a similar 3.3% decline in January. This marks the first time in over a decade that McDonald's has seen US comparable sales decline in back to back months. However, the company noted that it is being impacted by severe winter weather. When adjusting for weather, traffic remains strong. McDonald's noted that it is seeing momentum via its new dollar menu offerings
However, the damage seems to have been done in regards to Q1 2014 earnings. The company is now expecting its profits to decline in the quarter compared to last year due to weaker margins and reduced sales.
McDonald's plans upwards of $5 billion in capital returns this year
During the Bank of America Merrill Lynch 2014 Consumer & Retail Conference, McDonald's noted that it will be returning upwards of $5 billion to its shareholders via share buybacks and dividends. This would mark a slight increase from last year's total of $4.9 billion.
With the current $0.81 per share ($3.24 per year) quarterly dividend, McDonald's dividend payments run out to about $3.2 billion per year. This will leave about $1.8 billion over for share buybacks. At current prices, this amount can purchase over 18M shares, or about 1.85% of the float. When combined with the dividend yield of 3.30%, McDonald's total shareholder payout yield will be slightly above 5.20%.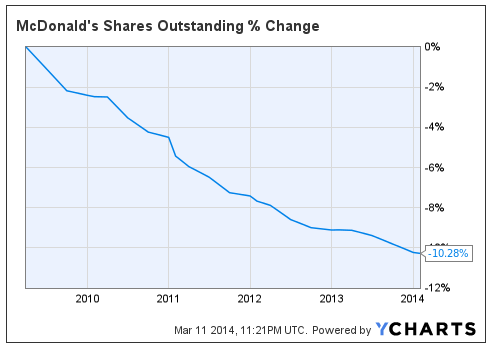 The dividend still has room to go higher based on both EPS and FCF
In addition, McDonald's is very likely to increase its dividend sometime in 2014 due to its long history of dividend increases. The last dividend hike occurred in Q3 2013 and was for $0.04 per share, or 5%, from $0.77 to $0.81 per share. However, as I noted last September, this increase was disappointing in size.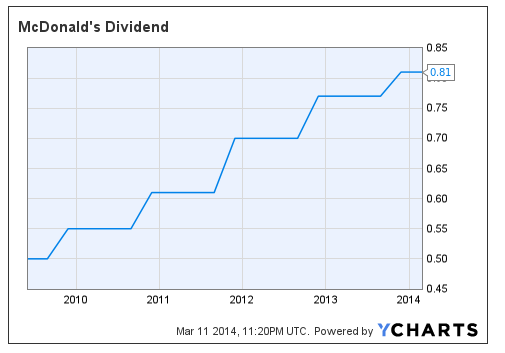 However, I think McDonald's may be able to provide an even larger dividend increase this year. My reasoning? Basically, the company is seeing its FCF increase much more quickly than its EPS. The company is winding down its restaurant renovations, leaving more cash left for shareholder returns.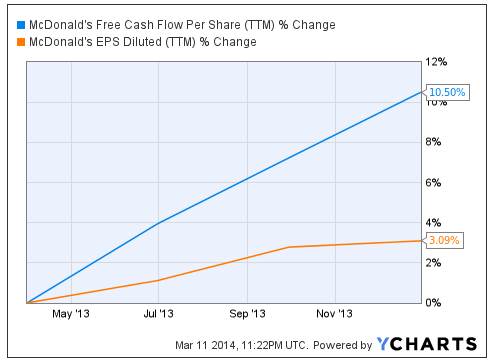 The company has targeted to return all of its free cash flow over the long-term to shareholders through a combination of dividends and share repurchases. If the dividend follows the recent FCF trends, McDonald's may be able to pump out a 10% increase to its dividend this year
Conclusion
McDonald's is the classic "flight to safety" investment. With tensions worldwide escalating, (see Libya, Ukraine), it is little wonder that McDonald's stock surged nearly 4% on a red tape day. However, for those looking to start a position, I would wait for a pullback as the stock can easily pull back a few percent tomorrow.
Disclaimer: The opinions in this article are for informational purposes only and should not be construed as a recommendation to buy or sell the stocks mentioned. Please do your own due diligence before making any investment decision.
Disclosure: I am long MCD. I wrote this article myself, and it expresses my own opinions. I am not receiving compensation for it (other than from Seeking Alpha). I have no business relationship with any company whose stock is mentioned in this article.