Equity Income Seekers
When investors seeking income turn to equities, the current dividend yield is often what attracts them first. To many such investors, the higher the current yield, the more attractive the stock seems. However, closer examination often reveals that what first meets the eye is not always what it appears to be.
Learning from the Past
When researching common stocks, we have always held that there is much that can be learned from the past. Although we would agree with conventional investing prudence and wisdom that states that past results are not necessarily indicative of future results, we nevertheless feel that there is value in reviewing history.
There is much more to reviewing history than just adding up performance results. There are also considerations of quality and/or safety, i.e. the risk taken to achieve a given level of performance. Also, how consistent and reliably has the company under review performed as a business. Much of this vital information can be ascertained by evaluating the company's historic fundamentals.
When a given company is examined through the lens of this Fundamentals Analyzer Software Tool, we believe that many important attributes regarding the company are instantly revealed. Although the analysis this tool performs should never be the sole and final say regarding an investment decision, it can be a very efficient starting point.
Six Above-Average Dividend Yield Stocks
The six companies this article is reviewing all pay dividends in excess of 4% per annum. The yields range from a high of 15.3% to the lowest yield of 4.3%. In the group are two REITS; one specialized and one mortgage. There are two utilities; one traditional and one telecom. Of the final two, one is a financial and the other a healthcare supplier. Our review will start with the highest yield and end with the lowest. What you find may really surprise you.
We will provide one graph (a) and one chart (b) on each company. Each graph will start with 2001 and end current; therefore, the two most recent recessions are covered (the 2001 and 2008 recessions are shaded red). Both the graph and chart will say ten year, however, they actually cover the past nine years plus the tenth year, the one we are currently in (approximately 9 ½ years total). The chart will calculate the performance associated with the graph.
The green shaded area plots earnings per share, and the light blue shaded area represents dividends paid out of those earnings and stacked on top for visual perspective. This also provides a visual perspective of the payout ratio; except for SCANA Corp. (NYSE:SCG) and CenturyTel Inc. (NYSE:CTL) as their vertical price scale does not start at zero and therefore, does not show all the earnings in perspective.
The orange lines with white triangles represent the True Worth value line based on three formulas for intrinsic value determined by the companies' earnings growth rate. The PE ratio of the orange line with white triangles are designated by capital orange letters and the PE ratio number to the right of each group, these values are determined by the three formulas for value related to earnings per share growth rates as follows:
PEG (Price Equals Growth rate): These graphs represent companies growing earnings faster than 15%.
GDF (Graham Dodd Formula): These graphs calculate Ben Graham's formula for value and apply to companies growing at 5% or less.
GDF-EDMP (EDMP's extrapolation for fair value between the PEG ratio and Graham's formula for Value): These graphs apply to companies growing between 5% to 15%.
Figure 1a: GDF-EDMP Historical Earnings Growth 8.5%
Figure 1a below graphs Annaly Capital Management (NYSE:NLY), a high yield mortgage REIT. Even though the 15.3% yield is quite enticing, note how cyclical earnings have been since 2001. Even though the growth rate of earnings has averaged 8.5%, each respective year's growth has been erratic and unpredictable (see bottom of graph).
Figure 1a: NLY 10yr EPS Growth Correlated to Price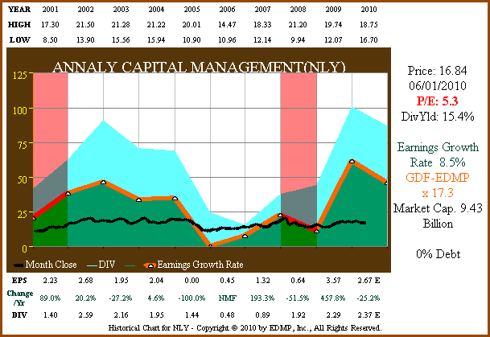 (Click to enlarge)
Figure 1b shows that although total return has been strong, Annaly Capital Management's (NLY) dividend was reduced in 2003, 2004, 2005 and then drastically in 2006. This erratic performance is consistent with the fundamentals seen in Figure 1a. A prospective investor should be prepared for potentially erratic future earnings and dividend distributions before investing.
Figure 1b: NLY 10yr Dividend and Price Performance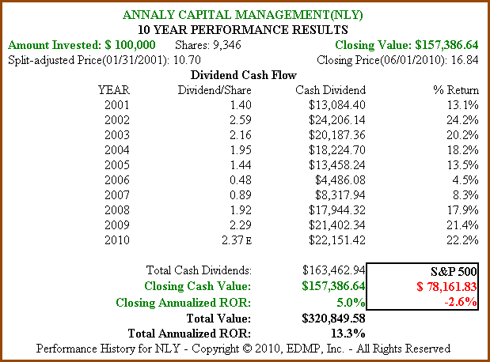 (Click to enlarge)
Figure 2a: GDF-EDMP Historical Earnings Growth 7.9%
Figure 2a looks at CenturyTel, Inc. (CTL) which traditionally has been a wireless tele-communication provider to rural America in 33 states. The 8.5% current yield is very attractive; however, it has only recently been a high yield stock. Prior to 2008 CenturyTel paid out less than 10% of earnings as dividends. Today their payout ratio has increased to over 80% and is expected to continue higher as prospects for growth are estimated to be 3% or less going forward.
Figure 2a: CTL 10yr EPS Growth Correlated to Price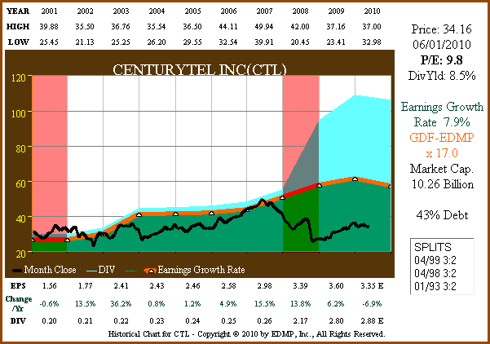 (Click to enlarge)
Figure 2b shows that CenturyTel, Inc. has historically been a weak performer with capital appreciation since 2001 of only approximately 1%. Total dividend income has been very low as well, because the high current yield has a very short history and as previously stated not expected to grow much into the future.
Figure 2b: CTL 10yr Dividend and Price Performance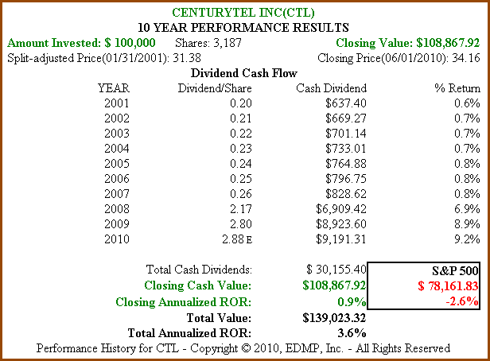 (Click to enlarge)
Figure 3a: GDF Historical Earnings Growth NMF
Figure 3a looks at HCP, Inc. (NYSE:HCP), a healthcare specialty REIT that invests in healthcare related real estate and issues mortgages. Note here that the EDMP, Inc. F.A.S.T. Graphs™ focus on operating earnings, however, as a REIT, Funds From Operations (FFO) would offer a better picture of fundamental value for a REIT. That said, the correlation between operating results, dividends and ultimately total return is relevant to the operating results achieved.
Figure 3a: HCP 10yr EPS Growth Correlated to Price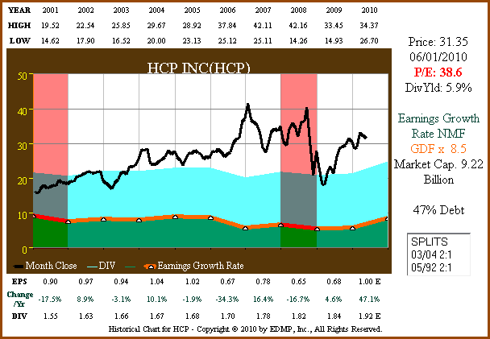 (Click to enlarge)
Figure 3B shows that the total return for this REIT and its secure dividend yield has been better than the S&P 500. However, future earnings and dividend growth is estimated at under 5% per annum.
Figure 3b: HCP 10yr Dividend and Price Performance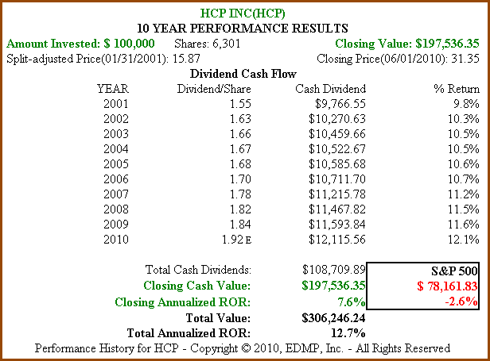 (Click to enlarge)
Figure 4a: GDF Historical Earnings Growth 3.3%
Figure 4a reviews SCANA (SCG) a classic electric utility serving the Carolinas and Georgia. Currently SCANA (SCG) can be purchased at a valuation on the low end of its historic norm and for less than its earnings justified valuation (orange line with white triangles). The 5.4% dividend yield is attractive; however, its historic earnings growth rate of only 3% is typical for regulated utilities. Consistent operating results, however, is a plus.
Figure 4a: SCG 10yr EPS Growth Correlated to Price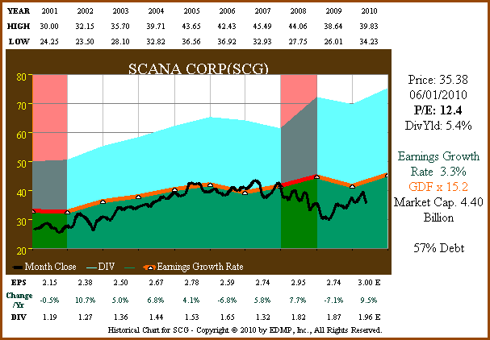 (Click to enlarge)
Figure 4b shows that SCANA (SCG) has provided shareholders with capital appreciation in line with its earnings growth achievement. Dividends have been very consistent and have increased each year, including the recession years of 2011 and 2008. However, dividend growth, like earnings growth has been slow.
Figure 4b: SCG 10yr Dividend and Price Performance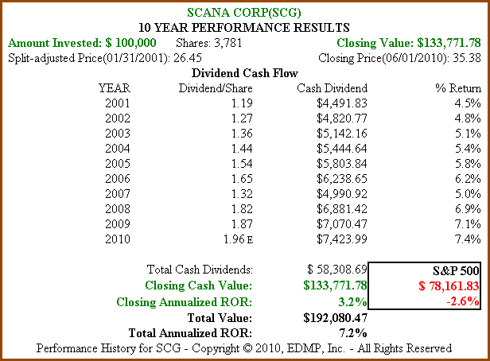 (Click to enlarge)
Figure 5a: PEG Historical Earnings Growth 21.4%
Figure 5a looks at Hudson City Bancorp (NASDAQ:HCBK), one of the country's largest and most conservatively run thrifts. The graph clearly illustrates that Hudson City Bancorp's price has fallen in sympathy with financials in general even thought their operating history has been exceptional. A blended PE ratio of 11.2 and an entry dividend yield of 4.8% for this fast growing financial are atypical of its historical norms.
Figure 5a: HCBK 10yr EPS Growth Correlated to Price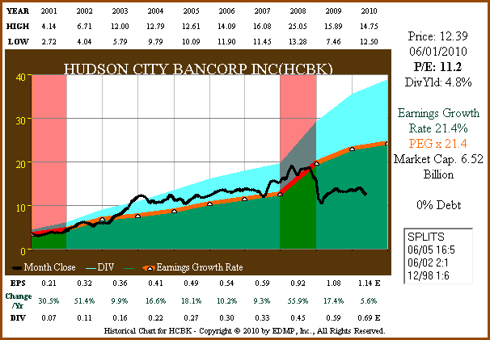 (Click to enlarge)
Figure 5b shows that even though Hudson City Bancorp ended the period undervalued on a historical and earnings justified basis, shareholders have been amply rewarded thanks to strong earnings growth. Even though they ranked fifth out of six regarding current yield, they rank second in total return to shareholders. Also, their total cash dividends for the period are high as well.
Figure 5b: HCBK 10yr Dividend and Price Performance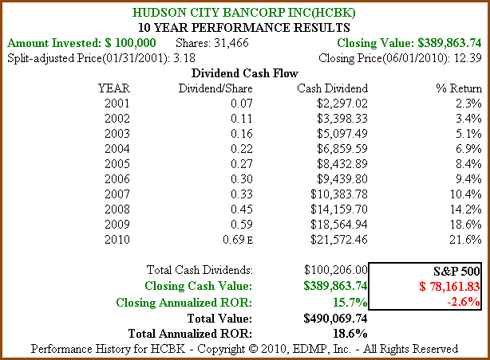 (Click to enlarge)
Figure 6a: GDF-EDMP Historical Earnings Growth 12.5%
Figure 6a looks at Meridian Bioscience Inc. (NASDAQ:VIVO) a leading life science company specializing in diagnostic testing. Even thought they offer the lowest current yield of the group, they offer among the best prospects for future growth. During the 2001 recession they did experience a 48% drop in earnings from 2000 which reduced their average growth since 2001 to 12.5%. However, since 2002 their growth rate has accelerated to over 22%. Current valuation at a PE ratio of 22.4 is consistent with recent earnings growth achievement.
Figure 6a: VIVO 10yr EPS Growth Correlated to Price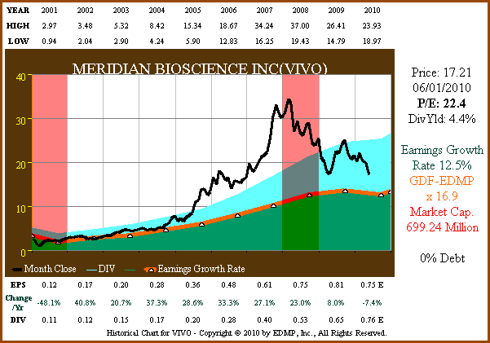 (Click to enlarge)
Figure 6b shows that Meridian, with the lowest entry current dividend yield, has generated the highest total shareholder return of the six companies researched. Moreover, their total cash dividends for the period were second only to Annaly Capital Management. Their historical velocity of dividend increases is impressive and high consensus forecast growth of earnings at 17% going forward is the highest of the group as well.
Figure 6b: VIVO 10yr Dividend and Price Performance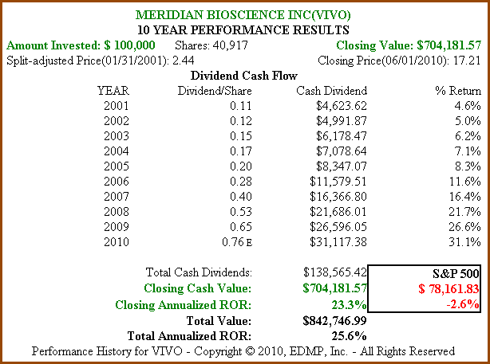 (Click to enlarge)
Each of the six companies featured in this article offer investors above-average dividend yields. However, the charts illustrate, a high dividend yield is the only attribute they hold in common. Excluding that factor, there are many more differences between each example than similarities. Most importantly, this implies different levels of suitability for investors with different goals and objectives and needs.
Figure 7 below offers a summary of past and future values of these six examples based on plots and calculations. The "Est EPS Growth" (shaded green) and the "5yr Est Tot Ret" (shaded yellow) columns are of special importance. The first represents the consensus 5-year earnings estimates of leading analysts reporting either to FirstCall or Zack's. The latter represents a calculated return based on those estimates and the three formulas for value presented earlier in this article.
Figure 7: Portfolio Review of these six companies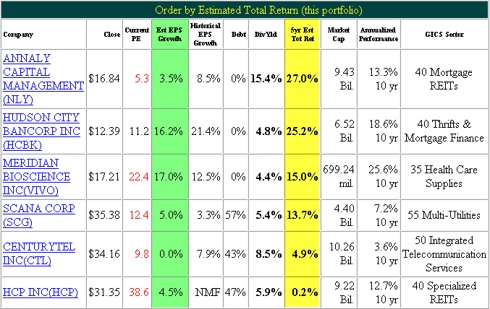 (Click to enlarge)
A key point that this article was written to address is the relevance of total return not just current yield. Other important points relate to the quality of the company, the consistency of its business and the risks taken give different levels of earnings power. Before investing in dividend paying stocks, there are many matters of great importance for investors to consider. There is never a substitute for thorough and extensive research.
Conclusion
The six companies discussed in this writing are not necessarily attractive investment candidates. Instead, they were chosen to showcase how divergent companies with a given or similar dividend yield can be. It pays to look beyond the obvious when searching for candidates to add to your portfolio. Even though as this article's title indicated, each of these companies offered above-average yields, over time they generated significantly different shareholder results. Therefore, the next time someone recommends a stock with a high yield, you should now know how important it is to dig deeper than yield alone.
Also, a good yield does not necessarily indicate a good return, especially at various levels of potential risk. The concept of total return is additionally a very important consideration. With the prospects for inflation lurking in our future, current yield may not be enough to meet tomorrow's needs. Consequently, a principle base with the potential to grow, and an income stream that can grow with it, should at least be a consideration.
Disclosure: Author long HCBK and SCG