EMC Corporation (EMC) is the world's largest provider of data storage systems. EMC offers data storage, information security, analytics, and virtualization, cloud computing, and other services that enable companies to store, manage, analyze and protect data.
IT spending was lower than expected during 2013 however EMC experienced growth across all of its business segments. The increasing demand for high-end business storage including EMC VMAX, Data Domain and increasing demand for emerging business storage due to strong demand of EMC Isilon, EMC Atom and EMC VPLEX contributed towards a 4% growth in the information storage segment with revenues of $10,694 million.
Since its formation in 2013 Pivotal has made good progress and generated $110 million in revenues with a growth rate of 4%. To capture increasing demand for platform-as-a-service (NASDAQ:PAAS) and accelerate its future growth prospects, Pivotal has recently launched Pivotal One comprising next-generation data fabrics, application fabrics and Cloud Foundry, a cloud-independent PaaS that is gaining momentum and becoming the standard for PaaS.
The increased sales volume resulted in more revenues from VMware licenses and $2,225 million in revenues from VMware's virtual infrastructure with a growth rate of 9%.
The increasing data security concerns in the digital age have increased the usage of information security systems and RSA information security segment's revenues of $453 increased by 10% for fiscal year 2013. This increase was primarily driven by growth both in identity and protection and security management and compliance businesses. Security continues to become increasingly more important in IT decisions and RSA continues to benefit from this trend with its advanced and data driven security offerings.
The Big Data and Cloud Computing Industry Prospects
The IT industry is heading towards big data, especially cloud computing which is one of the most disruptive technologies to have come into force in the recent times. At the initial stage it can be expected that the cloud computing will transform IT departments across organizations and force them to improve their existing infrastructures. The industries will adapt this new infrastructure due to its remote access via web using different tools and eliminating the need to buy expansive software packages that will be installed on computers and laptops.
Another aspect is the fact that the large volume of complex data generated by increasing usage of smart devices will initiate the need for big data. New and powerful cloud infrastructures will provide technology that organizations can use to mine through massive quantities of big data and enable them to use their findings to identify new business opportunities while improving their operational efficiencies.
The rapidly changing storage requirements are likely to generate extensive demand for big data storage. According to IDC the market for big data will reach $16.1 billion in 2014 growing 6 times faster than the overall IT industry. The sub-segment of big data, the cloud infrastructure, will grow the fastest amongst other sub-segments with a CAGR of around 50% between 2013 and 2017. Smartphones, tablets, wearable and embedded devices will become the major driver of big data market. In recent years the spending on public and private cloud computing accounted for around 5% of total IT spending and by 2020 40% of the information in the digital universe will be "touched" by cloud.
Source: IDC digital universe study
The emerging markets are rapidly adapting to IT infrastructures and it is expected that between 2012 and 2020 the emerging markets share of IT spending will grow from 36% to 62% and by then China alone will account for 21% of the market. The emerging markets are a vital opportunity for EMC to expand.
Source: IDC digital universe study
Currently the U.S. and Europe are dominating the cloud computing and data storage market. In fiscal year 2013 EMC generated $12,230 million from the U.S. and $6,355 million in revenues from Europe, the Middle East and Africa r with growth rates of 6% and 8%, respectively. EMC's strong position in these markets will definitely continue the growth for the coming years. The Asia pacific region also contributed 6% to the growth in revenues totaling $3,193 million. Latin America, Mexico, and Canada generated revenues of $1,444 million and a comparatively higher growth rate of 13%. If EMC further expands its operations in the emerging markets like China and India it could be expected the company will enjoy growth from these regions.
Share Repurchase and Dividend Payment
The important aspect for investors is that EMC has not previously paid dividend. During fiscal year 2013 EMC approved the initiation of a quarterly dividend and declared the quarterly dividend of $0.1 per share for the second, third, and fourth quarters. EMC will continue to pay dividends based on its strong cash position. The next expected quarterly dividend would be $0.1 making $0.4 the annual dividend per share representing a dividend yield of 1.50% and a payout ratio of 23%. This could be a satisfactory step towards dividend seeking investors. Additionally the company intends to increase its share repurchase program from $1 billion to $6 billion throughout 2015. EMC currently earns $1.74 per share and is expected to earn $2.05 in 2014 and $2.29 in 2015 continuing its growth trend.
Conclusion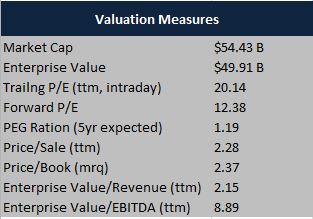 Source: yahoo finance
Although EMC's performance was at an average pace during the year the company is well positioned in the fast growing cloud computing and big data industry. EMC is acquiring companies to expand its operations and product offerings and this is quite a good strategy to benefit from growth in the developed and emerging markets. The stock is currently trading at a forward price-to-earnings multiple of 12.38x that is around 4% discount to its competitors' average of 12.9x. The stock is certainly valued cheaply and investors should buy it.
Disclosure: I have no positions in any stocks mentioned, and no plans to initiate any positions within the next 72 hours.
Business relationship disclosure: The article has been written by a Blackstone Equity Research research analyst. Blackstone Equity Research is not receiving compensation for it (other than from Seeking Alpha). Blackstone Equity Research has no business relationship with any company whose stock is mentioned in this article.