I've been pondering a purchase of VMware (NYSE:VMW) for a few months now. Each time I run a screen, VMW shows up.
Whenever I feel ready to pounce, I try the most simple analysis in the book (PE ratios) and I cringe. At current prices the stock is at forward P/E over 50 on 2010 estimates, and the story does not get much better for 2011. It's already at 44x earnings, 1.5 years out.
Does it matter? No. The stock still has one of the best charts out there. (Click to enlarge)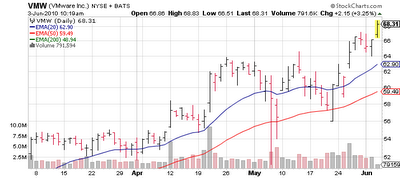 With some stocks like this and Baidu (NASDAQ:BIDU), caring about valuation metrics only hurts you. I like to buy at 1-1.33x growth rate if I can (growth at a reasonable value), but certain "buy buy buy" guys say you can buy up to 2x growth rate.
VMW is scheduled to grow 21% over the next five years, so that means you can buy up to 42x. But this stock is in excess of 50 FORWARD (not trailing). Boo Yah. Don't think, just buy.
Via the company website:
VMware, Inc. provides virtualization infrastructure software solutions and related support and services primarily in the United States.
Disclosure: No position