In today's Oxen Group market recap, What's Next For The Market, we will be focusing our attention on FuelCell Energy (NASDAQ:FCEL). We have been writing about Plug Power (NASDAQ:PLUG) recently amidst this explosion in shares to understand whether these stocks are really worth the recent gains. For FCEL, we were interested in discussing them as they have followed PLUG's recent explosion with their own 150%+ gain in the past month. The company reported earnings on Monday, and we wanted to examine just how much shares are potentially worth. As always, we will also recap what happened in the market today and forecast for the coming days.
Market Insights
The market was fairly quiet on Tuesday with a slight move to the downside as the market continues to consolidate and cannot break out from resistance lines above it. The market is likely going to remain flat with a potential tinge down with strong resistance at 16500 and 1900 on the S&P 500 and Dow Jones Industrial. Without the Fed support and emerging market, the economy needs improving top/bottom lines and improving economic data. We have been mixed here, thus a mixed market. We felt that the important story for Tuesday was some interesting developments in Europe.
This morning, the more substantial data was coming from Europe with the German Trade Balance, Italian GDP, and British Manufacturing/Industrial Production reports. Overall, the trade balance showed strength in the German economy with the Trade Balance improving to 15.0B in January as exports improved 2.2% from December and imports rise 4.1%. Those figures are definitely some positive signs that things are looking rosier in Germany.
Italian GDP rose 0.1% quarter/quarter, but it fell nearly 1% year/year a 0.9%, slightly higher than expectations. Britain's manufacturing and industrial production improved 3% for both sides year/year as well as 0.1% and 0.4%, respectively, month/month. The Industrial number just missed expectations.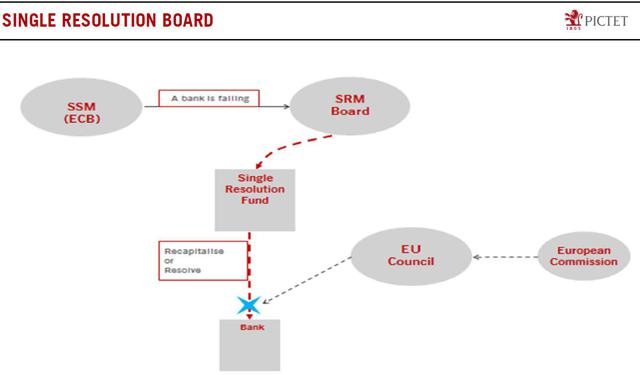 Click to enlargeOverall, the story in Europe continues to be strength in names like Germany and Great Britain while Italy and France struggle. Spain has been surprisingly strong as well. The most important story, though, in Europe today was likely the meeting that went well between EU's banking union project. ECOFIN is the council of the EU that meets with economic/banking leaders of different nation states in the EU. The group is trying to figure out a way to support the banking system and fund banks that are struggling.
The union, called the Single Resolution Mechanism, will provide supervision of EU banks to maintain financial stability. The idea is to provide oversight, stress tests, etc. in the same way the Fed does here to a degree. The resolution has had mixed reactions. Critics note that it will be difficult for the ECB to effectively monitor 6000 banks, while the banking federation in Europe noted it supported a single rule book that harmonize the banking system. Great Britain has been opposed. Our take is that some supervision is necessary, but this appears to more of a political posture than an actually effective body that can do anything of significant importance. Still, a passage will likely boost support for European markets and potentially bonds
At the close, the Dow Jones (NYSEARCA:DIA) is down 68 points. The S&P 500 (NYSEARCA:SPY) is down nine points, and the Nasdaq (NASDAQ:QQQ) is down 27 points.
In Focus - FuelCell Energy
It has been quite the week, month, and year for FuelCell Energy. The company is up 80%+, 170%+, and 275%+, respectively, in those time frames. The fuel cell buzz blew up last week and has powered these stocks much high. Today, though, some of that bubble burst as earnings from FCEL were at expectations and a number of analysts have started to become more cautious on these names. We have been conversing about Plug Power here and here, and we believe that the business is very exciting. Yet, we also believe that these stocks are starting to price for perfection and then some potentially, unless strong profitability pushes are developed...and quickly.
What we wanted to do for FCEL today was take a look at a potential price tag for the name that is reasonable based on potential revenue, margins, etc. using our Oxen Group cash flow analysis model. Plug Power took a sharp drop on Tuesday after Andrew Left of Citron Research noted that the company was worth 0.50 in fair value and then went on CNBC to discuss the opinion more (this guy is an extremely interesting read and his perspectives are pretty interesting...and we weren't paid to say that). TheStreet.com also came out with a warning to investors. As we have been noting, we believe that fuel cell technology is intriguing, but without profits, this is purely speculative in nature. A lot of the upside in shares has been due to company comments about what could happen and a limited scope of deals, and a lot of speculation is now built into shares.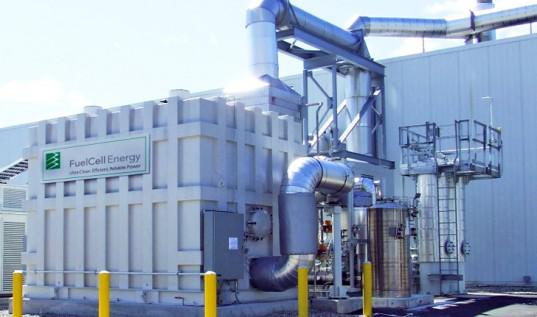 FuelCell is a much different business than PLUG as the company makes stationary fuel cell power plants that can be used together for larger power with little environmental impact. This is much different than PLUG that manufactures fuel cell systems for mostly forklifts. Yet, the recent deal from WMT for PLUG devices has gotten traders/investors excited about fuel cells. Thus, FCEL has gotten a bit of "similar" company explosion.
FCEL released their latest earnings last night, and we want to examine some of the figures and see if we can develop some pricing off of it. First, the company's backlog decreased to $327M from $428M one-year prior. Service backlog did improve year/year, but the product sales backlog dropped to $145M from $260M. The company delivered a 5% gross margin during the quarter as gross profits hit $2.2M along with revenues at $44M, an improvement over $36M. The gross margin was better than the FY2013 rate of 3.8%. The company noted in their last earnings call that they were going to see margin expansion in the back half of 2014 to the mid-teens. Wall Street Medicine has a great discussion of this in his/her report.
The company still has not announced any major new developments to the backlog, and that is somewhat of an issue. Yet, the company's CEO spoke positively on them being able to close some new deals:
We remain on track for closing multiple megawatts of orders and my confidence level is high as we have negotiated contracts for projects where we are waiting on final customer or regulatory approval," said Chip Bottone, President and Chief Executive Officer, FuelCell Energy, Inc. "Inquiries and activity levels globally remain high as we work to convert pipeline into backlog, supported by the validation from on-time completion of multi-megawatt fuel cell parks on two different continents.
Having a strong pipeline is very important to this young company, and that is a positive. Yet, at the same time, the company needs to convert these deals and grow its pipeline especially if they want to hit mid-teen gross margin levels by the end of 2014.
Shares are dipping again after this report, and the question is really what are shares worth. A fair value estimate is really not a fair assessment as this is a speculative, long-term play for those that believe in fuel cell as a future way to power plants. So, we wanted to use two models, assuming the company can achieve what they say and beyond and a more modest assumption.
To do this, we used a cash flow analysis model with the following inputs. We wanted to perform this experiment just to help investors understand what is needed to achieve certain valuations. We believe amidst a lot of wild movement, mathematics can sometimes prove to be effective. Again to preface, these estimates are simple estimates that we used to configure valuations to help us understand this stock's potential worth. We are not by any means noting this is what will happen to be clear.
Revenue -
In the best-case scenario, we used a 20% CAGR growth rate (which is actually slightly lower than the past ten years growth rate). In the mid-case, we used a 10% growth rate, which we are keeping in check due to rising comps as well as the declining backlog.
Gross/Operating Margin -
In the best-case scenario, we assumed a 15% GM with growth to 25% by 2018. In the mid-case, we will assume a 7% gross margin improving to 20% by 2018. Operating expense have been fairly stagnant at $33M-$37M, so we can assume a similar area with slight 1-2% growth moving forward. That puts operating margins at about 15% in 2018 in the best-case and around 6% in the mid-case scenario.
Depreciation/CapEx -
These levels have been very small, and they will likely remain at around 4% of revenue and cancel one another out on the cash flow model.
Discount Rate -
We used a cap rate of 5% with a strong growth potential there but risk high as well. WACC is significant, but the company's growth rate outpaces the market average significantly as well.
Results -
In our best-case model, our cash flow analysis came up with a price target at $3, similar to current levels. In our mid-case model, we were just below $2.
When we came to these results, what it shows us is that a lot of the future success is priced into shares. In a scenario where we see at least 20% per year growth of revenue with expanding margins at a pretty quick pace, operating expenses are held in check, and capex does not expand rapidly, we can only foresee a $3 target. Now, the company will be given the "momentum" boost at all times, and therefore, these estimates are an implied price that cannot account for that aspect. Additionally, an argument for "disruptive technology" could be made as well. For those that want to invest, though, a pullback is be a better place to get involved or you would have to be in a camp that believes an even better model will exist over the next five years.
All in all, this company and PLUG will be very interesting to watch over the next several months and years, and we will continue to build off this base model.
Wednesday's Outlook
The market has started out the week with two slightly weaker days, but it is a quiet consolidation that is taking place. Tomorrow, we do not get much economic data, as data is back-loaded on the last two days of the week. We also have a limited earnings calendar with the only significant developments coming from VeriFone (NYSE:PAY) in after hours and Express (NYSE:EXPR) tomorrow morning. Neither will move the market, though.
So, what will investors/traders be watching? In overseas news, we are going to be watching the Japanese February Consumer Confidence Index as Asian markets have been weak as of late. Additionally, we get the Euro-Zone Industrial Production numbers for January. Outside of that, there is little news.
Therefore, we are expecting a consolidation day tomorrow to continue unless something unexpected develops in the Ukraine/Russia situation or other headlines develop. Overall, though, the major market movement likely won't happen until the end of the week if at all.
Disclosure: I have no positions in any stocks mentioned, and no plans to initiate any positions within the next 72 hours.
Business relationship disclosure: I have no business relationship with any company whose stock is mentioned in this article. The Oxen Group is a team of analysts. This article was written by David Ristau, one of our writers. We did not receive compensation for this article (other than from Seeking Alpha), and we have no business relationship with any company whose stock is mentioned in this article.