By Jeff Bailey
In Warren Buffett's annual letter to Berkshire Hathaway (NYSE:BRK.B) shareholders, released over the weekend -- after the standard table showing that in four out of the past five years the company's per-share book value failed to beat the advance in the S&P 500 - the old guy quickly got around to defending his performance.
Berkshire's intrinsic value "far exceeds its book value," Buffett wrote, and by a margin that has widened in recent years.
"That's why our 2012 decision to authorize the repurchase of shares at 120% of book value made sense. Purchases at that level benefit continuing shareholders because per-share intrinsic value exceeds that percentage of book value by a meaningful amount. We did not purchase shares during 2013, however, because the stock price did not descend to the 120% level. If it does, we will be aggressive."
Money where his mouth is, and all that.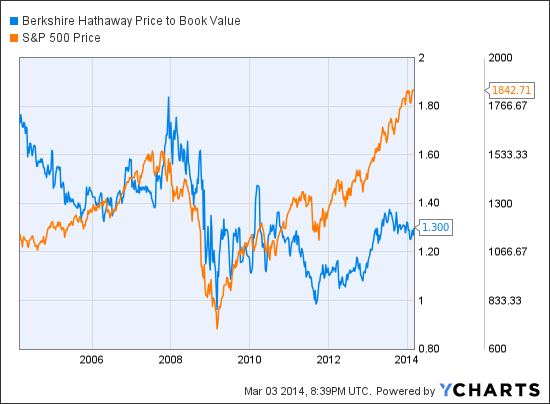 BRK.B Price to Book Value data by YCharts
I include the S&P 500 in the above chart as a reminder that the market is at record highs and that many fear a correction ahead. Sure, Berkshire stock could nosedive for reasons peculiar to the company, and the market could continue sailing upward. But that seems unlikely. Absent some significant business problem, Berkshire is a hedge against bad times. Its our-book-value vs. the-S&P 500 performance comparison does best in down years. And Buffett runs the company with lots of cash and relatively low debt.
So, sure, Berkshire shares may slip below 120% of book value, even significantly below, but accompanying that development would likely be a stock market peppered with far-cheaper stocks that would tempt Buffett.
After all, in the market swoon that began in 2008, Buffett used his dry powder and his very good name to extract very favorable terms on preferred stock from Goldman Sachs (NYSE:GS), General Electric (NYSE:GE) and Bank of America (NYSE:BAC). Financial companies were in deep trouble during that period and they were cheap and vulnerable.
Bank of America, as we just wrote, went from being a life-preserver recipient to perhaps joining Buffett's Big Four - Wells Fargo (NYSE:WFC), Coca-Cola (NYSE:KO), American Express (NYSE:AXP) and International Business Machines (NYSE:IBM) - as a fifth major holding.
Financial Sector stocks mightn't be the ones to tumble most in the next significant correction, but there will certainly be bargains, and Buffett - be greedy when others are fearful - seems happiest when such deals pop up. Here, we see the stocks' performance from the start of 2008, with the economy just into a recession, to the end of March 2009, shortly after the market's bottom: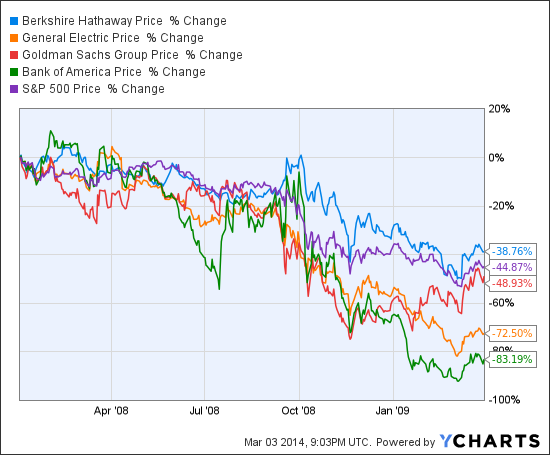 BRK.B data by YCharts
The pledge to buy Berkshire stock if it slips below 120% of book value gives added downside peace of mind to stockholders. But the other things Buffett could do with Berkshire's money in a deep correction might prove far more profitable.
Disclosure: No positions.