On February 27, 2014, I reported a potential conflict between NXP Semiconductors (NASDAQ:NXPI) and the trade unions in the Netherlands. I concluded that, given the uncertainty regarding potential strikes, investors should consider to cash some of their profits (see article: "Strikes Hit NXP Semiconductors, How Bad Will It Be?"). My arguments were that NXP Semiconductors could lose vital expertise and talent to its competitors. Both NXP Semiconductors and the trade unions provided me with statements within 24 hours after my initial report (see article: "NXP Semiconductors and The Union Respond To Recent Salary Dispute"). Within two weeks after my initial article, NXP Semiconductors and the trade union reached an negotiation result on March 10, 2014. In this article I will present NXP Semiconductors' official statement regarding the negotiation result and reconsider my initial doubts regarding the company's competitiveness.
NXP Semiconductors statement regarding agreement
On March 10, 2014, NXP Semiconductors and the trade unions reached a negotiation result on the NXP collective labor agreement (CLA). According to the agreement the CLA runs from April 1, 2013, through July 1, 2015. Among other things, a collective salary increase of 2.5% effective (March 1, 2014) and a 1.75% (January 1, 2015) increase for employees up to grade 70 were agreed. Starting in 2015 for grade 80 and 90 the collective increase will not be applicable. the salary increase for the higher grades will be based on the employees contribution and position in the salary range.

Furthermore, the unions and NXP in principle agreed that the bonus scheme for grades up to 45 will be converted to 1% fixed salary by September 1, 2104. NXP also offered the unions to still collectively opt for the new NXP global bonus plan instead before May 1, 2014 after they consulted their members on this topic.

Beside the topics above, the negotiation result addresses the adjustments of salary grades based on market data rather than a collective increase, a1% increase of the employee contribution for the pension plan and the establishment of a training and development budget to support employees and strengthen their employability.

Over the next two weeks the trade unions will consult their members on the agreed result
As I mentioned in my previous article, NXP Semiconductors risked to demotivate its employees or even worse, lose valuable employees to its competitors. By reaching the agreement with the trade union, the company proves that it takes its employees serious and that it is willing to reward the employees' contribution to a very successful last year. It is clear that this reduces the risks of demotivated employees and leaving employees. Therefore, my initial doubts regarding NXP Semiconductors' competitiveness no longer apply. This paves the way for the stock to resume its uptrend again.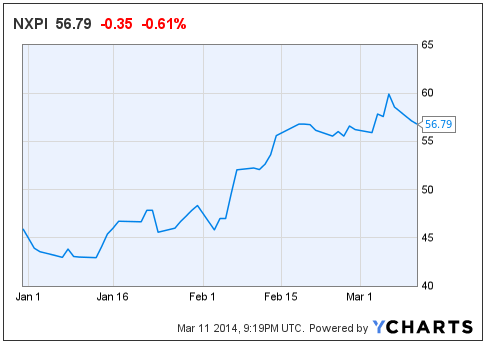 This year, the stock surged 30.10% and closed at $56.81/share on Tuesday (see graph above). However, the stock posted a 52 week high at $60.37/share last week. Since than, the stock is down 5.9%. Since the potential strike risks cooled off, I believe that the stock will regain momentum again and look for new 52 week highs soon. My initial analyses of NXP Semiconductors supports my opinion regarding the upside potential (see article: "NXP Semiconductors: Goldman's Downgrade A Perfect Investment Opportunity"). In this article I concluded that NXP Semiconductors is a great stock to invest in, because of the following reasons:
Strong market conditions
Expanding business in China.
Increasing demand for mobile solutions.
Attractive valuation compared to competitors.
The strong market conditions were recently confirmed by the SEMI World Fab Forcast. According to the forecast, the equipment spending in the semiconductors industry will increase by 20-30% in 2014. This indicates that the companies within the industry are confident about the future and are willing to invest more money in equipment.
Another catalyst for NXP Semiconductors could be mobile payments. The company manufactures smartphone chips to support mobile payments. According to this article, mobile payments are important for the major tech players and NXP Semiconductors has positioned itself to benefit from increasing demand for its chips. In fact, Zacks named NXP Semiconductors among its favorite stock picks, because of its mobile payments potential (see this video).
Conclusion
NXP Semiconductors reached a negotiation result with the trade union regarding their salary dispute for NXP Semiconductors' employees in the Netherlands. As a result, I reconsidered my initial doubts regarding the company's competitiveness. I believe that, with the threat of a strike gone, the stock will resume its uptrend again. Strong market conditions and increasing demand for the company's products support this statement as well.
Disclosure: I have no positions in any stocks mentioned, and no plans to initiate any positions within the next 72 hours. I wrote this article myself, and it expresses my own opinions. I am not receiving compensation for it (other than from Seeking Alpha). I have no business relationship with any company whose stock is mentioned in this article.