This time last year, Apple (NASDAQ:AAPL) was not a favored investment. Shares were about $100 below where they are now, and investors were wondering what new products would be coming to market. Just before the April earnings report, Apple shares bottomed at $385.10. While Apple did kitchen sink fiscal Q3 with terrible guidance, investors cheered the large hike in the company's capital return plan. Shares rose on the news initially, but were back under $400 by the end of June before starting their eventual march higher.
A year later, Apple finds itself in an almost identical situation. There are worries about the company's growth, and it is time for Apple to deliver new products. Again, it appears that Q3 guidance could be really weak. When Apple's guidance for the current fiscal Q2 was weak, shares plunged to under $500, but the company stepped in and bought back $14 billion in stock. This time around, that appears unlikely, so there may not be much support if shares fall. Today, I'll discuss why the next two months are critical for Apple.
Earnings versus guidance - which matters the most?
As I continue to state, the period right before earnings always is interesting for Apple. This is because a number of analysts like to change their minds before earnings, which can lead to huge moves in estimates. These estimate changes have at times allowed Apple to beat on the revenue or earnings lines. It also helps to put guidance in a new light as the future quarter's estimates move as well.
So the question for this quarter is what's more important? When Apple reported in January, the company beat handily on revenues and earnings, but guidance was very light. Investors focused more on the weak guidance and light iPhone sales, ignoring the many positives in the report.
In mid to late April, Apple will report fiscal Q2. Current analyst estimates call for a decline of 0.1% in revenues, although I'm guessing Apple's usual conservative guidance is in play. I would be surprised if Apple announces a decline, but even so, a small gain is barely something to celebrate. Earnings per share are also expected to show minimal improvement, and that's all due to the buyback. Net income will probably decline year over year. But if it is all about Apple's guidance, nobody will really care about Q2 unless there is some big number, like last quarter's iPhone miss.
As I detailed in the "Apple needs to deliver" article above, Q3 analyst estimates still are fairly high. Analysts are still looking for 9.5% revenue growth in the quarter, a jump of more than $3.3 billion dollars. I laid out in that prior article how the math may be tough, especially if Apple doesn't launch anything new. The China Mobile (NYSE:CHL) deal will help, but that will be offset by the fact that China's other carriers got the phone much sooner than in recent years. With the iPhone timeline pushed up, sales were pushed forward. I'm sure the terrible weather in the US has also kept Apple's retail traffic down a bit. If Apple has a small beat on Q2, but comes in light again on guidance, don't you think the growth concerns will be back into play and the stock will drop?
An update on capital returns:
It was at that Q2 earnings report last year that Apple announced a tremendous increase to its capital return program. Apple raised the program to $100 billion by the end of calendar 2015, up from $45 billion. The majority of the raise came from the buyback, which was hiked from $10 billion to $60 billion. Apple also announced its yearly dividend raise, up from $2.65 to $3.05 a share per quarter.
Last year, the huge capital return news was able to offset the bad guidance for Q3. But what does Apple have for an encore this year? Apple already bought back $14 billion in stock this quarter to support shares when they fell. That meant about $18 billion remains on Apple's buyback if the company doesn't buy back any more shares in the quarter. The current buyback was scheduled to end at the end of calendar 2015, so if Apple keeps that timeline, the buyback will be limited over the next 20 months or so.
Additionally, it leaves the company's US cash pile in the low $20 billion area. Only US funds can be used for dividends and buybacks. So if Apple were to finish the buyback early and announce a new plan, the company will likely need to issue more debt. I doubt the company will repatriate any of the more than $120 billion in cash resources located outside the US. A new buyback would be a nice announcement, but I'm not sure if it comes in April. Also, investors would probably focus more on weak guidance as a lack of growth.
Investors will be also looking to see what this year's dividend raise is, assuming Apple announces the raise at this upcoming earnings report. Last year's raise was 15%, and I think Apple will have a similar sized raise this year. With the share count coming down about 8% over the past year thanks to the buyback, Apple can increase the dividend by a decent amount without increasing the total amount paid. I expect though that the company will pay a little more in dividends, especially as it has used up more than 2/3 of the buyback already. Investors will be looking for a dividend raise to get Apple's annual dividend yield closer to other large cap technology names such as Microsoft (NASDAQ:MSFT), Cisco Systems (NASDAQ:CSCO), and Intel (NASDAQ:INTC). A comparison of yields can be found in the chart below.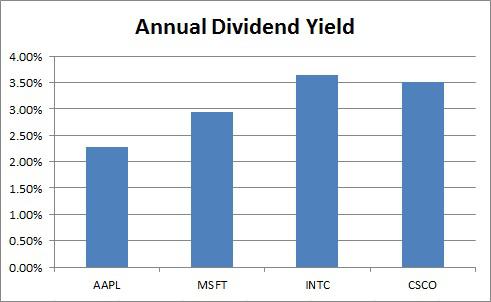 Capital returns were crucial at last year's April report, and at this year's January report. If Apple is to issue light guidance, this is how the company can partially offset bad news. However, I don't think Apple will come in guns blazing with $14 billion this time around to support its share price. Additionally, there could be some disappointment if Apple's dividend raise is closer to 10% than 15-20%. The last thing Apple can afford now is bad news. This time, shares probably won't hold $500. Apple may have used capital returns as a short-term help for the stock in the past, but this time around that support may not be there. A recent analyst report from Cantor Fitzgerald supports the notion of increased capital returns, but notes that Q2 sales have been very weak. If I were an Apple investor now, I'd prefer more growth and less capital returns. That's how you get a higher valuation in today's market. More capital returns and less growth could be a negative long-term sign for Apple, and that would probably mean shares head lower.
New iPhone - too many rumors, more bear complaints:
When it comes to Apple, the bear camp will do anything it can to discredit the company. Last year, the bear camp complained that Apple didn't have a cheaper phone, while also complaining that Apple's margins were falling too much. Apple launched the iPhone 5C, a cheaper model but one that could protect margins. The bear camp complained that it wasn't cheap enough. Had Apple made the model cheaper, you know the complaints would have been about lower margins. Apple can't win with these people.
So you know the bear camp will love the launch of the new iPhone. As a Wells Fargo analyst note in early January pointed out, Apple's gross margins have decreased by an average of 225 basis points in the period following the launch of new form factor iPhones. Those margins recover when Apple launches the "S" models. Apple is expected to launch a new iPhone later this year (or multiple ones), and it is expected to have a larger screen. Most reports have the new iPhone with a 4.7 inch screen, as opposed to 4 inches currently.
We've also heard many reports about multiple screen sizes for the new iPhone. However, one analyst stated recently he doesn't think the larger 5.5 inch iPhone will be coming this year. Apple could potentially get higher average selling prices from these larger phones. However, due to the new form factors, you probably would see margins hit a bit initially. Either way, the bear camp will probably complain about margins or the screen size not being big enough (or only one model being launched). Apple is going to launch a great phone later this year, and it will sell very well, but the naysayers will be out in force for one reason or another.
Trying to get a higher valuation:
In today's market, names with growth or the potential for growth are being rewarded with high valuations. As I'll show in a minute, this is clearly evident in large cap tech land with Google (NASDAQ:GOOG). Having a fairly predictable business model, along with a high growth rate, gets Google a high multiple. Apple isn't getting a high multiple due to its lack of growth, as well as inconsistency with a huge hardware business. In the following table, I've compared Google and Apple, along with Microsoft, Cisco, and Intel, to drive home the point about Apple's lack of growth.

*EPS growth and P/E values are non-GAAP.
Google has the highest growth rate and a business that isn't likely to produce wide swings in the growth rate, so Google gets the highest multiple (even higher when changed to GAAP). Microsoft has the second highest projected level of growth, and is seen as having potential as it enters the tablet and smartphone space in a meaningful way. Additionally, Microsoft's cloud business with its potential for growth helps. Intel, despite multiple years of disappointments, is seen as having potential as the name enters tablets and smartphones in a meaningful way. Intel also has the highest dividend yield of the group.
So why does Apple get stuck with a valuation close to that of Cisco, when Cisco's P/E is converted to GAAP? Apple actually is projected for growth, unlike the networking giant. Well, it has to do with perception and potential. Many don't see potential in Apple. All that is seen is a company that just releases new iPads and iPhones every year. A big move into televisions or smartwatches has been talked about for years, but still has not come.
Apple's valuation is being depressed because many don't see potential. With more than 76% of revenues in the latest quarter coming from iPads and iPhones, people don't care if Apple sells a few million extra units a quarter. Investors see the risk if Apple starts losing market share in a big way, and not having any growth in a quarter doesn't help the argument. Apple needs something that investors can look at for the next few years, and I'm not just talking about newer models and screen sizes for current products. Until Apple shows some sort of potential, the valuation is likely to remain under that of Microsoft and Intel, and I won't even start with the Google argument.
An update on short interest:
I wanted to briefly discuss short interest for Apple because early February saw a large spike. Apple's short interest jumped to its highest levels since last summer during the first half of the month. Don't forget, at that point there were more shares outstanding, so the percentage of Apple's shares short rose even faster. We recently got the latest update from NASDAQ on short interest, and the end of February did show a decline.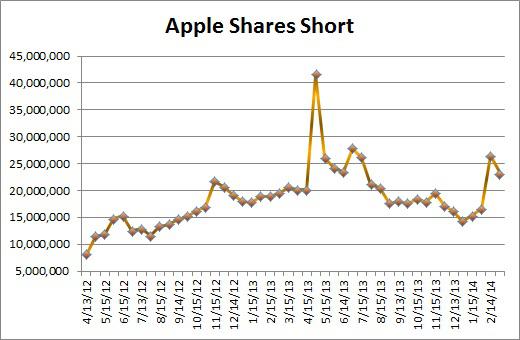 A little more than 3.4 million shares were covered in the second half of the month, or about 13% of the total. However, Apple's short interest is still a bit elevated, and has seen a sharp rise so far in 2014. In fact, Apple's short interest rise so far in 2014 is more than 62%, and that's after the drop seen above. When it comes to large cap tech, this is the biggest short interest move so far this year, as you can see in the table below. Google's short interest has been chopped in half, and its shares have risen to new all-time highs.

Final thoughts:
The next two months for Apple will be critical. The fiscal Q2 earnings report is important, but with expectations low, I believe the real focus will be on Q3 guidance. If that guidance is weak, Apple shares could drop again. Another capital return increase could come, but I don't think it will be able to offset growth concerns. Last year's announcement with a stock in the low $400s was a different story. This year with shares currently at $536, expectations will be a bit higher. Apple needs more than just a new iPhone and iPad to get investors excited. I still believe this stock goes higher in the long run, but I believe there will be another leg down before that happens. I wouldn't be surprised to see Apple around $500 again, and that will probably be the next buying opportunity.
Disclosure: I have no positions in any stocks mentioned, and no plans to initiate any positions within the next 72 hours. I wrote this article myself, and it expresses my own opinions. I am not receiving compensation for it (other than from Seeking Alpha). I have no business relationship with any company whose stock is mentioned in this article. Investors are always reminded that before making any investment, you should do your own proper due diligence on any name directly or indirectly mentioned in this article. Investors should also consider seeking advice from a broker or financial adviser before making any investment decisions. Any material in this article should be considered general information, and not relied on as a formal investment recommendation.