It's been a frustrating number of months for Intel (NASDAQ:INTC) shareholders that were expecting a dividend raise. The company did not raise its dividend during calendar 2013 amidst a second straight disappointing year in terms of revenues and earnings. 2014 is not supposed to be much better, leaving prospects for a dividend raise unlikely at this point.
Lately, I've seen a number of articles that make it seem like Intel will be raising the dividend later this year. While I agree in a best case scenario that a raise is possible, a number of these articles don't provide accurate statements or numbers as to how this actually occurs. Today, I want to review those prospects for a dividend raise from the chip giant and get the facts straight.
Addressing recent articles:
A few recent articles have missed key points when it comes to Intel's business and the dividend, and I feel that investors need to know the right information. Let me first look at an article that detailed dividend raise prospects for Intel and Mattel (NASDAQ:MAT). I want to address a part of this article that really misses the boat:
So investors were understandably happy when CEO Brian Krzanich told Fox Business on March 4th that as part of Intel's strategy to expand its presence in the mobile device market, the company expects to ship 40 million tablet processors in 2014 compared to about 10 million in 2013.

That quadrupling of the demand for the company's microprocessors for tablets will have a positive impact on revenue, earnings and free cash flow this year.
First of all, Intel stated back in November 2013 that it would be greatly expanding tablet processor shipments to 40 million. This was part of the Investor Day Presentation, and is not recent news. So investors really shouldn't be reacting to a March 4th statement, as it is information that is months old. But it is the second statement that really ignores the total issue. While increasing tablet processor shipments will increase revenues in that specific business unit category, this also will hurt Intel's PC business, which is the bread and butter of the company.
In fact, Intel guided to flat revenues at its Investor Day back in November, and the company reiterated that forecast at the January earnings report. The 40 million tablet number is already baked into this forecast. We've also heard from the company that this huge push into tablets will have a roughly 150 basis point hit on gross margins in 2014. Combined with a few other items like restructuring charges and a higher tax rate, earnings (net income) could decline for the third straight year. Current analyst estimates have earnings per share declining by 4 cents this year to $1.85, after a high of $2.39 just a few years ago. Net income has dropped even faster as the buyback has helped to improve EPS. The author of the article above mentions on another site that his sources said Intel wants to raise the dividend later this year. Of course, in that article it says that "he pointed out that if Intel's profits continue to improve", and those profits have taken a nosedive in recent years. Anyone can have sources, but investors need to make sure the facts are true. Intel's profits are not improving right now, and even if they do slightly this year, they are still well below the past couple of years.
A second article I'd like to discuss is one that discusses the income giant that Intel is. This title is completely true, as Intel generates billions in net income each year, although the number has dropped by $3.3 billion over the past two years. Intel produced $9.62 billion in net income during 2013. Here's the article's statement that I have a problem with:
Cash flow provided by operating activities could decline to $20B from $20.78B with free cash flow-to-the firm declining to $9B from $10.07B in 2013. Free cash flow-to-equity is forecasted to decline. But FCFE in 2012 was increased by $6B in net debt issuance. No net debt is forecasted to be issued this year. I look for $2.23B of shares to be repurchased and $4.6B of dividends to be paid. Thus, the forecast is for a dividend increase to $0.2325 from $0.2250, per quarter.
The smaller issue I have is with the size of the raise. The raise projected would be just 3.33%. Intel's last five raises have been 9.80%, 12.50%, 15.05%, 15.89%, and 7.14% (most recent). Why would Intel announce such a small raise? Honestly, I think the company would rather keep the dividend constant and have a larger raise when the business improves. I don't see Intel raising the dividend by a small amount just to raise it.
But the larger issue is in regards to the cash flow numbers. Based on the information we have about Intel, these numbers make no sense. Why would Intel raise its dividend when free cash flow is declining, when the company is already over its payout target? If Intel did not raise the dividend last year, why would it do it now when the projection here is for a further decline in free cash flow. I'll examine this more in the next section.
It's all about the 40%:
A lot of people forget that Intel actually has a dividend payout target, which is 40% of free cash flow. In the past three years, Intel has been above its target when it comes to the dividend, as seen in the table below. Dollar values are millions.

Intel was way over its target in 2012, and was still over it by quite a large margin despite a $2.2 billion rise in free cash flow in 2013. So to think that Intel will raise the dividend with a drop in free cash flow boggles the mind, unless Intel comes out and revises its target. As I've detailed in several past articles on Intel, including one on the dividend's recent disappointment, the company needs to raise free cash flow by more than $1.1 billion to get roughly back to the 40% target. That depends on the number of shares outstanding, because even with the same dividend rate, the share count will move a little and that will impact total dividend dollars paid. Intel has also announced expected capital expenditures of $11 billion this year, a near $300 million rise from 2013. So in terms of operating cash flow, Intel needs a nearly $1.5 billion rise. This is just to get the dividend back to the 40% target and doesn't even count an increase.
It's not just revenues and earnings:
Sometimes, I feel like investors see rising revenues and earnings as the be all, end all when it comes to dividends. While the point that a stronger business should mean higher dividends is true, it sometimes ignores all of the numbers. Intel's tablet campaign is a great example. Sure, Intel will raise its segment revenues from tablets, but that will hurt Intel's PC revenues, which are the more profitable part of the business. Intel will greatly expand its tablet shipments this year, but that doesn't mean total revenues or earnings will rise. They could both actually decline for a third straight year. The tablet business is a small part of Intel in 2014.
Also, there are way too many items to predict when it comes to operating cash flow, which is at the heart of this argument. In the image below, I've pasted Intel's operating cash flow statement from its 10-K filing, which details the past three years.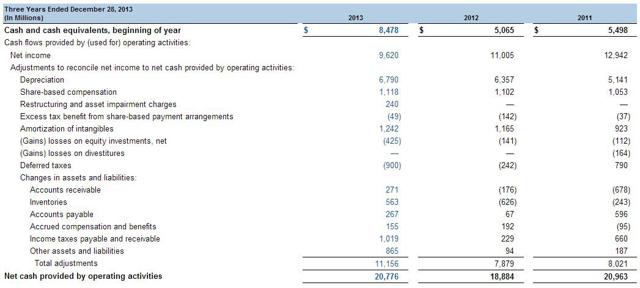 In 2013, the value of adjustments was actually higher than net income itself! Operating cash flow rose by nearly $2 billion, and that was despite a $1.4 billion decline in net income. Obviously, some of that net income dip was due to increases in items that Intel gets back in adjustments.
This is why I am a bit worried about Intel's operating cash flow in 2014. The number of adjustments in a positive direction during 2013 was tremendous. Accounts receivable and inventories swung from negatives in the past two years to positives. Income taxes payable jumped a bit, and other assets and liabilities rose sharply. When these balance sheet items reverse, it will knock down operating cash flow. Some of these could easily reverse in 2014, making me believe Intel having over $11 billion in positive adjustments may be tough to achieve. Combine that with the potential for flat income, and it will be very difficult for Intel to get back to its 40% target. That's why I don't see how the dividend gets raised, as of right now.
Intel the leader, don't forget the buyback or foreign cash:
One main point that sometimes is forgotten is that Intel still is the large cap tech leader for dividend yield, when compared to others like Apple (NASDAQ:AAPL), Microsoft (NASDAQ:MSFT), and Cisco Systems (NASDAQ:CSCO). In the chart below, you can see how Intel maintains an advantage over these names, as of Tuesday's close.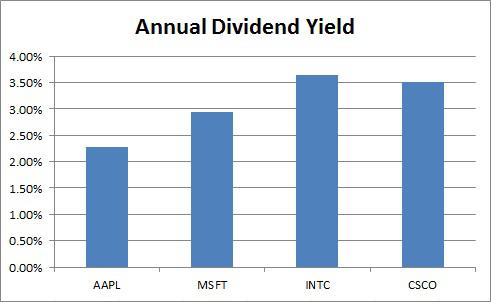 Intel's payout ratio is also well above these other names. Cisco and Microsoft came in around 30% in their past respective fiscal years, and Apple was in the low 20% range. Even without a raise last year, Intel's payout ratio and dividend yield are higher than its peers.
One other quick item to discuss is the notion that a 40% payout ratio may be low. There are other items to consider, like the billions a year Intel spends on its buyback. When you add the buyback in, shareholders are getting a sizable portion of the company's cash flow. The other item to consider is that like Apple, Microsoft, Cisco, and others, Intel generates a portion of its cash outside the US. These funds can't be used to pay dividends or buy back stock in the US unless they are repatriated, which incurs a large tax bill. Intel had just over $20 billion in cash and short-term investments on the balance sheet at the end of the year. Of that, about $9.2 billion would face repatriation taxes if returned. Companies like Intel and Apple don't plan on returning that money home anytime soon. That also impacts the payout ratio.
Final thoughts:
There seems to be a lot of noise when it comes to Intel's dividend, and investors need to know the proper facts. Intel has been paying out dividends above its target ratio in the past three years, making a raise this year unlikely based on current forecasts. The company's campaign into tablets this year probably won't impact the dividend in 2014, unless the company comes in well above 40 million. Even then, one must wonder if PC revenues will be hit further, or whether the bottom line will even be helped. Additionally, Intel benefited from a number of key balance sheet reversals in 2013. If those items return to more normal levels, operating cash flow will be hit and thus free cash flow will decline. In that situation, Intel will only raise the dividend if it is raising the payout ratio, and I don't see Intel raising the dividend by a tiny amount just to raise it. Intel still maintains a higher payout ratio than many peers, and the dividend yield still leads the pack. But for now, it does not appear a dividend raise is likely unless the business improves dramatically.
Disclosure: I have no positions in any stocks mentioned, and no plans to initiate any positions within the next 72 hours. I wrote this article myself, and it expresses my own opinions. I am not receiving compensation for it (other than from Seeking Alpha). I have no business relationship with any company whose stock is mentioned in this article.
Additional disclosure: Investors are always reminded that before making any investment, you should do your own proper due diligence on any name directly or indirectly mentioned in this article. Investors should also consider seeking advice from a broker or financial adviser before making any investment decisions. Any material in this article should be considered general information, and not relied on as a formal investment recommendation.