Spectators gawked at Facebook's $16 billion IPO in May of 2012. It was the hottest, most talked about stock at that time, not to be avoided in any of the media outlets. But only five months later, a new, much lesser known tech stock made its entrance raising more money than any launch of its sector, even more than Facebook!
The company was Workday Inc. (NYSE:WDAY), a leading provider of enterprise cloud-based applications for human capital management (HCM), payroll, financial management, time tracking, procurement, and employee expense management. Its clients are large global businesses, many of them Fortune 500 companies, which need help managing "complex and dynamic operating environments".
But the bottom line of what Workday does is it enables clients "to optimize their financial human capital resources." So Workday's clients earn more money, and so do they. Everybody makes out a winner.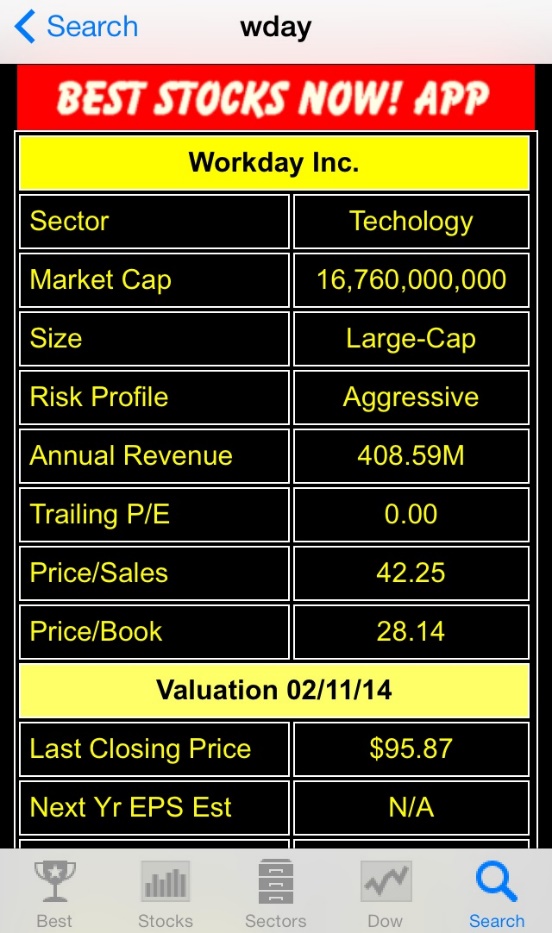 Data from Best Stocks Now App
Headquartered in Pleasanton, CA, revenge may be at the root of this company's 2006 founding. After Oracle's reportedly "hostile" takeover of PeopleSoft, former CEO and chief strategist of the latter company bonded together to form Workday. And its main target is Oracle's clients. The catch is "online services at a fraction of the cost of upgrading from their incumbent vendors".
And they must have converted a lot of Oracle clients because the stock is soaring, and the company is growing. In fact, Workday just announced the acquisition of Identified, a developer of HR analytics software that provides insights into job candidates and recruiting activity.
Let's take a look at WDAY from a performance, valuation, and technical angle and test it out to see if it makes the cut as a Best Stock Now.
Performance
The first test we'll put this stock through is the performance test. I look for strong performance over the short, intermediate, and long-term when compared against the other 3,800+ stocks in my database.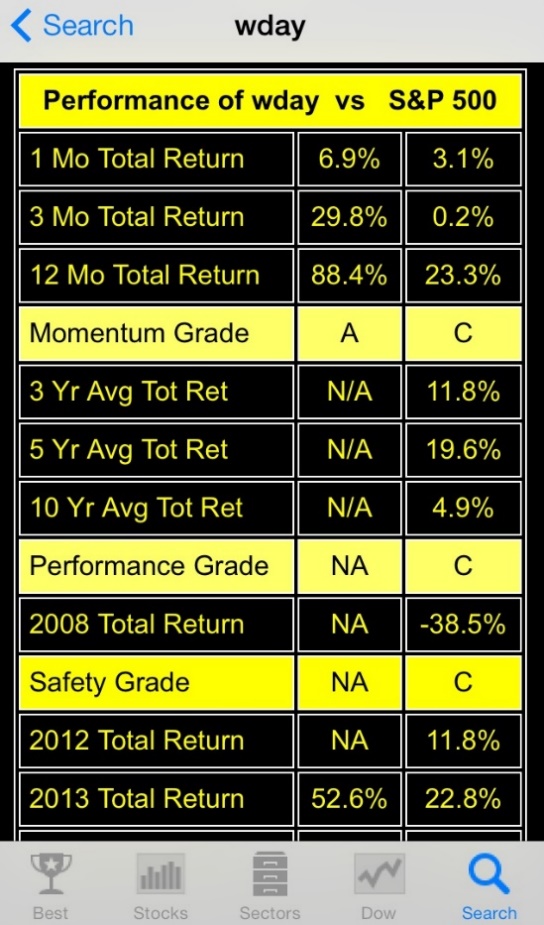 Data from Best Stocks Now App
Workday went public on October 12, 2012 at $28 per share. The stock is up 260% since then! I would say that the shares have seen performance, and then some!
Over the last twelve months the stock is up 88.4%, while the S&P 500 is up 23.3%. This places it amongst the best of the best as it relates to performance. The stocks currently earns a momentum grade of "A."
Valuation
This is the next test we will put WDAY through. The stock has performed well in the past; how will it do in the future? Let's find out.
Workday is not yet profitable, but topline sales growth is growing rapidly. Over the last four quarters, Workday's revenue has grown by 74%, 76%, 72%, and 61%.
Workday has an army of over 25 analysts that currently cover the company. The consensus earnings growth estimate over the next five years is a whopping 50% per year.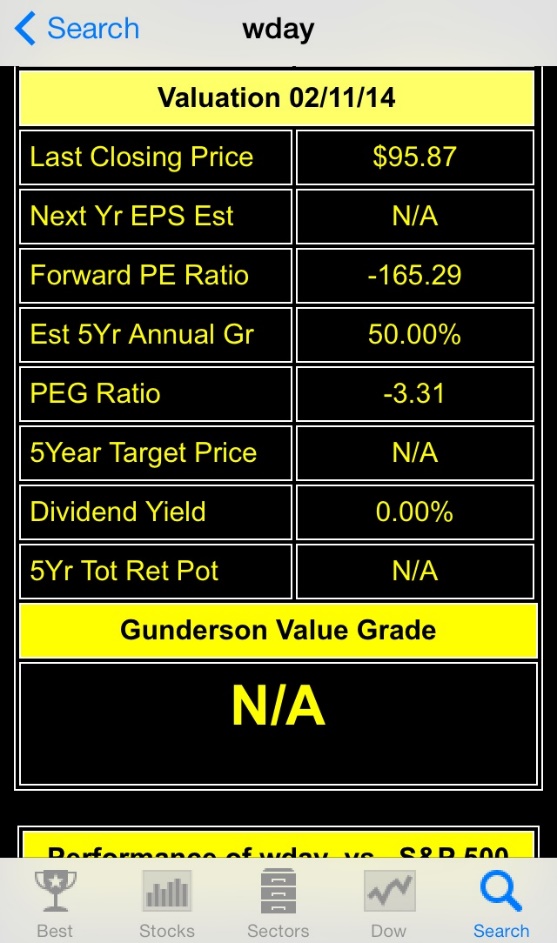 Data from Best Stocks Now App
I love growth. Fifty percent growers do not come along very often.
I would expect Workday to become profitable by late next year. If they indeed can then grow those earnings by 50% per year going forward, I could see a stock with the potential to hit $175 per share plus five years from now.
Workday passes my performance test.
Workday passes my valuation test.
Let's see if it passes the final test.
Stock Chart
If WDAY has a healthy stock chart, it passes the final test. I do not want to see any sideways, down, or extended uptrends, unless the valuation is still compelling. And of course the most dangerous trend of all is a topping out trend that is beginning to roll over.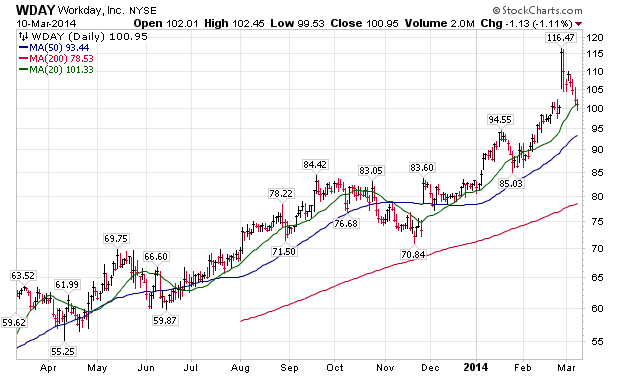 WDAY is currently in a healthy uptrend. You can see the big upside reaction that the stock had recently when it blew out EPS estimates. I like what I see. WDAY passes my final test.
Gunderson Stock Grade
When I combine WDAY's performance, valuation, and stock chart and compare it against all 3,835 stocks in my database, it earns the #22 spot on my list of Best Stocks Now. It also earns a Gunderson Stock Grade of 'A+' and it is a stock that I own at Gunderson Capital Management in my aggressive growth accounts.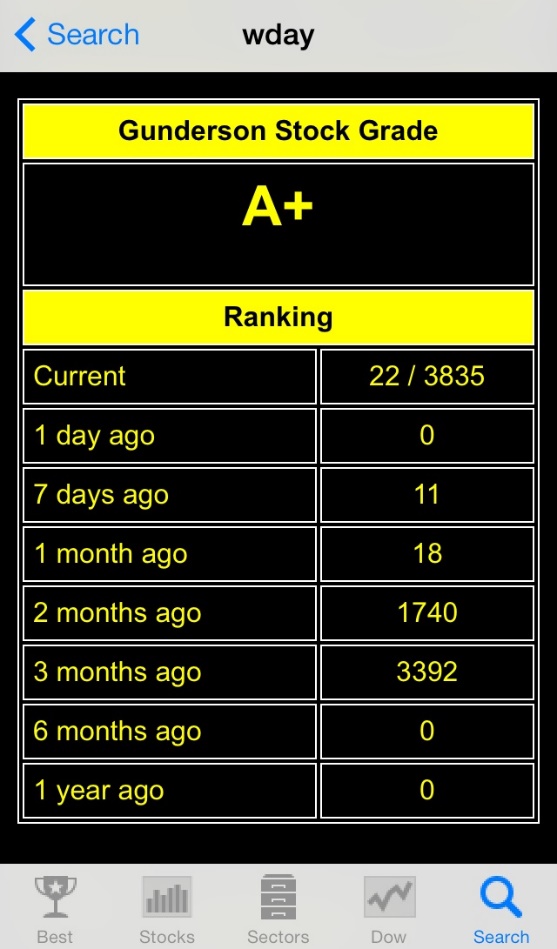 Data from Best Stocks Now App
Workday is a very, very aggressive growth stock. If the appetite for risk comes out of this market, it will be very vulnerable too some swift profit-taking. I never marry a stock. If the performance, valuation, or chart changes, I will sell the stock.
Follow me on Twitter for any change in my opinion of WDAY.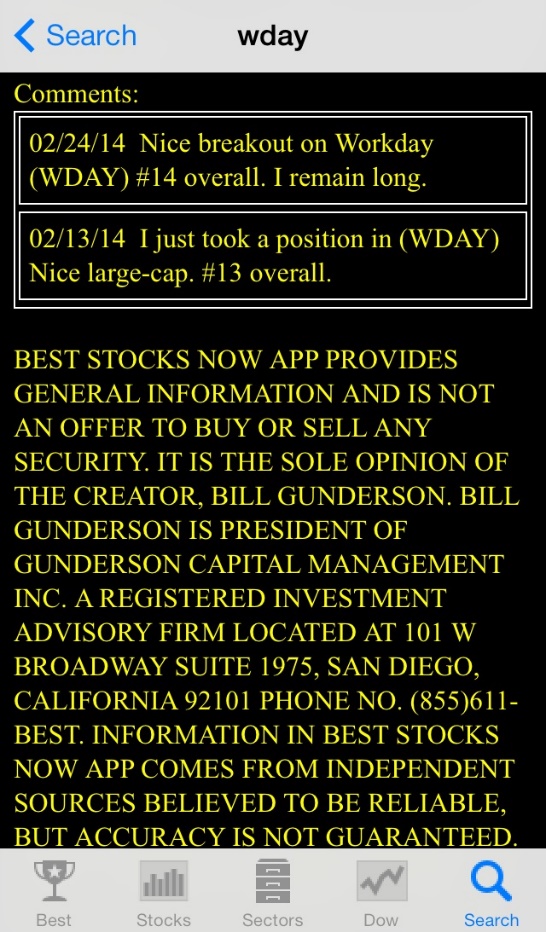 Disclosure: I am long WDAY. I wrote this article myself, and it expresses my own opinions. I am not receiving compensation for it. I have no business relationship with any company whose stock is mentioned in this article.