Due to the 3D printing boom that we've seen, there has been a new niche of investors wanting to take advantage of this "revolution". 2014, though, has not been very kind to the 3D printing original equipment manufacturers (OEMs), as familiar names like 3D Systems (NYSE:DDD), Stratasys (NASDAQ:SSYS), ExOne (NASDAQ:XONE) and Voxeljet (NYSE:VJET) are all down double-digits YTD. The main reason for this fall is due to the remarkable 3D printing run-up, one of the hottest technologies since 2012, in which valuations outgrew fundamentals. With no US-listed 3D printing ETF, the niche investor must diversify their holdings to companies that present value, a scarce characteristic in the 3D printing field.
3D Printing Service Providers
When investors think of the 3D printing industry, they primarily include the equipment manufacturers that develop 3D printers, like all the names mentioned above. While true that these OEMs have been in the spotlight, 3D printing service companies are what many overlook. After all, for the industry to gain mainstream momentum, it must be accessible to just about everyone, not only those who can purchase a 3D printer. Any investor that wants to be exposed to the 3D printing industry must include 3D printing service providers in their portfolio.
3D printing services include additive manufacturing of custom parts primarily for prototyping and short-run production. These service companies act as a supplier of low-volume manufacturing that is utilized by professionals like engineers, designers and product developers. As a whole, the 3D printing industry will see a strong growth influenced by 3D printing service providers, as Mr. Gary Anderson describes.
Proto Labs (NYSE:PRLB)
The most widespread 3D printing service company investors are familiar with is Proto Labs, thanks to its size and recent growth. Though the company is not a traditional 3D printing service provider by the definition listed above, it is growing the 3D printing/additive manufacturing processes as part of its primary offerings. The move has paid dividends thus far, as the company continues to announce record earnings, driven by increase in customer demand and spending by each customer. In the fourth quarter, Proto Labs' revenues soared 31% YOY and net income came in at a record $9.5M. Management devoted this to the increased awareness around additive manufacturing service providers.
Since the record earnings announcement, though, Proto Labs has been trading down over 10%. The company slightly missed analyst expectations after guiding YOY revenue growth of 20%. When comparing 2013 using QoQ growth, the growth story does not seem quite as convincing (see below). Both revenue and earnings are increasing by an average of 5% each quarter, which isn't abysmal, but not warranting a P/E valuation multiple above 50.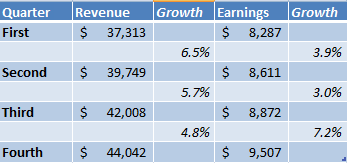 However, I believe the downtrend has been caused by the deeper troubles of insiders selling. In the last year, there have been 46 insider sell transactions, compared to only 9 buys. This has resulted in approximately $300M of stock sold by insiders. The chart below shows how $76M has been sold just in 2014. Newly-appointed CEO Holt purchased $250,000 worth, however, that's a miniscule number when compared to the mass selling by others, including Chairman Larry Lukis and ex-CEO Brad Cleveland. This unanimous dumping of stock by insiders cannot be explained by personal considerations. If management isn't showing any vote of confidence, how can investors?

Proto Labs' recent price movement and insider trading are actions that have a prospective investor like me concerned. Overall company growth could be higher, but not a major issue when compared with the other events ongoing. The future of the 3D printing service industry is an attractive field due to the expected growth. However, at a price over $70/share, Proto Labs is not the value play investors should be looking at to take advantage of this 3D printing trend.
Alphaform: Not as popular, yet offers same exposure at discounted valuation
Alphaform provides manufacturing methods that include precision casting and 3D printing. These services are used by automotive suppliers, medical technology and new industry designers who produce prototypes and small series. In short, professionals or hobbyists who do not own the necessary equipment are given access to it by ordering the service through Alphaform. The order will be completed using the process (SLA, SLS, RIM, etc.) and material demanded. Therefore, Alphaform is a service provider, which includes 3D printing. The company does not manufacture 3D printers.
Alphaform (OTCPK:AFRMF) trades under ticker ATF.DE on the Frankfurt Exchange, however, due to investor demand, listed on the US OTC as an ADR. Last month, the company announced a major "operational realignment" in which it will focus on the 3D printing main business. Some investors took this news as a sign of weak management that took too long to evolve with the industry. Though I can see the rationale behind such notions, the subsequent moves indicate that Alphaform is innovating to support the future demand of design services. 3D printing is the future of custom manufacturing service providers, and Alphaform has adjusted its operations to benefit from this trend.
Soon after the realignment announcement, Alphaform raised €1.8M (roughly $2.5M) at a price of €3.4/share, roughly around the 50-day moving average. From a financial perspective, this implies that the company did not need to price funding at a deep discount and that the base valuation should be at least €3.4/share. From an operational perspective, the raise advances the restructuring business and puts the company on its way to creating operational value. With greater capital, Alphaform can invest in providing additional design services, upgrade equipment and launch Artshapes, its online shop. The market has taken this funding as good news, since the share price has rebounded to above the financing price.
Valuation
Alphaform's top line growth in the last 5 years has grown an average of 6% a year. If we were to observe the three-year figure, this would essentially be flat. The lack of growth is what influenced the operational restructuring towards the emerging 3D printing technology. In addition, during the last five years, Alphaform has only had one year of positive EPS. So, what gives? What makes this German company a good investment?
Though Alphaform has not been profitable, the company is not priced to expect enormous growth for the next five years, like other 3D printing manufacturers and service providers. Not to be mistaken, I do not think Alphaform should trade at the same multiples of OEMs. I do, however, believe the upside is large when compared to the small downside presented.

When comparing Alphaform to the most popular rapid custom manufacturer, you can see the German comparable is deeply discounted by the price/sales & price/book ratio. On a per share basis, revenue is similar, even though Alphaform has not seen the top line traction many have expected. As Alphaform undergoes its corporate restructuring and invests in innovation, I would expect the company to grow top line and near profitability. With an approximate net loss of $0.20/share, it's not unreasonable to expect Alphaform to turn prosperous by the end of 2014.
Associated Risks
Reliance on Economic Activity - Alphaform, similar to Proto Labs, provides manufacturing services for customers that need customized parts. Therefore, such a business is transactional in nature, because it receives orders driven by customer demand. Due to this demand-driven model, minimal backlogs occur, making the business extremely dependent on economic activity. Given the EU's economic struggle and Alphaform's reliance on economic activity to drive sales, one can see the risks associated with its business model. However, news out of Germany shows that business confidence is improving to ranges not seen in nearly three years. The fact that German manufacturing is seeing a recovery bodes well for Alphaform's future prospects.
Execution Risk - Alphaform is undergoing an operational realignment to focus more on 3D printing in future services. Longs took this innovative shift as a sign that Alphaform is evolving with its industry, which would, in turn, lead to financial benefits. On the other hand, some investors see this as a forced action by necessity to reinvent the company into a field that's scorching hot. In any case, executing this realignment will be a critical determinant in Alphaform's success.
Pink Sheet Listing - Alphaform is trading on the disreputable Pink Sheets, which usually entails a lack of liquidity and deficient disclosure. Investors must be aware of these risks that the microcap company holds, as average daily volume is below 50,000 and market cap hovers around the $25M mark. The fact that Alphaform is trading as a pink sheet and information for English investors is limited contributes to the discounted valuation. For any investor that is willing to dig further into the company, they will find that value is present. With US investor demand increasing, I would also expect the company to pursue up-listing and organize information in a way that is easier for investors to digest.
Conclusion
As 3D printing matures into mainstream technology, investors will be presented with more than one way of being exposed to the revolution. 3D printing service providers present an opportunity to be financially involved in the 3D printing craze while also paying smaller hype premiums when compared to OEMs. With its corporate restructuring, Alphaform will be adding to its printing services in order to evolve with the industry. Currently, Alphaform provides investors with a discounted alternative to the 3D printing industry, while also incorporating the improvement the company expects in 2014.
Disclosure: I have no positions in any stocks mentioned, but may initiate a long position in AFRMF over the next 72 hours. I wrote this article myself, and it expresses my own opinions. I am not receiving compensation for it (other than from Seeking Alpha). I have no business relationship with any company whose stock is mentioned in this article.
Editor's Note: This article covers one or more stocks trading at less than $1 per share and/or with less than a $100 million market cap. Please be aware of the risks associated with these stocks.