By Chris McKhann
Dr Pepper Snapple (NYSE:DPS) has been trading just below its highs in recent days, but today's options volume is calling a top in the beverage company's shares.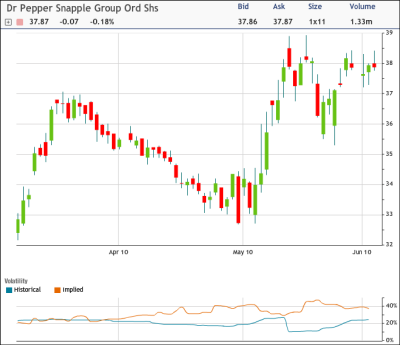 DPS is down fractionally to $37.87 but still close to its closing high from last week and up 200 percent from the lows of March 2009.
Despite this stellar performance -- or perhaps because of it -- one trader is betting that the stock has reached a top. A trader sold 17,918 July 40 calls for $0.75. The volume compares to total average daily options volume of 750 contracts and previous open interest at that strike of 112.
These calls may also have been sold against long stock in a covered call position. Regardless of the strategy, it means that the trader doesn't see DPS climbing much above that $40 level through the July expiration. If it is above $40, the trader will be assigned and obligated to sell shares at the strike price.

Disclosure: No positions