Does anyone else find it hilarious that the Christie administration is preventing yet another vehicle from proper access to an NJ roadway?
Where have I seen this before?
Thanks, you've been a great crowd, and don't forget to tip your waiters.
Okay, okay - joking aside, Tesla (NASDAQ:TSLA) has finally made a somewhat substantial move back over the past few days, trading off of its all-time highs and potentially giving an entrance point to some that were considering buying the stock over the past few weeks. Aside from that, Tesla has still provided 59% returns over the last 3 months and 500% returns over the last 12 months - absolutely astronomical gains - even more so to those who placed their bets accordingly with options.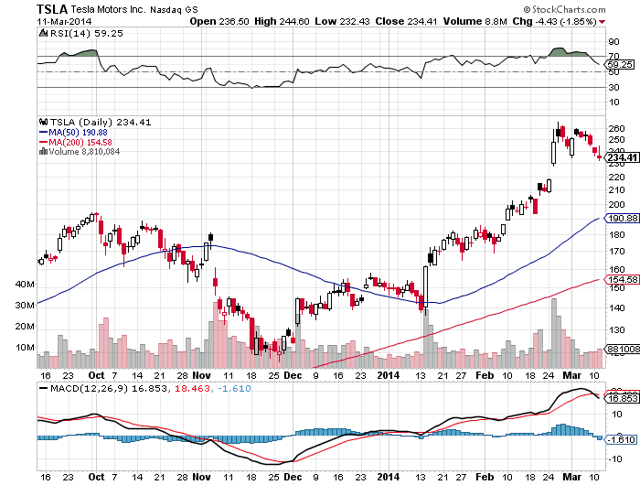 Click to enlarge
The news that has triggered this pullback has been two-fold. First, the macro market indices have been cautious in the midst of the current crisis in Ukraine. Thus, the Dow and S&P have treaded cautiously over the past few days.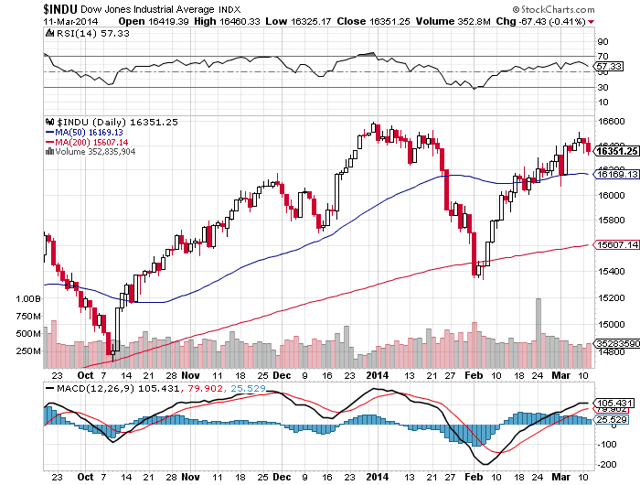 Click to enlarge
Additionally, it has come to light over the past few days that NJ is looking to implement a ban on direct selling of vehicles in its state. The state is arguing that all cars must be sold through a dealer, not the way that Tesla is set up to operate, as it's already selling vehicles directly to customers. Tesla, Musk, or both refused to kiss the right person's butt in New Jersey, it would seem.
Seeking Alpha reported:
Tesla will end all electric car sales in New Jersey starting April 1, after it failed to head off a state regulatory proposal making it illegal for it to sell vehicles to consumers without a dealer.
The New Jersey Motor Vehicle Commission approved a rule change today that requires auto retailers to have a franchise agreement with an auto manufacturer to be granted a license to sell cars in the state, joining Arizona and Texas by insisting TSLA follow the traditional formula of selling vehicles through licensed dealer franchises.
TSLA's VP of business development said today during a conference call that Gov. Chris Christie's administration "abrogated" an agreement to hold off action on the proposal.
TSLA fell 1.8% during regular trading, mostly in the final two hours; shares-0.4% AH.
When you look at some of the problems that Elon Musk is tackling, they're what's known as "big talk" problems. He's not trying to become the world's greatest history teacher, or have the best lawn in the neighborhood - he's focused on reinventing the entire auto industry, creating brand new means of unheard-of speculative travel in the Hyperloop, and tackling one of the biggest issues in green energy in SolarCity (NASDAQ:SCTY). The issues themselves are huge problems to figure out - the pushback that he has and is likely to encounter in the future from lobbyists and people who stand to lose based on his innovation is going to be immense.
Lest we forget the path that Tesla as a company has already blazed. Say what you want about the company's valuation and the multiple that it trades at, but Tesla could be a Harvard Business School case study on starting a business - setting lofty goals, meeting or exceeding every one of them, and making shareholders money while satisfying customers and third-party consumer reporting companies with a revolutionary product.
When I think about Governor Larry the Cable Guy trying to prevent Musk from direct selling his vehicles in New Jersey because Tesla obviously isn't playing ball with special interest groups and the government of New Jersey, that gets filed under "small talk" problems for me.
Further, there's no doubt in my mind that Musk and his team are significantly smarter than the constituency that makes up the New Jersey government - and I mean that in the nicest way possible. For every problem, there's a solution, and Tesla is no doubt going to find that solution - or at least an "end-around" - to this little problem that it's facing.
The point is that direct selling in New Jersey is so low on the list of concerns that both bears and bulls should have about Tesla, I almost want to go as far as saying this is a non-event. The fact that Christie is at the helm of this, without getting political, is equally as farcical.
It is the year 2014. People are buying vehicles online and taking retail purchased trips to outer space. The chances of this being any more than a hiccup to a company that has created the most revolutionary product in the automotive industry in arguably the last 40 years is going to find a way to get past this.
If you've sold on this news, I think you've sold without merit. Do I think Tesla is a buy on any and all dips as a long-term hold? Yes. I continue to be bullish on the company for the long term, and don't doubt that this issue, like the many others the team has encountered, will be solved and a thing of the past sooner rather than later.
Best of luck to all investors.
Disclosure: I have no positions in any stocks mentioned, and no plans to initiate any positions within the next 72 hours. I wrote this article myself, and it expresses my own opinions. I am not receiving compensation for it (other than from Seeking Alpha). I have no business relationship with any company whose stock is mentioned in this article.