MusclePharm (OTCQB:MSLP) issued an update on its 4Q13 and FY2013 performance along with 2014 guidance in a letter to shareholders that was released on January 29, 2013. The below analysis aims to put these numbers into perspective with my previous analysis and provide a general update on the company and recent share price performance.
4Q13 results review:
The quarter beat my estimates on the top line, while margins came in lower than expected as can be seen in the table below.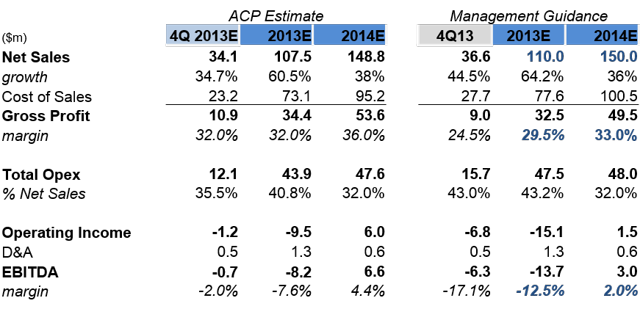 Net sales of $36.6 million imply a quarter-on-quarter growth rate of 35% exceeding my previous estimate of $34.1 million by $2.5 million. This net sales number reflects a successful launch of the various new products that have been launched late last year along with the Costco distribution deal. To put this in perspective, 3Q13 net sales were flat from the previous quarter so this is showing clearly that the investments undertaken in 2013 are starting to pay off. It will be interesting to see a breakdown of sales, growth and geographic split by product category as this will likely explain the shift in gross margins which declined to 24.5% from 29.2% in the previous quarter. I suspect this decline is caused in part by inefficiencies in distribution and manufacturing which have been previously highlighted as one of the reasons for the BioZone acquisition. On the operating expense side, we are starting to see the first signs of operating leverage as the growth in expenses slowed down from 48% of sales in 3Q13 to 43% of sales in 4Q13 (see table below). The breakdown between cash and non-cash expenses and any one-off expenses will also be very important to see in order to get a sense of where the core underlying business is trending in 2014. In summary 4Q13 was a record quarter except for the miss on gross margins which will have to be explained in detail during the upcoming conference call later on this month.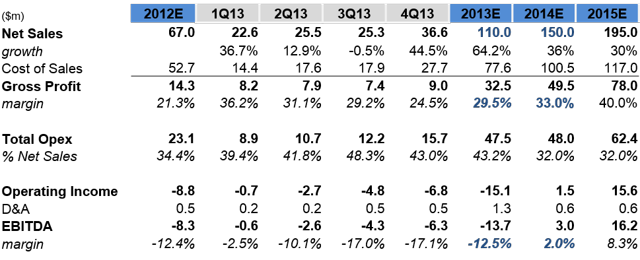 FY2013 review:
Net sales growth of over 64% in FY2013 is impressive given the number of new initiatives that were launched late last the year and is evidence of a steep ramp in new product sales. 4Q13 net sales gave a preview of the growth potential of the underlying business and the strength of the brand. Adjusting for one-off expenses and non-cash charges, I expect the company to be breakeven on an 'adjusted EBITDA' basis in FY2013.
FY2014 management guidance
Management is guiding towards net sales of approximately $150 million in FY2014. This figure implies a 36% annual growth rate on net sales which I think is extremely conservative. Based on the FY2013 full year figures, implied 4Q13 net sales were $36.6 million. Now in comparison dividing FY2014 net sales of $150 million by 4 equates to quarterly sales of $37.5 million. Hence $150 million in net sales for FY2014 would mean that 4Q2013 revenues are only growing by a meager 2.4% from $36.6 million to $37.5 million? Management will have to provide clarity on this assumption as it seems to be more of a placeholder than anything else at this point. Assuming 10% quarterly growth on the basis of 4Q13 net sales, 2014 net sales should be more in the range of $185 million as can be seen in the table below.

Short of several product switch disasters akin to what happened with Assault in 3Q13, I think management can easily beat the $150 million figure given the growth from various recent product launches and geographic expansion initiatives.
Gross margins are expected to recover to 33% which is in line with my prior estimates and seems achievable when compared to prior quarters.
EBITDA margin guidance of ~2% implies approximately $3.0 million of EBITDA. While on its face this might be seem like a low number, the more important message here is that operating expenses are expected to decline from 4Q13 levels of $15.7 million to approximately $12 million per quarter in 2014. This points to one-off launch related expenses or an increase in operating efficiency of $3.7 million. When taking this into account, 4Q13 really looks like a record quarter both in terms of growth and adjusted run-rate margins.
Valuation considerations: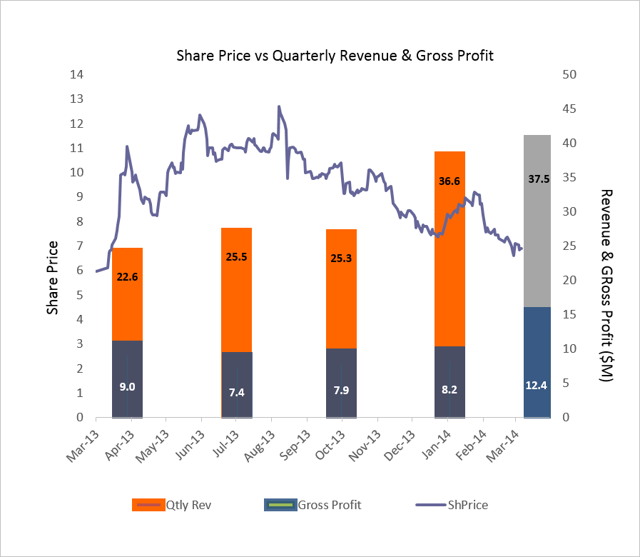 After trading above $9 during the end of January, the shares have declined to reach a 12 month low at $6.50 on March 11, 2014.
I calculate an $11.80 price target based on the following assumptions:
FY+1 EBITDA: $16.2 million
EV/EBITDA valuation multiple: 10x
Shares outstanding: 11.9 million as of February 2014 + 1.5 million from the announced ESOP
Net cash: $4 million
Valuation catalysts:
Activist hedge fund acquires 11.3% stake in MusclePharm: Nelson Obus' Wynnefield Capital, a New York based hedge fund "specializing in U.S. small cap situations that have a company or industry specific catalyst(s)" has acquired 11.3% or 1.0 million shares at an average cost of $8.29 per share. The obvious catalyst here is the resolution of the ongoing SEC investigation and the long awaited and often delayed uplisting of the shares to the Nasdaq. In addition, Wynnefield will also likely take a proactive stance on corporate governance in order to minimize further shareholder dilution, an issue that Nelson Obus had been vocal about on the 2Q13 earnings call.
Uplisting to NASDAQ and resolution of SEC investigation: The uplisting has been delayed several times and management has not been very forthcoming with detailed information on this process. With the release of the full year fiscal 2013 numbers, which is expected to happen sometime this month, clarity on these two issues is much needed.
Detail on 2014 guidance: As explained above, the 2014 guidance seems very conservative so it will be crucial to understand the assumptions behind it. The implementation of the ERP/CRM system that was referenced in the letter to shareholders should provide management with the ability to provide a detailed assessment of various growth and expense drivers and allow for month-to-month tracking of product sales. Furthermore detail on the terms of the proposed ESOP, the previously announced share repurchase program and use of the newly secured banking credit line will provide critical data points for the valuation of the company's shares.
Risks to the upside:
Topline growth and profitability materially exceeds guidance
Near-term uplisting and resolution of the ongoing SEC investigation
Common shareholder dilution is reduced through share repurchases
Significant insider stock purchases
Risks to the downside:
Slowdown in topline growth during 2014 in line or below with guidance
MusclePharm does not become profitable on an EBITDA basis during 1Q2014
Additional dilution from stock issuances and strategic transaction exceeding the previously announced figures
Accounting fraud is discovered as part of the SEC investigation
Currently trading under $7 per share, the upside risks outweigh the downside risk by a far margin in my opinion. The only significant risk that could shift the valuation to the downside in my opinion is fraud. While there have been a number of allegations regarding the past and present involvement of certain individuals with the company, I take comfort on this issue given the presence of experienced investors like Phil Frost and Nelson Obus. Lastly, the newly appointed IR counsel Pondel Wilkinson is a step in the right direction and creates further distance to some of the stock promoters the company had been previously involved with in one shape or another. Pondel is a high-caliber shop with an impressive roster of clients.
Disclosure: I am long MSLP. I wrote this article myself, and it expresses my own opinions. I am not receiving compensation for it (other than from Seeking Alpha). I have no business relationship with any company whose stock is mentioned in this article.
Editor's Note: This article covers one or more stocks trading at less than $1 per share and/or with less than a $100 million market cap. Please be aware of the risks associated with these stocks.