A combination of fundamental data considerations, valuation multiple considerations and price behavior considerations help clarify the situation in the face of multiple contrasting opinions and the flow of myriad macro-economic data. Here are some fundamental, valuation and price behavior data that we think keeps feet on the ground with respect to the S&P 500 (proxies: SPY and IVV) and the S&P 100 (proxy OEF).
In the net, we think these data paint a picture of a neutral to negative current condition of the US stock market. Today's 2+% rise was encouraging, but not yet convincing.
Fundamentals:
Operating margins in the last 12 months are worse than the levels of fiscal 2008 (Y2) and the 7-year average for both the S&P 500 and the S&P 100. Long-term debt to total capital last quarter is better than 2008, but worse than the 7-year average for both the S&P 500 and S&P 100 indexes.
(Y1, Y2 ... Y7 refer to prior fiscal years, not calendar years -- the end point of fiscal years are not all the same month)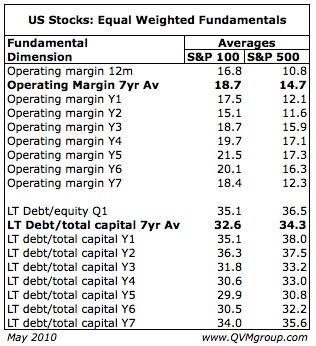 Growth of sales and dividends in the last 12 months is worse than the 3-year, 5-year and 7-year average growth of sales and dividends.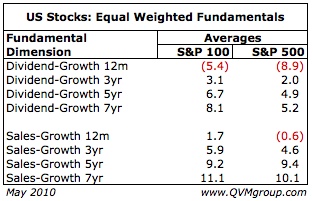 Valuation:
Trailing 4-quarter price-to-earnings multiples for the S&P 500 calculated on both operating earnings and "as reported" earnings are above average, while fundamentals above are below average. P/E multiples for 2010 are average to above average. Multiples based on rosy 2011 earnings forecasts are attractive, if you plan to rely on the ability of analysts to see that far ahead in these tumultuous times.

Price Behavior:
Retracement of SPY (proxy for the S&P 500) from the October 2007 high is just below 50% -- an important improvement, but not a definite continuing trend on this long-term basis.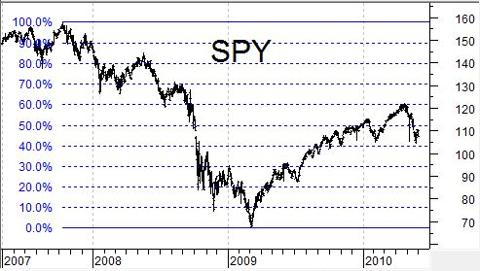 Retracement from the April 2010 high back toward the March 2009 low is only just over 20%, not yet a downtrend confirmation on this intermediate-term basis.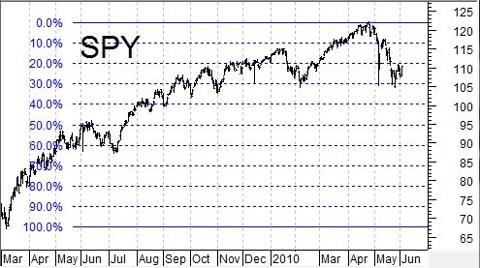 Retracement from the May 2010 low to the April 2010 high is just over 30% (and still below the 200-day simple moving average for the ninth da) -- well below a confirmed return to a short-term up trend, which would be more believable at 50% retracement or more.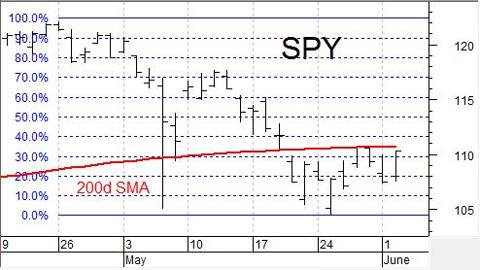 We admit to a pessimistic bias at this time, but these data showing below average fundamentals, above average valuation and short-term negative price behavior in a intermediate-term and long-term indecisive range, in combination with trouble in Europe, geopolitical instability, cooling efforts in China, unquantifiable economic damage to the US due to the oil spill, and the possibility of US government actions adverse to capital arising out of the oil spill, cause us to be out of equities, and in bonds and cash at this time.
Stocks, Bonds and Cash (Owning, Loaning, and Reserving) are the three primary asset classes. Loaning and Reserving make the most sense to us for the moment, with Reserving being the larger allocation.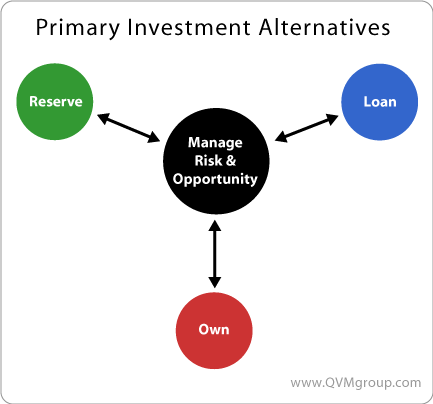 Holdings Disclosure: As of June 2, 2010, we do not own any securities mentioned in this article in any managed accounts.
Disclaimer: Opinions expressed in this material and our disclosed positions are as of June 2, 2010. Our opinions and positions may change as subsequent conditions vary. We are a fee-only investment advisor, and are compensated only by our clients. We do not sell securities, and do not receive any form of revenue or incentive from any source other than directly from clients. We are not affiliated with any securities dealer, any fund, any fund sponsor or any company issuer of any security. All of our published material is for informational purposes only, and is not personal investment advice to any specific person for any particular purpose. We utilize information sources that we believe to be reliable, but do not warrant the accuracy of those sources or our analysis. Past performance is no guarantee of future performance, and there is no guarantee that any forecast will come to pass. Do not rely solely on this material when making an investment decision. Other factors may be important too. Investment involves risks of loss of capital. Consider seeking professional advice before implementing your portfolio ideas.